The Case For Detroit Pizza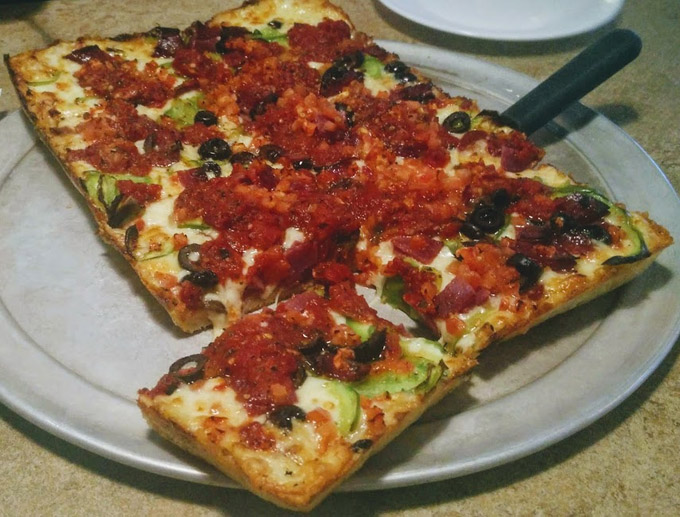 In America, the debate over pizza is often a regional one, boiling down to a three-word question: "New York or Chicago?" In the tradition of those who answer "Beatles or Stones?" with "The Who" and those who answer "Kirk or Picard" with "Sisko", I have my own, third-way seeking answer to the question:
The best pizza is Detroit-style. The worst is St. Louis-style. All other styles lie in-between those where ranking doesn't matter.
Now, full disclosure: I'm a lifelong Michigander and I've never been to St. Louis, for pizza or for any other reason. I'm basing my disdain for St. Louis-style on written descriptions of it, and on the fact that those descriptions seem to describe a pizza I had at a bowling alley one time that remains, by far, the worst pizza I've ever had. Granted, bowling alleys generally don't do food of any type really well, and so my hatred of the St. Louis style might be unfounded.
My love of Detroit-style is pretty solidly founded, though, as I have had it, in Detroit and elsewhere, many times. When I say that it is my favorite pizza style, I do not say that my favorite pizza is Detroit-style; it isn't. My favorite pizza is a Chicago Deep Dish sort of thing sold in a small town west of Lansing. But I've seen CDD pizza done poorly. I can't say the same of Detroit style.
The history of Detroit-style pizza is an odd one. Michigan is a great food state, due in no small part to the various people who have settled here over time. The Cornish came bearing pasties, the Dutch bearing fudge, the Poles bearing pączki, the Greeks bearing chili (that's a long story, involving Ohio. I won't get into it here.) But Italians did not come bearing pizza, at least not in the way they did in New York City, Chicago, and, indeed, St. Louis. Rather than developing out of the traditions of an immigrant community, Detroit-style has a sole recognized inventor. Gus Guerra adapted the Sicilian-style pizza made by his mother-in-law to sell in his bar, Buddy's Rendezvous, to, among others, returning WWII vets who might have encountered the dish during their deployment.
What is served, to this day, in Guerra's establishment and throughout Michigan isn't really Sicilian pizza anymore. It's similar, being a deep-dish, rectangular thing. The dough, for how thick it is, is very light. But the crust has been changed a bit in two ways. First, the pan (traditionally the same sort of blue steel pan used to hold small parts in Detroit's auto plants) is buttered heavily, resulting in the bottom of the crust being very crispy, almost as if it had been fried rather than baked. Second, the crust's outer edge is also made hard and crunchy by the cheese being spread to the edges and charring against the pan. The crust, as a structural foundation for the dish, is thus sturdy without being stodgy. It can hold a great deal of toppings, while not becoming mainly like a loaf of bread if topped lightly.
The toppings can vary. Cheese is mozzarella or a blend of that and "brick cheese", the unromantic name given to a variety of Wisconsin white cheddar. Brick cheese isn't very sharp or strong cheese, but it's a bit more flavorful than just mozzarella. I've heard that to be completely correct, Detroit-style will have the sauce on top of the cheese, so as not to soak into the crust. But I've seen it done with the sauce under the cheese enough times to not really consider it a hard-and-fast style rule.
You don't need to take my word that Detroit pizza needs more esteem. YouTube personalities Rhett MacLaughlin and Lincoln Neal, who make a living, in part, by ranking food, ranked Detroit-style in second place in a contest between various pizza styles, behind New York City-style. That final-round loss only came after the two learned that Little Caesars was based in Detroit. I have two responses to this: Firstly, Sbarro is based in New York City, and one wouldn't judge NYC pies based on that. And secondly, even when it's made by Little Caesar's, Detroit pizza (sold nationwide there as Deep, Deep Dish) is still good. It's not great, it's clearly not made to be great, but it's still good.
That's why Detroit-style pizza is best. It's nearly impossible to mess up, and it's very good if done well. It can be made without a dedicated oven, which means most people can make it at home. (As an aside, it's odd to me that, given the amount of pizza Americans consume, pizza ovens aren't a common part of American kitchens.) If I were to advise someone looking to open a pizza place, I would tell them to emulate the Detroit style. Unless you're opening in the Detroit metro area, you're unlikely to have much competition. And that's too bad, because there really should be Detroit-style pizza in other places. It's the best style.