When New York Pizza Became Better than Chicago Pizza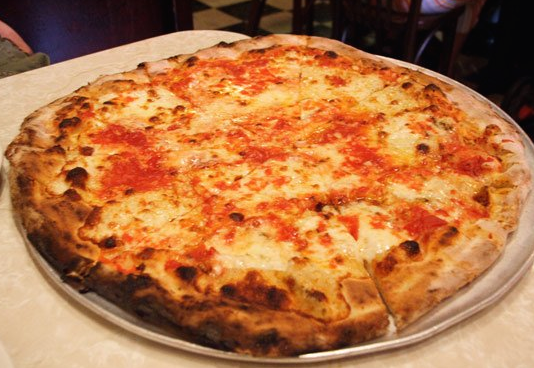 My dad, born and raised in Chicago, moved to Florida when his mother became ill. All 3 of his children were born and raised in Florida. He instilled these truths in his Floridian children: 1) lollipops are to be called suckers, Cubs fans are not, 2) Vienna beef hot dogs with fluorescent green relish in poppy seed buns are the best (unless you're the vegetarian daughter writing this), and 3) Chicago deep-dish is the #1 ranked pizza forever.
My experiences with deep-dish pizza were mostly during family trips to Chicago with an occasional visit to an Uno chain restaurant in another city. We went to Giordano's or Lou Malnati's, and they'd bring out the pies with thick, flaky crusts, what seemed like five pounds of cheese per slice, and tomato sauce generously poured on top. They took half an hour to make, but the wait was worth it. I loved the pizza and sharing part of my dad's past.
In 2007, I moved from Florida for a year-long internship in Chicago. Deep-dish pizza was no longer a rarity, but a default meal whenever I met up with friends to go to The Second City, the architectural boat tour, or a movie. The meaning of the pizza took another surprising transformation that year. Part of my internship focused on providing therapy to people with eating disorders. That meant hearing about Chicago-style pizza in contexts like parents desperately trying to nourish their underweight children and their children resisting it like poison because of a fear of getting fat. It meant hearing about people going out with their friends, deeply distressed and struggling to "eat normally — like everyone else." It meant lonely people ordering pies for themselves and eating until they felt sick, disgusted, and ashamed. But it also meant helping people to work through those issues in treatment so that they could enjoy the city's amazing pizza again — like I did, growing up with my dad.
I finished my internship in 2008 and moved to North Dakota, better known for its hot dish than its deep dish. But staying in the Midwest meant even more access to deep-dish pizza than my internship year granted, and consequently, more loosening of associations with childhood memories. Continually adding more Chicago pizza memories to the mix made those earlier ones shrink into smaller parts of an expanding mental map.
In 2018, my dad went to Manhattan for work, and my sister and I met him there. We arrived with an ambitious agenda to figure out how to 1) change the direction of our careers (which we would go on to do) and 2) see and do tons of things during our 5-day stay (most of which we would not go on to do). On the last night of the trip, I arrived at my hotel around 9 and ordered pizza for dinner.
Due to a series of location misunderstandings and ordering mishaps on my end, the pizza didn't arrive until 11, and when it did, it was perfect: the thin crust, the sauce, the melty cheese on top. Still, I wasn't ready to say it outranked Chicago pizza at that point. There were some factors that may have unduly influenced my judgment: I was in an exceptionally good mood from a fun and meaningful trip, and I was super-hungry.
The true pizza test would take place when I returned to New York in 2019 for an eating disorder conference. I arrived at LaGuardia Airport feeling nervous about my upcoming career changes and excited to see friends, family, and colleagues. This time, I ate the pizza on the first day of the trip in a restaurant with a normal hunger level, so confounding variables weren't an issue. The crust was about 1/5 the thickness of a typical Chicago-style pizza, which meant I could eat more than 1 or 2 pieces without feeling anchored down by the enormous density of it all. The tomato sauce was evenly spread on the crust instead of piled on the top like a pot of tomato soup. Then, there was the cheese – thoughtfully placed over the sauce instead of shoved into a thick crust.
That was it. That was the pizza that pushed Chicago deep-dish out of the #1 spot and confirmed what I had suspected in 2018 – New York pizza is actually better. Maybe it's the ingredients or style or maybe it's just that New York pizza now evokes more vivid, positive memories than Chicago pizza (that second trip to New York ended up being pretty wonderful too). I broke the rank-changing news to my dad, hoping he would accept it as long as I remembered what he'd said about Cubs fans.