Veronica Mars and the Case of the Overused Sexual Tension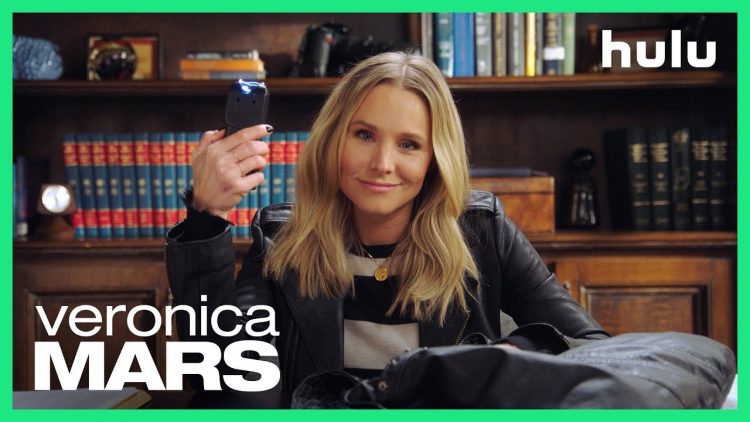 SPOILER ALERT! Seriously, this whole entire article has massive Veronica Mars spoilers in it, and a Farscape one too.
---
I've really been sitting on the fence about watching the new Veronica Mars reboot.
The reason for this is not only because I hated the terrible Veronica Mars movie but also because I accidentally read that Logan dies at the end of the fourth season of VM.
Ok, it was accidentally on purpose. I don't like being blindsided by sad things happening to characters I like – I always read the last few pages of the book and read the synopsis before, or even during watching a movie – so when I read a headline about a shocking death in Neptune I couldn't resist finding out who it was. Anyway, I'm glad I read the Cliffs Notes, because I would have been really peeved if I invested a bunch of time watching S4 only to have that happen.
I'm pretty peeved anyway though because I think Veronica and Logan are a really interesting couple. Despite the fact that the writers of Veronica Mars did everything in their power to repeatedly break Logan and Veronica up only to get them back together again, despite the fact that neither the breakups nor the reunion made a lick of sense at all, Veronica and Logan remain one of my favorite TV romances ever.
To catch you up, non-Marshmallows, Logan was originally the primary antagonist of the show, and I don't mean a cute and cuddly misunderstood James Dean kind of antagonist. Logan Echolls was a legitimately awful bully, a broken person, and a good part of the time you were wondering if he was either a rapist or a murderer. Veronica had a much more likeable romantic interest who seemed of paramount important to the plot, and I would have sworn Logan was simply there as an obnoxious foil standing in the way of true love always. When the writers pulled that bait and switch on me and got Veronica and Logan together, it was pure awesomesauce, in no small part because it was so unexpected. It was such a breath of fresh air to have my predictions turned completely on their head.
And the weird thing was, it made sense. LoVe was a total surprise, a shock, even, and yet I was like "oh wow that would have actually happened IRL". Any girl who's ever had a boy dipping her braids in the inkwell knows that often the meanest guy in the pack is the one who's totally into you (that is NOT just your mom saying that to make you feel better). That same girl also knows that for reasons only the ghost of Charles Darwin understands, we often find ourselves drawn to that bully even when we don't get why. It's befuddling. You think you hate each other, and yet, there you are, finding yourself in a relationship with someone you don't even think you like. Veronica and Logan seemed genuinely and believably confused by their fledgling romance, with both of them having second and third and tenth thoughts regularly.
If you haven't watched Veronica Mars you may think this is just another case of opposites attract, like Sam and Diane on Cheers or Dave and Maddie on Moonlighting, but it isn't. Logan and Veronica were not just another case of "Will They or Won't They"; it was a story of two wounded people finding something in each other. Their coupling felt totally fresh, I'm sure because the personal failings of troubled and traumatized teens resonated with me a lot more than "retired pro ball player" and "retired supermodel" .
I couldn't wait to see where VM creator Rob Thomas was going with it all. I thought for sure Veronica and Logan were going to team up and start solving mysteries, like Nick and Nora Charles, only the much more emotionally unstable 2000's edition. I was really looking forward to watching Logan and Veronica, with all their quirks and foibles and baggage and mutual fault lines, meandering through the VM universe stirring up trouble. As a viewer, there is little better than putting yourself into the hands of writers who have a plan to take you somewhere you haven't been a thousand times already.
But I'm sad to report the writers didn't actually know where they wanted to go with it, or maybe it was just because they wanted Veronica to have a lot of boyfriends, #feminism. IDK. Regardless of why, as is so often the case, the writers fell back into the comforting arms of the "Will They or Won't They" trope and started throwing manufactured melodrama at the characters to keep them apart so we viewers could keep hoping they'd get back together again. You know the kind of thing I'm talking about – some ridiculous falling out over the thinnest of pretenses, where no one talks to each other even though any rational person would just say "hey this thing that happened, what was that about?" and get it all worked out. Well, the writers beat that dead horse again and again and by the end of the third season I was so sick of it I wasn't even too sorry that Veronica Mars had gotten cancelled.
I maintain "Will They or Won't They" is a poison. I despise it. More accurately, I like it at first, but after a reasonable time, any sane red-blooded couple would get together, it's just how life works. No one in their right minds, unless separated by work requirements or marriage to others, would carry on a smoldering pseudoromance for season upon season if they wanted to be in a relationship. Even if you know the other person isn't right for you in the long term, in the long term we are all dead, and hormones are powerful things. 999 times out of 1000, if a Logan and a Veronica wanted to be together, even if they didn't always or usually make sense, they'd find a way to make it happen. All the clumsy writing and Shakespearean misunderstandings in the world couldn't keep them apart.
But whatevs, I guess, because apparently now Logan has outlived his usefulness and has been blown up – despite the fact that he's a great character who grew and changed over time, and despite the fact that Jason Dohring, who plays Logan, is a fantastic actor with a unique "creepy boy next door" vibe. (What do you get when you put Jimmy Stewart and toxic masculinity in a blender? Jason Dohring playing Logan Echolls.) Even though Kristen Bell is both darling and talented, Jason Dohring is a huge part of why Veronica Mars worked as well as it did, and sadly I think we're all about to get proof that that was the case. Both the actor and the character deserved better than being exploded by a car bomb (he didn't get a death scene, or even a funeral!!!) so some lazy writers can passively splooge their way out of having to think outside the "Sam and Diane" box. I assume they killed Logan so Veronica can now have "Will They or Won't They" with some other guy, because that's apparently all the writers of Veronica Mars know how to do.
In my life, I've often been struck by how hard people will work to avoid work. It's true in every arena I've ever been involved in, and writing is not exempt. I suspect that to many writers, "Will They or Won't They" is easy. It's a known quantity, all cozy and familiar. We grew up watching Friends, we know the script by heart already. Writers have it drummed into our heads to keep our leads apart even when it makes no fricking sense for the plot or the characters to be apart, because "everyone knows" once they get together no one watches any more.
But it doesn't HAVE to be like that, particularly in a mystery series like Veronica Mars. Couples solving mysteries together is decidedly a thing in the detective genre – I already mentioned Nick and Nora Charles, but what about McMillan and Wife, Scarecrow and Ms. King, Hart to Hart, or any one of hundreds of popular mystery book series that feature a relationship at their core? Even Agatha Christie had Tommy and Tuppence. Romance aside, there are tons of shows where two guys team up to solve mysteries – Hardcastle and McCormick, Simon and Simon, Jake and the Fatman, Starsky and Hutch – and several more where two women or a woman and a man solve mysteries as partners, not necessarily sex partners. "Will They or Won't They" is NOT a prerequisite for a compelling detective show.
I refuse to believe that there was no reasonable way for Veronica and Logan to get together, stay together, have adventures together, and work things out, together. The writers of VM did not have to resort to such ridiculous lengths to continue the "unresolved sexual tension" trope way past its expiration date, even resorting to have Veronica turn into an uncharacteristic huge naggy bitch in S4. "Will They or Won't They" was NEVER mandatory. It wasn't necessary. It was taking the easy way out. And don't tell me "it's noir", because The Thin Man – featuring Nick and Nora Charles – is noir. While noir is dark and gritty, it doesn't have to end with everyone dying. Veronica Mars is not a Tarantino movie.
As a writer myself, I just do not believe it is any harder to write a continuing relationship than it was coming up with all that crap that was supposed to keep Veronica and Logan in the land of WTOWT lo these many years. From Season 3 on, watching Veronica Mars is reminiscent of that person we all know who spends 10 hours plotting and scheming and stressing out to avoid 5 hours of doing actual work. Rob Thomas even ADMITS he killed off Logan because he was tired of doing the additional writing Logan's character required.
Here's a novel concept, Rob, my man. JUST DO THE WORK, DUDE. I gave you my time, energy, and even money to rent the Veronica Mars movie (which, I'd really like a refund on that, because it totally sucked). It's really quite disappointing that people who get paid into the seven figures can't expend a wee bit of extra effort to keep going with a character who was fundamental to the chemistry of the show simply because it was a bit of a challenge for them. I would kill and/or die to make money writing a TV show as would a whole lot of other people. If you don't wanna do it any more, Rob, hire some people who do. The world has no shortage of talented writers trying to break into the industry.
There is so much to love about Veronica Mars. The characterizations, the intricate plots…the season finale of Veronica Mars' first year is hands down the most gripping hour of network television I've ever watched. Rob Thomas and crew are undoubtedly creative, imaginative people. I just wish they'd have stretched their brains rather than going back to that dry old WTOWT well and then giving up when they found nothing but Sam Malone's discarded toupee down there.
Veronica Mars could have, and should have given us "They Did, Now What" instead of "Will They or Won't They". It would have been a much better show for it. And even more, it would have had a better message.
Because "Will They or Won't They" is not only completely boring, it's actually kind of toxic. WTOWT treats sex like it's the final boss in a video game or something – once you have it, it's game over. Your goal has been achieved. The shark has been jumped. Sex with this one particular person is the primary driving factor in our characters' lives and everything leads up to this huge, life-changing, series-ruining moment. But in reality, sex tends to happen more at the beginning of a relationship and not after years of longing looks and double entendres (oftentimes, fairly underwhelming sex that is not in any way transformative, but luckily it tends to get better over the course of time) and then the question becomes what do you do then? Can this relationship work in the long term? What do we want out of this, anyway?
Some people will tell you it can't be done. But it already has been. The best television romance ever is exceptional in that the lead characters DO get together in the Biblical sense fairly early on in the series and then have to overcome several obstacles (both external and self-imposed) to get to the happily-ever-after. This show is called Farscape and if you haven't watched it, you should, even if you hate science fiction and Muppets, because it's the most perfect love story ever featured on the small screen.
In Farscape, sex is not treated as the endgame for heroes Aeryn and Crichton. The endgame is ironing out the problems in their lives and in their relationship and building something that is more than just sex. The endgame is facing all the horrible things the universe has to throw their way, and overcoming them together, despite the fact that – not unlike Veronica and Logan – they're both supremely flawed beings who drive each other crazy at times. Farscape is much more representative of real love, of a real relationship, than "Will They or Won't They" and it is SO MUCH MORE interesting for viewers than that same tired shell game of keeping two people who want to be together, apart, even if it means blowing one of them to smithereens.
So will she, or won't she watch Veronica Mars Season 4?
She won't.
I think I'll just watch Farscape again.