For The Love Of The Pizza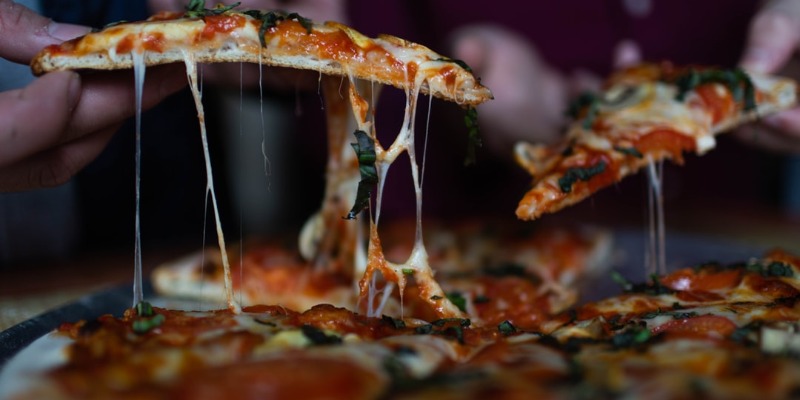 Last Sunday after my daughter's dedication we were eating Monical's Pizza with my parents and brother. My mother, in between bites, looked up and said, "Monical's Pizza just tastes like home." I nodded along at this comment: growing up, Monical's Pizza was a fixture of the small town we lived in. After plays you went to Monical's. After football games you went to Monical's. After, well, you get the idea, after any significant event related to the school or church you'd go out to Monical's and order a Family Pleaser or five and eat. For my mother, her and my father had first lived together married when he was attending university, and the local pizza place in that town was Monical's Pizza.
This occasion was the first time my fiancée and our almost one year old daughter were experiencing Monical's Pizza. For those unaware, Monical's is a thin and crispy style pizza, square cut in small squares, which comes in a value pack called the Family Pleaser, consisting of a large pizza, breadsticks, and a salad. Traditionally, the house dressing is French and it is used both on the salad and on the pizza. Monical's Pizza is the best pizza because it has such small, thin slices—almost bite sized, another tradition involves eating the even smaller corner slices as a single bite, and because the toppings make up so much of the pizza itself, crust minimized to a thin but delicious layer upon which the toppings are heaped. You can eat a lot of slices too, since they are so small, which is the best. The bacon stands out because it's applied as basically fresh bacon bits and in large quantities. Monical's is without a doubt my favorite and the best of all pizzas.
But if there were another pizza that is my favorite, it would have to be Papa John's. Papa John's came to our town during the time of my early high school years. It was a new thing, so of course it had to be tried. My parents lived literally adjoining the parking lot of the location of Papa John's, and later when I was in college Papa John's was the closest pizza place to the college I attended. Since Papa John's is both cheap and filling, this meant that I ate a great number of Papa John's pizzas over the years. Papa John's, for anyone too snobbish to have partaken of it, is a medium fluffy crust pizza, cut in the traditional triangles, and priced reasonably. Actually, it's priced kind of high, at almost $20 for a large specialty, or it would be if anyone had ever paid menu price for a Papa John's pizza.
Other companies have adopted the practice, but Papa John's was an innovator in pizza deals, and in online ordering. The Papa John's reward program has routinely yielded me free pizzas, and looking at what the current deal consists of is nearly a tradition in itself. I love Papa John's because the sauce has a certain bite, and for some of the specialty pizzas that are memorable over the years, including the Hawaiian chicken bacon barbecue and three sausage two peppers pizza. Cheap and filling, I like to put down four slices, or half a pizza, of Papa John's in one sitting which is the best. Papa John's is definitely my all-time favorite, go-to pizza.
But if there were another pizza that could compete, it would have to be a Chicago style pizza. Living in downstate Illinois there are myriad  reasons to visit Chicago. Shopping, tourism at the museums, visiting friends from college who grew up there or friends from high school who moved there for jobs, or more recently, visiting my fiancée's family. And on most of these visits, you eat. And when in Chicago, one of the places and things you eat is deep dish Chicago style pizza. Chicago style pizza is of course the famous variation where rather than rolled flat and topped, the crust is built into a pan like a more typical fruit pie and the topping are layered into the pan, then baked.
There are different restaurants to get Chicago pizza from: Uno's or Duo's downtown, Giordano's which has several locations around the city and suburbs, Gino's East which used to have locations as far out as Indiana, or Lou Malnati's (my fiancée's favorite). Since Chicago pizza is a treat, I've never eaten enough of them to have a preference of one of these chains over the others, because in the end they are all serving up Chicago style pizza. Chicago deep dish is my favorite pizza because you get so much topping and each slice is so filling. You can only eat one, two, maybe three slices in a meal, which is the best. Some people have criticized Chicago style, saying that its unique construction means it isn't a pizza, but it's definitely a pizza, even if it takes the oft omitted "pie" out of pizza pie more literally than most.  Chicago deep dish is unequivocally the best pizza in the world, my absolute favorite.
But if there were another pizza that was the best, it would have to be Casey's Pizza. Casey's Pizza is, for you city folk, a medium crusted pizza sold often by the slice at the Casey's General Store chain of gas stations. It's greasy and good. The crust isn't the best, the sauce isn't the best, the toppings aren't the best, but when you're hungry and you're filling up on gas and grub, Casey's pizza is hot and ready and satisfying. Casey's business model is to be places where other options aren't. Like Dollar General, Casey's has locations in towns so small that other gas stations and restaurants would never think of opening in a thousand years. In these places, Casey's serves as a gas station, as a de facto grocery store with milk and other staples, as the often only restaurant in town with pizza, subs, and other food, as a liquor store, and as other less intuitive businesses—some Casey's rent movies. There are dozens of small towns where Casey's is the only store in town, or where Casey's and General Dollar are the only two stores in town.
As a reserve officer in the National Guard, I spent several years drilling from an armory in a town where Casey's was one of the few options, and we ate our share of Casey's Pizza. It's the pizza I've eaten the most different places, picking up a slice anytime I'm on the go and in a rush, it doesn't matter where you are, if there's a Casey's they will have a slice ready, and like Monical's and Papa John's it too, feels a little bit like home.  Casey's Pizza is definitively, the best of all possible pizzas.
But if it wasn't, then it would have to be my dad's home-made pizza. Growing up every Sunday evening after Church my father, then a small town pastor, would make homemade pizza as we watched whatever the Sunday evening television show was. In my earliest memories this was the Superboy television show that briefly aired in syndication. Later, in a different house and with my father working a different job it would be for years, the New Adventures of Lois and Clark. We liked super heroes, needless to say.
My father's home made pizza, for anyone I haven't personally invited over for pizza, is made with my mother's recipe for the crust, a thin to medium sweet crust. We use tomato paste and spice the pizza by hand, then top it with a variety of toppings. My father's signature pizzas include some strange toppings: a "Stephan's Special" with smoked sausage and a "cheeseburger pizza" which is made on a rectangular cookie sheet, with ketchup & mustard for the sauce, ground beef, pickles, onions, and American cheese. "It tastes just like a McDonald's cheeseburger," my father is fond of saying.
Our home made pizza is delicious, but the tradition of making the pizza is important as well. It's one of the few meals that was always truly collaborative in our house. I'd be putting on sauce while my brother rolled out dough and my father spiced and put on toppings. Particularly when company was over and we were making a lot of pizzas it took several of us to get everything together and prepped. Ultimately, nothing can compete with my father's home made pizza—it just tastes like home, so it's my favorite.
But if there were one other pizza that you think is the best, I'd imagine it would be the one that tasted like home to you. I love pizza, whether it's Monical's, Papa John's, Chicago deep dish, Casey's by the slice, or home made, or a dozen other kinds, because pizza in general tastes like home to me, and it's the memories that make pizza simply the best food there is.