That's Amore!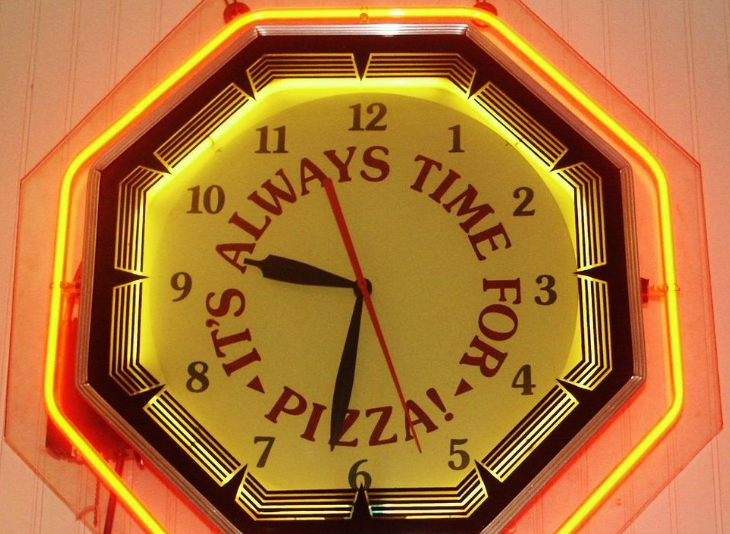 The gas station had hot slices of pizza ready to go. I chose a non-appetizing sandwich. I swore I'd never eat pizza again. Pizza! My family's love language. I might as well say I wanted to have nothing to do with any of them ever again…
"It must have just disappeared!" Dad teased.
The hot pizza lay on the table, box open, four kids crammed around the table ready for Friday pizza night to start when we noticed the missing corner piece. To many Chicago suburbanites such as my dad and his kids, the true Chicago-style pizza is not the deep dish. It's a thin, but not crispy, crust cut in squares, party-style. Cutting a round pizza in squares leaves four small triangular pieces, perfectly sized for taste-testing.
Dad would order the pizza from his favorite pizza place — like many suburban pizza places, hidden in the corner of a strip mall — before leaving work and pick it up on the way home, snagging a corner piece … or two. At home, we'd laugh at his dad joke about the piece disappearing, grab our slices, and sit down together to watch a movie.
With Spock-like logic, Dad could tell you why he liked square-cut thin crust pizzas. It had to do with the ratio of toppings to crust and the properties of heat distribution or something.
Pizza was my first solid food, and I never looked back. The story of preschool me chasing down my sister's balloon in a Pizza Hut parking lot and in my haste losing a box of pizza in the process entered family lore. Even siblings who weren't born at the time know the story and tease me about it.
"Oh no! We're letting her carry the pizza!" they'll tease as I carry a family-sized sausage and pepperoni into the house. I guess I deserve it. I didn't even rescue that stupid balloon.
When we moved from the suburbs for the rural area of Illinois, where a good pizza place was not two miles away but closer to 15 miles, we started making them at home. Setting his mind to perfecting them, Dad tried to figure out why homemade pizzas were bland. A dinner at a neighbor's gave him the magic ingredient: Cheddar. He put this knowledge to good use and was soon satisfied with his process.
"The crust can't overpower the toppings. The sauce needs to just bond the toppings to the crust; we don't want it soupy. Don't stint on the toppings or the cheese though. And don't forget the cheddar."
It's not like we never went out for pizza again. Some Sundays after church, we would file into the closest Pizza Hut and take our place in the corner booth next to a sped-up clock that said "It's always time for pizza." The speeding minute and hour hands fascinated us, and one time we tried to figure out the rate at which the clock was going.
Often, after a day exploring or hiking on a family outing, we would start back home, trying to figure out a place where we all wanted to eat.
"I guess our van is making the decision for us," Dad would tease as he'd pull into a Pizza Hut parking lot we'd just discovered.
Sorry, did I say "discovered?" That's inaccurate. Dad had the phone numbers and addresses of nearly every Pizza Hut or Casey's in the northern Illinois area where our wanderings would take us, just in case we needed to call in a carryout order. Sometimes they even let me carry the box back to the car. No other pizzas were lost for balloons.
In later years, things changed. Dad started a low carb diet and began making crustless pizzas. Others of us have tried keto-friendly pizzas. As we move away from home into other parts of the country, you can bet all my siblings have scoped out the best pizza places near our homes. It's a given when we visit each other, pizza will be making an appearance for at least one meal. To not have pizza would be out of character.
So, why was I standing in a gas station convenience store next to the hot pizza slices promising never to eat pizza again?
At that moment, I was two hours away from my parents' home, waiting for a phone call I both expected and dreaded. Not many minutes later while back on the road, my mom called with the devastating news. Dad had passed away from a heart attack. His clock had sped by too quickly. He was not even 62 years old. Logically, it probably was a lifetime of pizza and movie nights. It seemed that I must now give up pizza to protect my own lifespan.
Even as I made the vow, I doubted that I'd be able to keep it. Pizza wasn't about logic to us, but — as most foods are — about love. About a family snuggled up on a couch together laughing along with a favorite movie. Sitting around a non-descript table in a non-descript small town remembering our day of hiking together. It's even about a red balloon floating away into the blue sky while two little girls sob. It's about a corner booth next to a clock that says "It's always time for pizza."
It is always time for pizza, because it's always time for family.