Put Away Childish Things
In Mexico, there lives a salamander that never grows up. It's called an axolotl.
Somehow those clever axolotls found a way to become sexually mature and even reproduce without ever entering adulthood. Axolotls retain their childish characteristics even at older ages. The scientific word for this is "neoteny".
Some people say humans are simply neotenous apes. This is because we retain a lot of childlike features and behaviors into adulthood – adult human faces more closely resemble baby chimps and gorillas than the mature specimens – and indeed we may be somewhat (or in my case, totally) programmed to prefer the faces of babies to those of adults.  
One of the most prevalent childlike behaviors our neotenous apes retain into matury is the desire to play. Other animals play into adulthood too, of course – dangle a piece of yarn before the most dignified and elegant cat and it will return to kittenhood posthaste – but humans have elevated adult play to an art form.  
This tendency to play in adulthood, some would say, has possibly run amok in modern America.  We're obsessed with sports, with comics, with video games. Some adults continue collecting toys and building Lego models into adulthood. YA books (young adult, tailored towards older teens) are more popular than ever before – even among adults.
Being an adult has become "Adulting"…not something you are, but an artificial behavior, like a costume we don when we have to be mature or responsible.  
Is this a problem or is it all in good fun?  
In the interest of full disclosure, I am a big kid at heart. I still like superheroes and spaceships and everything kawaii and playing games both video and board. I have a massive collection of children's books I refuse to part with, and this is only in very small part due to my having children. I don't see any appreciable difference between me enjoying those things and my parents joining clubs and going out to lunch with their friends and playing bridge, things they always found interesting and important that seem fairly immature to me. So on the one hand I do think being playful and childlike into adulthood, is harmless, even desirable, and is absolutely nothing new.  
On the other, even I, roving axolotl, must admit that our whole culture seems just a little TOO caught up in childish pursuits. Some days it feels like the whole world is made up of kids wearing their parents' clothes and as soon as the adults' heads are turned everyone whips out their phones and starts playing Fortnight. But things matter – actual things actually matter. Real things, not games, not playing pretend. There is real work to be done in the world – not only in our own lives, but for the betterment of the world around us – and spending endless hours masquerading as Donkey Kong doing the "work" of collecting coconuts seems kind of wasteful sometimes. 
I sometimes worry that in spending so much time perfecting the art of childhood, we are losing the ability to be adults. Like, it's withering away from disuse or something. Some of you may recall I wrote a bit about the Ballad of Buster Scruggs, which is among the more grown-up movies I recall seeing in a very long time. One of the weirder headlines I encountered when researching the movie was Harry Potter Fans Will Squeal When They See Who is in Buster Scruggs!!!!!! Someone clearly assumed the only way to get younger people to watch a movie with serious themes was to equate it giddily to something they recalled from their youths. (ps – it was dudley)
By being immersed in the joys of the nursery, have we lost our ability to leave it? Are we losing the ability to be adult salamanders and turning into perpetual axolotls?
Films where a young person faces off against their elders who just don't understand their refusal to grow up, abound. The Little Mermaid is about a mermaid who prefers collecting trinkets to growing up and taking on her very important mermaid responsibilities. In Dead Poets Society, a teenager actually commits suicide because his dad doesn't want him to be an actor, and it's kind of painted as a necessary, even heroic choice. Seize the day, I guess, or something.
My favorite example of the phenomenon is Bend It Like Beckham, in which a young Punjabi woman argues with her parents over her continued desire to play soccer as an adult. Her parents saw soccer as a game, and games are for children, not adults. (This trailer makes it out like their parental concerns were solely due to her being a girl. While that was a part of it, it really doesn't represent the movie accurately.)
Bend It Like Beckham - Trailer
Maybe it was because I was raising semi-recalcitrant teenagers myself then, but that was the first time it hit me – maybe we really DO have a problem with growing up. Because soccer IS a just a game. What really matters to most humans throughout time is marriage, family, making a living, helping others, making the world a better place in some way.  (even if you don't personally see value in some of these things, it's simply a fact that historically speaking that has been the working definition of human adulthood). And while I wasn't necessarily taking the parents' side in BILB – after all, in this day and age soccer can be a legitimate way to make a living, even a good living – looking at it from a parents' perspective, it did seem a little odd for a grown adult to be so passionate about what is essentially a child's pursuit.  
Growing up is normal. Becoming an adult is what human children are meant to do.
Playing a game your whole life IS actually kind of strange. Keep that in mind as you check out this trailer for Whip It.
Whip It - Official Theatrical Trailer
She is IN LOVE with this! ("This" is rolling around on wheels smashing into people.) Her decision to lie about taking an SAT class to impress her stodgy old parents is presented as heroic and necessary to her happiness, just as suicide was presented as such in Dead Poets Society. Excelling at the roller derby was presented as a better option to having a boyfriend – perhaps rightfully, but then again up until quite recently, growing up, getting married, and settling down was de rigeur for most human adults. (again, whether you want to quibble about marriage and childbearing as being "necessary", we're talking about axolotls here and sexual maturity entails breeding – it's true for all other species and so in a discussion of humans and biological maturity, it seems reasonable to use reproduction as a metric.)
Now, there's certainly some truth in the message of Whip It. The protagonist's boyfriend may not have been an entirely good guy and her parents were a bit overbearing (albeit well-meaning, in the same way the protagonist's parents in BILB and the parents in DPS were well-meaning…genuinely concerned over their child's adult life, just with a different idea of how best to go about ensuring future success and happiness). But at the same time, isn't it just a bit WEIRD? Things like school achievement, pleasing your family, finding love, playing second (or even third or fourth) fiddle to a game?  
Becoming a human adult, remember, is what human children are meant to do. Becoming an adult involves a particular set of behaviors and the primary message of Whip It, Bend It Like Beckham, and similar fare seems to be that the best way to find fulfillment in life is by rejecting the arc that billions of humans and human ancestors have taken since time began. We are told it's better to remain an axolotol in perpetuity, getting really good at something that's like, so super fun or whatever, while all other more mundane pursuits fade away into the background.  
It's a compelling message. Who doesn't want to do the thing they like best forever and ever?
The problem is, we can look at the situation of Jess in BILB and say "yes but she had a viable path forward to a profitable life as a pro soccer player or at least at the collegiate level while she pursued her education." It made some sense for Jess to push onward with soccer over her parents' objections. She could end up as a professional soccer player, certainly could pursue her education while playing soccer at university in America. But for Bliss, playing roller derby in Whip It? Roller derby takes money, it doesn't earn you money. Roller derby takes massive amounts of time and is physically punishing. It is not a path forward in life.
And what of the people who spend thousands of dollars on action figures or video games? Yes, there are a handful of people who end up making gross amounts of money filming YouTube videos about gaming like Pewdiepie or from buying and selling action figures but they are the exception, and not the rule. "Do what you love and the money will follow" only works if there aren't 10 million other people also doing what you love and expecting to make money at it.
Unfun fact – a lot of the childish pursuits we cling to are not viable adult lifestyles. They're borderline dysfunctional for a good number of us. People stay up half the night collecting coconuts as Donkey Kong and then show up to work/school – their real, actual work – exhausted and bleary-eyed. People postpone marriage and family indefinitely in favor of playing the field (again, argue if you must, but it's called "playing" for a reason) and end up alone. People immerse themselves in the good-evil, black-white morality of superheroes and never have to wrangle with all the shades of gray that exist in the real world. People give a like or a share to a virtue-signaling cause instead of actually lifting a finger to help others and think they've done something to help save the world…but it's no more real than collecting imaginary coconuts.  
I'm just saying we spend an awful lot of energy playing that we're doing things instead of actually doing them, and I say this as a person who once wrote 28 pages about a magic couch that eats people.
The inclination is to put the blame squarely on the shoulders of the young. "They're spoiled, lazy, immature; they want things easy instead of embracing the struggle of adulthood." And that may be part of the equation; certainly no one will take a harder road if they don't absolutely have to.
But I am of the opinion that many of us have stuck with childish pursuits because the adults of the past couple generations failed to properly pass the baton.
For starters, it's glaringly obvious that childhood has become a fairly sweet gig compared to what it's been in the past. I was flabbergasted when my half-sister, 11 years younger than me, rented a limo for her graduation from MIDDLE SCHOOL and all the parents (including my mother, who would have never in a million years allowed me to do such a thing because it wasn't necessary and it was like she had become a pod person or something) were like "oh it's so wonderfully special for them!" My other half-sister, 13 years younger, went to constant camps and to concerts and sporting events and activities. And of course, despite being horribly deprived compared to my half-siblings, I myself had many more happyfuntime opportunities than my parents, who had way more than theirs.  
At some point, childhood, for a whole awful lot of us, became a pretty nice place overall.
If childhood is that wonderfully special, why ever leave it? If you start off life in a happy land where all your needs are met effortlessly and all but your wildest dreams are made reality, the only direction from there is down. What is adulthood, really, except a terrible place much less good than childhood was for a lot of people? If kids have all the same opportunities as adults, if 14 year olds can rent a limousine for cripes' sake, why would anyone ever want to grow up? If growing up simply entails having LESS stuff…having to give up your Captain America jammies, for example, what possible motivation would anyone have for embracing adulthood?
But that's really more applicable to the Millennials. For those of us in Gen X, I'll admit it stung a bit, being the neglected first child from that failed marriage that everyone would prefer to forget, watching the kids only a decade or so younger than us showered with limo rides to space camp while we took the city bus and watched heavily edited reruns of Banana Splits – edited to fit in more Ronco commercials, naturally – during summer vacation. It's probably equally understandable that we glommed onto childish things; we never got them when we were children ourselves.
At the same time the gr-ups were making childhood Disneyland, the generation ahead of us made venerating youth and rejecting the wisdom of elders a cottage industry. Many born after WWII grew up hearing "don't trust anyone over 30" and "hope I die before I get old" as rules to live by. That we would all eventually be over 30 and then get old didn't seem to occur to people. 
Those are definitely pieces of the puzzle, but you know what I think the primary reason is? Why so many of us axolotls still love Star Wars and Star Trek and the world of Harry Potter and the torrid affairs of Little Ponies instead of growing up and getting all serious and picking up Don DeLillo as serious adult salamanders ought to do?
I think it's in no small part because we're all damn sick of reading and watching two generations of penis tales and the daddy issues of said penises. I tweeted about it recently.

Muppet News Flash – a whole, whole lot of the movies and literature of the recent past have been the same darn theme – a boy and his penis and how they struggle for recognition and adoration from their parental units and society as a whole even though women are insipid and disappointing and men's precious penises deserve much much more, hopefully they can find it before they die – for my whole entire lifetime and even some time prior.  
While I did have some pushback, for the most part my hypothesis resonated with people:

Regardless of your opinion on penises – and I got nothin' against 'em – IT'S BORING.
Some people probably think I'm not being totally fair to men here, and they're right; there are also some works of fiction about being a Baby Boomer and some about women being oppressed and abused and some where smart people who think they're right take delight in how much smarter and righter they are than their parents' generation. Or in other words, about being a Baby Boomer. But it's mostly penises.
Don't get me wrong, some of these movies and books are fricking spectacular. Many of them completely deserve their place in the highest echelon of American literature. But at the same time, for a whole lot of us, adulthood has been represented via fiction as a fairly unpleasant place full of self-indulgent people who really don't offer much in the way of hope or insight because they're so intent on staring directly into their own navels that they can't see anything else. 

Forgive me if I prefer Buffy the Vampire Slayer.  
I simply don't see myself, Axolotl-At-Large, represented in modern fiction. I don't see my husband, my friends, my children, my grandparents. I don't even see my parents, who like most of their age cohort embraced their generational stereotype as personal ethos – even the people who should be there, aren't there. I don't see themes I care about or experiences that I relate to. What I do see is a plethora of one-dimensional caricatures enacting the same handful of storylines whilst I'm breathlessly told by those who claim to know these things that there's meat on what appears to me to be to be little more than dry, picked over bones.
And I think, well, if that's what being an adult salamander is all about, maybe I'll keep on being an axolotl.
Is it any wonder given the choice between a dark and depressing and dull tale of angst and woe and sexual malaise featuring an untrue representation of reality, and something we enjoy, that many of us choose the latter?
The fundamental mistake of those who roll their eyes at chronically immature axolotls is this – they think it's all fun and games for us. They think that superhero movies and cartoons are the literary equivalent of high fructose corn syrup – and in some cases, ok, I'll grant them that. But the truth is, most of these stories are about something, something that we aren't getting from allegedly grown-up works of fiction. They are about things that are true and meaningful to a whole lot of us. They're the only thing we can find that isn't all sad penises and abused women and beloved Baby Boomer icons.
This is why we axolotls stick with kids' shows and YA novels and superheroes. It's because the subject matter resonates with us way way more than whatever-that-is in Portnoy's Complaint>. 
As most of you know by now, I not only love superheroes and sci-fi and slaying vampires, but I also love cartoons. I love things like Samurai Jack, Avatar: the Last Airbender, Spongebob Squarepants, My Little Pony: Friendship is Magic. Samurai Jack and Avatar feature storytelling that is magnificent and uplifting (not to mention the art is glorious). There is truth in Spongebob – about people, about self-acceptance, about the workplace – the likes of which I've never seen reflected in more grown-up fare. I have often thought that if I was a thief I could slightly rewrite the plots of My Little Pony without the magical stuff and have the greatest, most female-friendly sitcom of all time because the plotlines and characterizations in MLP are spot on-relatable for me.
One of my favorite books of all time is A Tree Grows in Brooklyn. It's a coming-of-age story about a girl and her mother, how strong they are and why they have to be so strong. It isn't about a man's idealized imagination and how he's disappointed in a series of women for no particular reason, it's about women being disappointed in a man for very good reasons. (there's a man bites dog story for ya.) ATGIB is about poverty and alcoholism and the American Dream and gender differences and human endurance and human weakness. This is not a "junior novel"; in fact it was deemed so inspirational that the Army had copies of it printed and shipped to soldiers overseas during WWII.
You can even make a case for ATGIB being the Great American Novel or at least deserving of a spot in the pantheon of the Greatest. Likewise Where the Red Fern Grows, The Yearling, Little Women, Old Yeller, Little House on the Prairie, Charlotte's Web, and many other so-called "kiddie lit" classics.
Now, you may say that these books are far more literary than Harry Potter and I'd wholeheartedly agree. If you're reading this piece and you love Harry Potter but have never read ATGIB or WTRFG in particular, I strongly recommend you read them (the others too, but especially those two). But even newer, more pop-culturally-beloved books such as The Hunger Games and The Golden Compass have hefty themes. The Hunger Games offers scathing insight into modern culture and social class and is far more effective at holding a mirror up to America and showing us what's there than many similarly-themed adult books. And even though I don't personally care for The Golden Compass it's a veritable smorgasbord (orgasbord, orgasbord) of themes any of which are more interesting to me, your friendly neighborhood axolotl, than the sexual hijinks and nostalgic remembrances of middle aged, upper middle class intellectual men.
Belittle them if you like, but young adult novels can be about something, about things that are real and true. YA novels can discuss topics and concepts that in books for adults often get lost behind the same old, same old subject matter that's plagued literature my whole-entire-life.

Now, it's possibly true that in olden times people were too sexually repressed and we needed the Sexual Revolution and all the literature that came out of that time, to combat some attitudes and assumptions that were preventing people from being fulfilled. Possibly. But as is so often the case with revolutions, the revolution maybe became the end itself rather than a means to an end. As the French Revolution had the Reign of Terror, the Sexual Revolution had its own excesses, many of which we're wrangling with right now. People temporarily forgot that there were things in this world aside from sex – a lot of things, and that these things were just as worthy of reflecting upon as the needs of ones' genitalia. But people never forgot that in the world of YA literature, probably because plotlines where men actually turn into boobs are generally frowned upon in books for children, so they had to actually, you know, think of some other stuff to write about. 
There's a deep irony to me in people telling me to put away childish things and come join the world of adults in which everything is sex, sex, sex, all the time. Because to me that's about the pinnacle of IMmaturity, IMO.
I was in the 8th grade already, thanks.
At such a point in time that grown-up fiction wants to actually, you know, GROW UP and stop taking the "I'll show you mine if you show me yours, but I'll undoubtedly find it disappointing" storyline as sacrosanct and inviolable, hey, then I might find something there to enjoy. Maybe I'll have a compelling reason to stop watching cartoons and reading coming-of-age stories.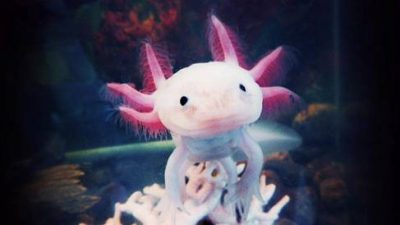 Until that happens, I'm gonna remain an axolotl.
Photo by kellyhogaboom