Weekend Plans Post: The State Fair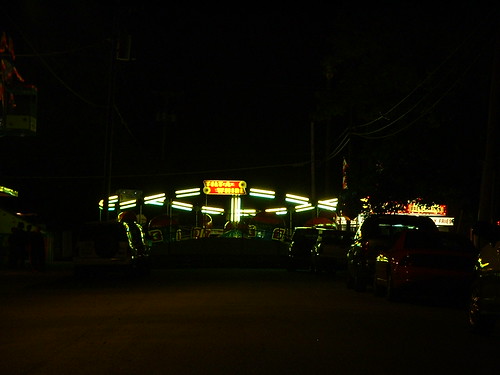 When I was a kid, going to the Fair meant going on the Tilt-A-Whirl and throwing darts at semi-deflated balloons in the hopes of winning a small stuffed animal that would be forgotten minutes after being arranged into the crowd of previously won stuffed animals. After the fun part was over, being dragged through the arts and crafts pavilion where I was forced to look at indistinguishable quilts, being dragged through the farm animal pavilion where I was forced to smell all kinds of smells, and then to wander through the baked goods pavilion where we looked at cookies, pies, cakes, and homemade candies through glass. Not eating them, no. Just looking at cookies in a cabinet.
Along the way, I got a corn dog and a lemonade and, on the way home, fell asleep in the car.
Now I am old. The Fair hasn't changed a whole lot (well, the state has, but not much else has) but I completely go for different reasons. The Tilt-A-Whirl? Fuhgidabowdit. We don't even wander through the carny part of the Fair anymore. We go there in order to check out the arts and crafts pavilion and to pet the goats and to look at the baked goods through glass and to make comments about the marbling of the fudge and tap on the glass in front of particularly chunky chocolate chip cookies and say "that there is some quality chunkin'."
But some things have changed… there are a lot more side-hustles that show up at the State Fair than when I was a kid. We had booths, sure, but they were all selling Fair Food and t-shirts with obscene gestures or Mickey Rat on them. Sure, they still have the Fair Food and vaguely offensive t-shirt booths, but now you can buy cookware at the State Fair. You can buy yourself a ShamWow (as seen on TV). Scented candles? Yes. Blenders capable of puréeing an entire papaya without cutting it first? Of course. Mattresses? Oh, mais oui!
Which makes it feel like we're paying big money to go to the mall. But it's not like we're not going to buy some scented candles. The peppermint ones they had a couple of years ago made the whole house smell three degrees cooler.
And that means that, yes, this weekend we are going to the State Fair to wander around, visit the various grown-up pavilions, check out the scented candles, get a corn dog and a lemonade and then, on the way home, I'm going to envy Maribou as she falls asleep in the car.
And notice that, somehow, another summer seems to have slipped away.
So… what's on your docket?
(Featured image is "Carnival – Tilt-a-whirl" by fwaggle. Used under a creative commons license.)