Daniel Pantaleo Has Been Fired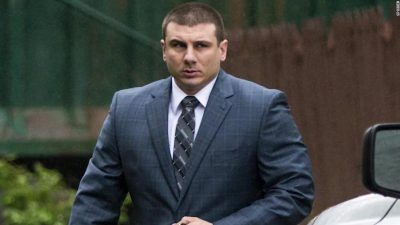 Daniel Pantaleo – the New York City Police Officer who put Eric Garner in a prohibited chokehold for the alleged crime of selling loose cigarettes – has been fired. An administrative judge recommended as much two weeks ago and, today, New York Police Department Commissioner James O'Neill accepted and executed the recommendation. In the five years since administering the prohibited chokehold, Pantaleo has been the focus of a protracted legal battle that saw him repeatedly escaping meaningful consequences for having applied the chokehold.
The city's Police Benevolent Association president, Patrick Lynch, reacted angrily to the firing, insisting that Pantaelo had only been doing his job when he applied the chokehold to the man whose crime was allegedly selling loose cigarettes.
Garner went into cardiac arrest in the immediate aftermath Pantaleo's chokehold, dying after repeatedly saying that he could not breathe. Officers on the scene ignored his pleas for help, as did EMS responders who did nothing to help the dying man. The prohibited chokehold was filmed and widely distributed; the Black Lives Matter movement used the phrase in its ongoing protests against wanton police brutality. Those protests eventually included athletes across the nation, including LeBron James and Colin Kaepernick. In the aftermath of Pantaleo's use of the chokehold, officers inflated charges against Garner to make it seems as if his alleged crime was far more serious than it was actually alleged to have been.
Pantaleo has, until today, escaped consequence for his illegal chokehold. Despite two separate medical examiners concluding that Pantaleo's chokehold lead directly to Garner's death, a grand jury refused to indict him. In the aftermath of the grand jury's finding, Pantaleo offered the following:
"I became a police officer to help people and to protect those who can't protect themselves… It is never my intention to harm anyone and I feel very bad about the death of Mr. Garner. My family and I include him and his family in our prayers and I hope that they will accept my personal condolences for their loss."
Pantaleo made that claim despite having been repeatedly cited for his approach to his job.
Then last month, Attorney General William Barr then excused Pantaleo's chokehold despite his own Civil Rights Division finding that there was suitable justification to pursue charges against the officer. According to Richard Donoghue, the US Attorney for the Eastern District of New York, "an officer's mistake, fear, misperception or even poor judgment does not constitute willful conduct under federal criminal civil rights law." (It should be noted that Barr's own commitment to policing was made clear several weeks after excusing Pantaleo when he declared that those opposed to police brutality were functionally attacking the police.)
Pantaleo is expected to appeal the decision to fire him. His lawyer inexplicably claimed that Pantaleo is both disappointed and upset about the outcome of an investigation that took five years and saw him face no substantive consequences until today's firing.