Breaking Bad: Picard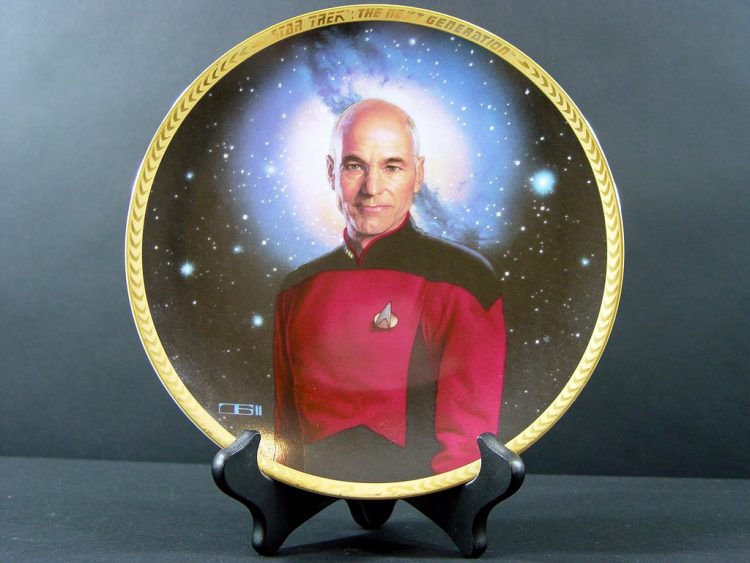 I enjoyed reading Sans Starship, Alex Parker's recent piece on the new series Star Trek: Picard.
I don't write about Star Trek often, even though I prefer it to many of the things I write about a lot, like Batman and Star Wars. I'm not sure why. I suspect it's because the handling of Star Trek frustrates me to an epic degree. The Star Trek universe holds so much promise and yet they wiff the ball again and again. So I rarely delve into critiquing it since I mostly just end up annoyed.
I learned a crap ton about writing from The Next Generation (TNG) in particular, and not because it's always good. TV was at a low point when I first was watching TNG, or maybe it had always been at a low point and my standards had gone up from watching Moonlighting. One horrible night I was home alone with my newborn son and the only even remotely watchable programming was Coach and Evening Shade. The Internet wasn't yet invented and I was poor and had no books to read — basically, I wanted to die from sheer badness.  
During this time I was watching TNG daily in reruns and then once a week, on Saturday night, they aired new episodes. There was this brief and blissful period where they played reruns of The Original Series (TOS) and TNG back to back every afternoon (I watched TOS while I was in labor, believe it or not) and I never missed 'em. (Yep, I'm a geek.)
The thing that puzzled me the most was, why did I find TOS so much more compelling than TNG??
For some reason, even when I watched an episode of TOS I'd seen a dozen times, I was on the edge of my seat wondering how they were going to get out of this jam even though I totally knew how they got out of that jam already. But most episodes of TNG, even the ones I hadn't seen before, I didn't really give a crap about. While they entertained me, kinda, I knew they'd come up with some unlikely plot device that would save the day and everything would go right back to normal again faster than you could say "Shut up, Wesley".
I still think about this riddle pretty much every day, because struggling to find an answer to it intrigued me as a writer. Why is it that I can watch TOS pretty much daily for as long as I can remember, finding the silliest episode interesting, even compelling, while 80% of episodes of TNG I really don't care for?
The obvious explanation is a lack of interpersonal conflict. It's been discussed by many others, but Star Trek creator Gene Roddenberry famously insisted on there being little to no conflict between members of Starfleet, a restriction that was utterly silly, not to mention impossible; whenever sentient beings are in a crisis there will always be disagreement about how best to proceed. 
Somehow the actors and writers of TOS were able to overcome that artificial limitation. The episode of TOS I watched when I was in labor is a great example of how the conflicts in TOS make for interesting viewing. The Galileo Seven gives us a scenario where Spock, McCoy, Scotty, a hot chick, and some redshirts are stuck on a planet in a broken shuttlecraft and nothing is going right. They argue passionately on how to proceed as things go from bad to worse. The arguments all make perfect sense based on their characters, and the acting is great. The Galileo Seven remains totally watchable to me to this very day and is my fave episode not only because I had a baby right in the middle of it, but because it's so awesome it made me forget I was having a baby right in the middle of it. 
TNG rarely rose to that standard. There are good episodes, even great ones, but they're so few and far between.  
Personally, I believe that it's more than interpersonal conflict or a lack thereof. I think it's more that the technological limitations/innovations of the Star Trek universe are, in my opinion, grossly misapplied in the later incarnations. In TOS, the technology was used as a plot device but in such a fashion that it served as a backdrop upon which the characters could interact with each other. The technology was the trigger for the drama, it wasn't the basis of the drama itself. Futuristic technology carried with it new sets of problems that our characters had to solve; the technology was a stumbling block as often as it was a saving grace. The machines in the 23rd century didn't work like they were meant to or they had unpleasant side effects or they broke down and needed repair at inopportune times or they were out of dilithium crystals. But the show was never about being out of dilithium crystals per se, it was about Kirk and Spock and McCoy and Scotty and the people they met along the way while going to fetch dilithium crystals. 
But in TNG and beyond, technology was often treated as the SOURCE of the drama and not as a catalyst that kicked off dramatic interactions between characters. 
An illustrative exception is Disaster. In Disaster the Enterprise hits something called a quantum filament and the ship is badly damaged. The crew is cut off from one another and several subplots ensue. But the plots are all character-driven. The technology serves as the backdrop for the drama, but the drama itself is entirely human – Ro and Counselor Troi butting heads over the fate of the Enterprise, curmudgeonly Captain Picard dealing with terrified and inquisitive schoolchildren, Worf delivering a baby. It's one of my favorite episodes of TNG. But Disaster is the exception and not the rule.  
For the most part, the technology-driven drama on TNG and later Star Trek series feels very contrived to me. And worse, unrealistic, because the technology of the 24th century is practically limitless. In a world full of replicators and self-cleaning ships, angst over whether you can get to a planet in time to drop off supplies in time to stop a plague feels phony and manufactured. Hearing tales of planet-wide famine turning Cardassia warlike seems idiotic when they had warp drive and disruptors and were running an interplanetary empire. The later incarnations of Star Trek remind me of Superman; practically unstoppable beings who are grossly overpowered unless a chunk of magic rock, or some nanites, or some aliens from another dimension with a taste for cellular peptides happen along. Too powerful to be interesting, but too easily brought down by relatively powerless adversaries. Every episode becomes an excuse for our godlike heroes to encounter the magic rock and somehow get away from the magic rock again.
The TNG world isn't consistently governed by any economic laws, either. Energy is apparently free, materials appear limitless. In the 24th century, they seemingly think nothing of blowing up starships rather than inventing (with all their insane and mindboggling technology)some sort of weapon that incapacitated ships rather than destroying them. Superman, with all his incredible might, simply explodes his enemies rather than just taking them to jail. Yawn.
IT MAKES NO SENSE that in any future reality one could envision, any culture would build something as financially and tactically valuable as a starship only to blow them up as often as Starfleet does. Beyond capital and raw materials, it would be a massive waste of human resources as well. Stocking a probably-doomed vessel with scientists and soldiers that took decades to train, even children, CHILDREN, themselves a financial and tactical resource, not to mention a genetic one, and then send them out there to be very possibly destroyed in the name of "research"? Are you kidding me here? "Hey y'all, let's go out and see what's in space! I built a spaceship that cost 700 trillion bars of gold-pressed platinum and I've decided to put a bunch of children on it because hey that's just the way we roll in the 24th century. BTW there's like a 99% chance we'll get blown up during the course of our every adventure."* The writers of TNG treat people like they're disposable even as they expect me to believe in this culture in which every life is precious.  
I suspect that in the 24th century the premiums for life insurance for Starfleet officers are astronomical.  
The Trouble With Tribbles works because you can imagine a world in which a shipment of grain might mean life or death to a space colony and you can imagine a world in which there's room for a skeevy trader like Harry Mudd to travel planet to planet, outpost to outpost eking out a living. TOS works because their technology is limited and appears to have costs to it and they don't squander it to add tension to a dull episode. The TNG world, on the other hand, because the technology is so amazing and seems so impossibly cheap, I know a miracle is always in the works. I know no matter what, Picard will pull a Romulan rabbit (that's a rabbit that looks exactly like a rabbit, only it has a funny haircut) out of his hat to save the day. Because it's all so farfetched and unrealistic, it's tough for me to get invested in the outcome.   
There are bad episodes of TOS (no shortage of deux ex machina there either, of course) and good episodes of TNG but overall TNG always seems to rely on the 24th-century version of Jeff Goldblum flying into an alien ship to give them a computer virus with ridiculous ease. Rather than the characters solving their problem with ingenuity or logic or sheer force of will or heartbreaking sacrifice or the tender ministrations of a simple country doctor, technology near-magically comes to the rescue, some sudden innovation bordering on the hand of God winging in from the warp naselles or Data's positronic network, with all the difficulty of Q snapping his fingers. 
In a sci-fi world, the sci-fi has to have some limits and strictures based in the reality of actual human experience and the physical laws or it all falls apart for me. Scotty cannot break the laws of physics but Geordi seems to work that trick regularly. The creators of TNG tried to replace the drama they lacked because everyone got along too well and because technology had solved most of humanity's problems, by making up phony problems rather than really putting themselves into that world and envisioning the new problems that technology would create. 
It certainly showed. I don't expect perfection but come on, if Data was THAT prone to turning evil, would you really want to have him around? Would you EVER go on the Holodeck for fun when you could end up getting killed in there for reals? 
So does this mean I think there could never be any new Star Treks? Have they poisoned the well forever by always finding Chekhov's Gun Black Mirror has raised the "perils of technology" game to epic levels, the creators of Star Trek: Picard are going to have to try a little harder than the mysterious disappearance of Mr. Spock's brain.
Alex mentions that he thinks the Star Trek world has so much potential ASIDE from the bridge of a starship.  I couldn't agree more. In this 24th century world there would be technology available to do all sorts of things other than flying around on starships blowing each other up.
I would love a show that centered upon Jean Luc Picard farming grapes on Earth.  What would Earth be like in the future? What kind of agricultural technology might exist? What would the politics of the world of winemaking look like in a universe full of other aliens? Would there be competition between the makers of French wine and California wine and Klingon blood wine and Romulan ale? How intense might this competition get? Would there be bootleggers? Would there be wine tourism? Would there be a temperance movement? Would Q show up and could he get drunk if he did? I WANT TO KNOW. It would open up new possibilities to explore so the tired premise of "unlikely technological problem/magical technological solution" that plagues the later incarnations of Star Trek would hopefully fall by the wayside. 
There could absolutely be a new show about Picard coming to terms with his age and his final chapter of life against this backdrop and it could be fascinating. It could still have Starfleet and the Prime Directive and phasers and Seven of Nine and all the rest of it but it just wouldn't be ~always~ on a starship, that's all. And wouldn't it all seem so much fresher and more interesting than another show that plows up the same tired ground we've already walked on before? "Oh no, the Klingons have a cloaking device. Oh no, we're on the holodeck and the safeties are off. Oh no, Q."
Remember, we had five seasons of the most compelling viewing ever on television about the hijinks of a bald, dying man making an intoxicant and trying to sell it to people.
Bring me Breaking Bad: Picard, please.
It is frankly bizarre to me that of all the untapped potential in the Star Trek universe, intriguing characters and amazing technology and political intrigue out the ying-yang, that all the best creative minds Hollywood has at its disposal can come up with is "Here's that thing you like all over again, only lamer!"
The real archenemy of Captain Picard is that old villain Ennui. There's only one way to defeat it — innovate or die.    
*Why don't they have the pepper spray version of a photon torpedo, anyway? They can create food from energy and travel across vast distances in seconds, are you really telling me the ONLY way to deal with aliens is by blasting them out of the sky?
Photo by James_Seattle