Ever Heard "Hey Joe?"
If you have read any of my posts you should notice a common thread in my writings: Music. It is a big part of my daily life. I am fortunate enough to have a massive library of albums that I mine to create playlists to listen to at work and at home. Of course, I have my favorites. Too many to list here.
This morning as I was riding into work I heard a song that I have listened to at a minimum, over a thousand times. Today though, it was like I heard it being played for the first time all over again.
I really enjoy when that happens, discovering something new, hearing a song that just grabs hold of me and takes me for a ride. It does not matter if it is a new song I have never heard before or a cover of a classic, like this morning. I will crank it up and immerse myself in it.
Today it was the master work "Hey Joe." The most popular version of this tune was released by The Jimi Hendrix Experience in 1967. I have listened to it many times, I know the words by heart. I can hear it playing in my mind as I write this.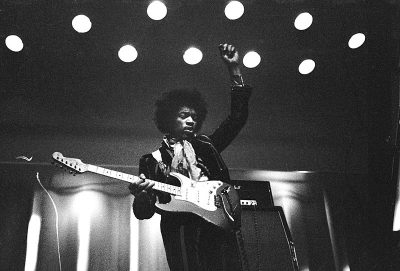 "Hey Joe, where you goin' with that gun in your hand?"
This morning was like every other Friday heading to work. I entered the highway, threw it in the left lane and dropped the hammer. Sailing along, I contemplated what was ahead for me to end a long week.
Then I heard it. The familiar intro but yet not the same. So I turned it up. Then the chorus. "Hey Joe?" Who is this? Why have I never heard it like this before? I didn't care; I was hooked.
It was being played by the band Spirit from their album "Spirit of 76" released in 1975. It had a Manfred Mann vibe in my opinion, not necessarily a bad thing. Spirit is same band that claims Led Zeppelin stole the intro to their classic rock staple "Stairway To Heaven" from Spirit's instrumental named "Taurus." Zeppelin, notorious for "borrowing" from early blues artists while composing some of their greatest songs, beat the rap in court-this time.
Of course, my curiosity was piqued. I did a quick dive into the history of "Hey Joe." I learned so much in a short period about it. As it turns out, a folk-singer named Billy Roberts copyrighted it in 1962. Then a band called The Leaves recorded it in 1965. Then re-released it right before Hendrix broke out with it in 67 .
I knew none of this. As I went further down the rabbit-hole I learned that many artists took a shot at it. (No pun intended.) Some did so abysmally, some made it their own (Spirit), but one band took it into the rock-n-roll stratosphere. That would be The Jimi Hendrix Experience, which was honestly the only version I have ever known until today. It would become the band's first hit of many to follow before Jimi's untimely death at the young age of 27 in 1970.
I used to think that I missed out, that I was born in the wrong era when it comes to music. My oldest brother turned me on to classic and progressive rock at a very young age. I branched out in the eighties to metal, dabbling in some of the 80s New Wave stuff that was out there. Never strayed too far from classic rock though.
I hired on at Star Lake Amphitheater in the early 90s as security to make some extra cash. I was exposed to all kinds of music there that broadened my horizon. I enjoyed it so much, I would have worked for free most nights. So many stories…
In the summer of 2000 I bought our first PC. Dial-up AOL seems so archaic now but back then it was cutting edge. As I got familiar with the World Wide Web, I found a treasure trove of information out there about music. It was like drinking from a firehose. I became fascinated with the back-stories, the factoids, the tales being told. I could not get enough.
I still cannot get enough. A recently retired Pittsburgh DJ by the name of Sean McDowell was like listening to a narrative of rock history on a daily basis. He retired as a Pittsburgh Icon, no easy feat. I would listen to his stories like a kid hanging on every word. I have had the chance to interact with him via Twitter where he continues to spin tales of rock-n-roll for the masses, pointing me in the right direction to dig further, to learn even more and laugh at his musings.
Honestly, I no longer believe that I was born in the wrong era when it comes to music. Yes, I missed out on some of my favorite artists in their prime but I have seen my fair share of epic shows from the mid-80s to present day.
The miracles of modern technology have allowed me to store 26,000 or so songs on a device the size of my thumb. They empower me to read about the history of rock on a device I can carry in my pocket. They enable me to listen to any of those 26,000 songs that are stored on a "cloud" with a couple taps of the finger.
I'm a Gen-Xer. I came up in the boom-box, Walkman, cassette tape era. A time when you waited to hear a song or album on the radio so you could tape it. That was a novel idea then. Who would have thought we would ever live in a time where you can carry the equivalent of 50 cases of cassettes in your pocket?
I have heard more music and learned more musical history in the last 19 years than I ever thought possible. Yes, as an example, I missed the Jimi Hendrix and the Band Of Gypsies Fillmore East shows of 1969/1970 but so did everyone else who was not actually there. Why? Because the original album was taken from the second night of the two night show on New Years Day 1970. The first night's performance on New Years Eve 1969 was not released until 2016. There were fans alive in 1970 who are no longer with us today who never got to hear the first night.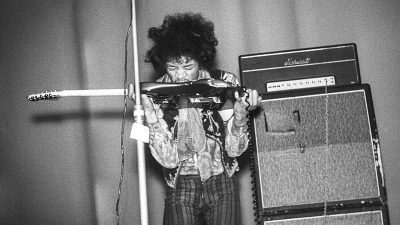 The Fillmore East Album was the last full length release by Hendrix. It all started with "Hey Joe" three years earlier. It was the last song played at Woodstock 50 years ago next weekend.
"I'm goin' way down south, way down south
way down south to Mexico way!
Alright!
I'm goin' way down south
Way down where I can be free!
Ain't no one gonna find me babe!"
Today I got to hear it again for the first time. What a time to be alive…
E pluribus unum.