Who Can Stop Biden?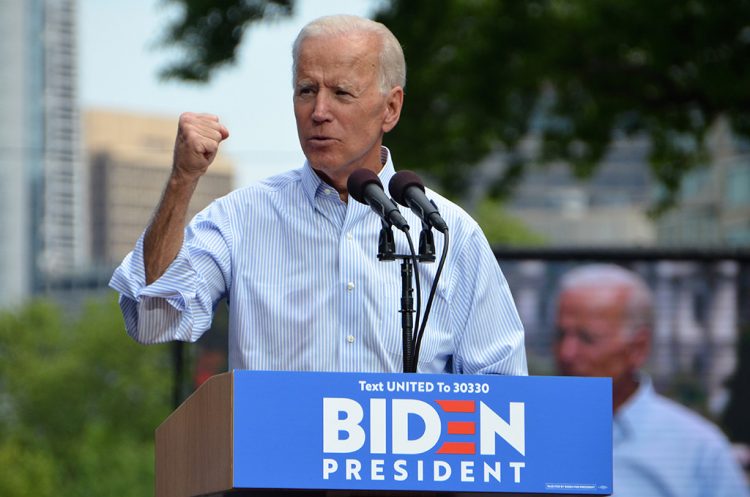 On April 25th, 2019 Joe Biden officially dropped his hat into the race for the 2020 Democratic Presidential nomination. He was the twenty-second "major" candidate (according to the media) to have done so. Since he jumped into the race, an extra five other candidates have also joined the field and amazingly there's rumors abound about the potential for a couple more joining as I write this, and by the time this hits the public one of them may have even announced. And yet with such a massive field encompassing successful businessmen and women, city mayors, current and former governors, current and former congressmen and women and such, the former Vice President has held a consistent lead in the average national and early state polling before he announced and since he's hit the campaign trail. On top of all that, he currently is tracking ahead of would be past nominees like Mondale in 1984, Dukakis in 1988, Bill Clinton in 1992, Kerry in 2004, and Obama in 2008 in endorsement strength at this point in the race; just trailing Hillary Clinton in 2016 and Gore in 2000 – two campaigns that were on cruise control for the nomination from start to finish.
Keep in mind since Biden has gone out onto the campaign trail, his past voting record and public statements that don't hold up well among some of today's parts of the coalition of the Democratic party have been thrown back at him. He's found himself in a tit for tat on busing and working with segregationists in the past with major African American candidates in Cory Booker and Kamala Harris – each dealing some seemingly big blows against him in separate debates. He got accused of light sexism by Kirsten Gillibrand, and Bill de Blasio all but called him a tool for private insurance companies. We've had momentum hype from the media about Elizabeth Warren and Kamala Harris being the ones who could be looking to topple him after slight positive movement for them in polling. We've even seen the administration he was a part of for eight years taken to task by his fellow partisans. And yet after all that, Joe Biden remains the clear frontrunner to become the 2020 pick to challenge President Trump.
Now before I go on, I think it's only fair to pour some cold water onto the idea that Biden is just too unstoppable these days, so just keep in mind a few things. Biden does enjoy significant leads in polling, but he's no where near the dominant near 40%+ type support he had after his big polling surge when he announced. 30% or so support means there's still 70% or so of would be primary voters that aren't currently all in on the frontrunner. Biden also hasn't had a break away debate performance, having a bad night in the first debate and playing it safe in the second while others banged each other up. Biden's endorsement strength is impressive, but Kamala Harris is actually right behind him and tracking ahead of some would be nominees of the past at this point in the race herself. Polling shows that a plurality of Democratic primary voters are concerned about his ability to engage the public with new ideas and lead an exciting campaign. And finally yes, we're still a little under half a year before Iowa kicks off the actual voting and delegate allocation process for the nomination, so there's still plenty time left for a would be historic meltdown to strike the Biden camp – not to mention (God forbid) any potential health issues for a man of his age. So no, Biden is NOT inevitable at this point.
However, while we're still months away from voting starting, we're rounding the corner out of the Summer and into the Fall where the DNC has made debate qualifying harder and a vast majority of Biden's challengers are hopelessly stuck in what I term "the 0-1% club" and will likely be forcibly pushed out as they start to miss more and more debates. Polling shows these candidates have been tuned out by the Democratic electorate as they focus on just the top better-known contenders, and thus I won't be paying much attention to them in this piece either.
So, if voters are getting in mind to start getting serious about only those with a real chance at the nomination, let's focus on Biden's challengers who average 3% support or more in the polls. That leaves Bernie Sanders, Elizabeth Warren, Kamala Harris, Pete Buttigieg, Beto O'Rourke, and Cory Booker. Of these only Sanders and Warren are in the teens, with Harris kind of slipping back and forth from the high single digits to low teens. So again, I must ask, can any of these candidates, most if not all who will make future debate qualifications, surge ahead and stop Biden?
I can't provide an absolute answer, but I'll say that as the race stands now, I would bet against them. If they can change the dynamics however in the coming months, I might just start buying some stock of theirs. What are these dynamics and reasons Biden is continuing to be the favorite? Let's break them down…
– Electability Matters
When running against a sitting incumbent President, electability can understandably be a massive concern for would be challenging partisan voters. While not a fact in every case, historically opposing parties nominate candidates who seem the most electable to challenge a sitting President. Mondale in 1984, Dole in 1996, Kerry in 2004, and Romney in 2012 come to mind. Obviously general election results are a different story against that argument, but the fact is primary voters are very concerned about it. But the voting demographics among the blue team that are most concerned about it? High turnout older and more moderate voters as well as African-Americans, absolute key voter blocs that are basically must wins to get the nomination these days.
Not surprisingly Biden is winning the argument on electability even in polls where his ability to electrify and excite the base with new ideas and policies come into question with voters. Not just because of hypothetical polls (That for the record should be taken with more than a pinch of salt) showing him cruising against the sitting President in the middle of a good Economy, but also because of very vocal concerns that running candidates that back controversial and unpopular policies such as Medicare for all, decriminalizing the border, and such would only help Trump's chances in a race that could end up having a very small room for error on either side. On top of these things, polling has hinted that Biden's image as a leader has helped greatly with this electability argument in his favor. Whether you agree with the concept of electability mattering or not, the fact is it is an important factor to gain the trust of partisan voters to nominate you to oust the current office holder, and Biden is clearly the one they believe wins that argument at the moment with them.
If Biden is going to be toppled, a non-Biden candidate MUST start convincing primary voters that they can be electable against a sitting incumbent President, and that they can put up a better fight than a former Vice President who has impressive leads against that President. If none of Biden's challengers can turn the voter's minds on that, his road to nomination won't get much tougher.
– Key Voters, Not Just The Twitter Bubble's Favorites
If you were to spend time just on Twitter you would have never believed that Donald Trump was going to win the Republican nomination for President in 2016. The same arguments were thrown at his chances then that are being thrown at Biden's now. Polling in the twenties or low thirties shows weakness, once everyone else drops out and it becomes a two-way race he's finished, and other such "hot takes" (Just wait until the brokered convention hopes start). But while the Twitter bubble of the partisan right were arguing amongst themselves about Ted Cruz and Marco Rubio, Trump was winning over some key voters and blocs on his way to the nomination.
Now flash forward to today and among the left-wing side of partisan Twitter you'd think the race was a heated one between Elizabeth Warren and Pete Buttigieg or that Bernie Sanders and Kamala Harris are gonna be the final two standing. Just pick whatever fan base is out there and watch them explain and talk themselves into believing their candidate will take the lead for good any time now.
Meanwhile Biden has had his surges and dives in polling, his good and bad weeks, and after all that he has remained the clear frontrunner through it all. Winning over older and more moderate voters is one big reason why. These are voters that aren't spending time on Twitter, in fact its estimated by some that as little as just about two or so percent of the Democratic electorate that will participate in the primaries are even active Twitter users.
But it's not just the older crowd; African-Americans are also backing Biden by large numbers. Even in a field that includes high-profile black contenders like Cory Booker and Kamala Harris. This helps him in the South where he enjoys big to massive leads in polls against progressive darlings the Twitter bubble are in love with. Not to mention a nice chunk of voters that can be critical in big cities inside the most hard-fought states.
If Biden is going to lose this, one of the non-Bidens MUST start to make inroads with these groups. Getting progressive voters behind you and playing catch-up with Biden just to finish in second like Bernie Sanders did against Hillary Clinton in 2016 is not going to get the job done. Question is when will (if anyone) someone finally be able to do that and break past just support from diehards involved on social media? When will (if anyone) someone actually start winning over chunks of the African-American electorate to peel away Biden's Southern firewalls? If no one can get love past the most devoted or past just white liberals, Biden's path is still not getting much tougher.
– The Obama Factor
In 1920, Warren G Harding won the Presidency during a tumultuous time for the country while arguing for "A return to normal". Polling has shown that a significant chunk of Democratic primary voters in a way want a return to their own normal in the Barrack Obama era that was VERY popular with them. Biden, obviously because he was the man's Vice President, is their best face for that return. So, I question how wise it is for these challengers of his to beat up on the Obama administration to win over these Obama friendly partisan voters. Reports have been written that Obama himself has been very disturbed with the attacks by his own side against his legacy with progressives and believes that Biden may be the best hope to beat Trump himself. If Obama were to go against Biden's wishes and get involved in the race in his favor, it could become a nightmarish scenario for Biden's challengers.
If Biden is going to come up short, one of his challengers must either convince Democratic primary voters its time to move on to a new era in the Democratic party's long history or find a way to embrace a return to the Obama era themselves and provide evidence to voters they are better suited to continue it than Biden is. If no one can do either, Biden's path…you guessed it, won't become much tougher.
– What Will It Take To Stop Biden?
So to recap, if you happen to be a Democratic primary voter who wants to take a chance on someone who isn't Joe Biden, you want to see a candidate who is reaching beyond the diehards and white liberal progressives, someone who is able to create an image of leadership and argue in favor of their own electability, and they can't continue to be stuck in the second and third tier with the other non-Bidens.
As of now, nothing much has changed past what the news cycles are talking about and who said what at the debates. Among the constants has been the former Vide President remaining the frontrunner, the big dog, that is the man to go through if you want to be the one accepting that nomination in Milwaukee next Summer. Biden hasn't yet shown himself to be an unstoppable and inevitable favorite, but he is THE favorite and the race has to significantly change before he can lose that status.