Kevin Williamson's Smallest World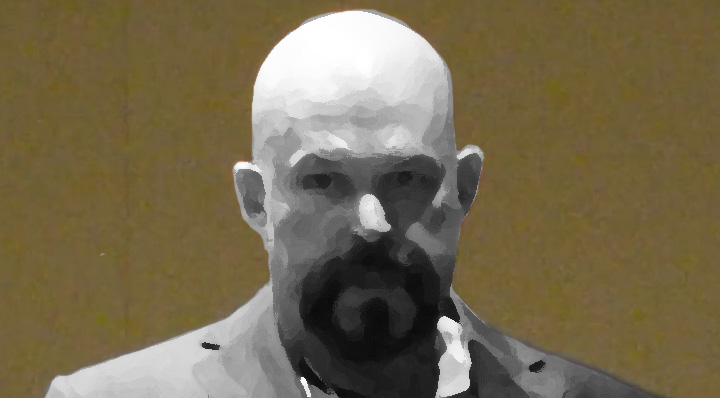 "Forget your sanctimony about struggling Rust Belt factory towns and your conspiracy theories about the wily Orientals stealing our jobs. Forget your goddamned gypsum, and, if he has a problem with that, forget Ed[mund] Burke, too."

Kevin Williamson, "Father Fuhrer," National Review 2016
Some writers, no matter how brilliant, never break through. As anyone who writes for online publications knows, the odds of any given piece "going viral" or even getting much attention are very slim; the odds of that virality being due to the actual value of the piece are no less of a crap shoot. But sometimes the stars align, lightning strikes in exactly the right spot, and an article becomes not only talked about but becomes the sort of historical masterpiece deserving of being learned in schools when teaching the history of its period.
The above quote comes from one such piece. An angry, biting, piercing diatribe against the dysfunction and self-loathing of poor white members of rural America, Kevin Williamson struck a nerve so raw, those he hit are still reeling. It was pieces like this that inspired Williamson's brief hiring to and then firing from The Atlantic, which helped market the book under review (even though Williamson argues he'd been planning it before.)
For me, the starkest part of the article was not the description of the social dysfunction but the bolded part of the quote. It's not often you see a veteran writer in the nation's preeminent conservative journal contending in the very pages of that journal that the arguable Father of Modern Conservatism needs to be chucked.
The bluntness and even passing nature of the comment touched a nerve within me, forcing me to think long and hard (I'm still thinking) about the stark reality that sometimes the traditional arrangements and communities conservatives so cherish can themselves become so toxic and destructive to its members that yes, they need to die, in whole or in part, locally or globally. Williamson had thrown down a gauntlet to conservatives everywhere to think about this, and that rethinking and resultant debate has been very fruitful.
**
If Williamson still has Lady Luck on his side, The Smallest Minority will be his magnum opus, a book which should provoke real and piercing thought among those he hit so hard the first time, even if they disagree with his entire thesis. Which I am very well near.
Ostensibly, this is a book about free speech, individual thinking, and mob politics in the age of social media. At one level, it is that. The chapters are full of discussions of sociological, literary, psychological, and pundistic arguments about the fickleness, vileness, and stupidity of the masses, whatever those masses might be, and how easily they destroy things just because they can be destroyed, because it's fun, or because it's fun to destroy things – especially as part of a group providing a sense of belonging.
Reviewers will likely latch onto this aspect of the book for good or ill, no doubt debating when and whether Williamson crosses any PC lines or suggest his book be burned or put on a pedestal. For my part, I could have done without the frankly excessive and pornographic imagery he uses to describe the mobs, not as a matter of "triggering" or frailty, but just as an aversion to what feels like violently and abusively dehumanizing language at the most basic, non-PC level.
But frankly, there are tons of books on the issues of free speech and mob thinking nowadays. Many are probably more rigorous in terms of philosophy or use of research or practical recommendations. If that were all the book were about, I doubt I would have written this review.
I write this essay because there is a second level to Williamson's book, one far more radical and even bordering on the nihilistic. Williamson's article was a gauntlet thrown to conservatism; this book nukes it from orbit. To understand why, we need to talk a bit about the origins of the conservative-libertarian alliance known as "fusionism" which seems in the process of collapsing at the elite level.
**
When the conservative movement led by National Review founder William Buckley started out, people on the right brought together two ostensibly contradictory ideologies: Conservatism and libertarianism. Those who called themselves conservative, while they were generally pro-free market, also cared deeply about institutions and communities and certain truths they believed about the universe and mankind. Libertarians were generally far more radically individualist, tended to distrust both state and society, and put near-religious faith in the market.
With the aid of thinkers like Frank Meyer, a kind of alliance was formed called "fusionism" which argued the two ideas could not only get along but were indeed compatible and complementary. While historian Joshua Tait notes that tensions existed even then, the two sides believed it enough that there was a real partnership to be had, even if not a complete melding of minds.
This book makes it very clear that for Williamson, this is no longer true and perhaps never was. He may complain at one point in the book that conservatives and libertarians once generally agreed on things while debating finer points but no longer do, but the entire treatise under review refutes this thesis. This is a writ of divorce, with the drawbridge pulled up, the moat filled with alligators, and the ground around burned for miles and run through with barbed-wire.
The reason is connected to the article that launched the whole thing. Conservatives, well, wish to conserve – communities, religions, traditions, cultures, ideas, places. They may sometimes concede the need for change and occasionally even agree that some of these do need to die, but they will never actively do so and will certainly not meet their death with enthusiasm or a shrug of the shoulders, instead viewing it as a tragedy to be lamented and missed – even when realizing you can't go back.
Conservatives of all stripes, furthermore, believe in human bonds and relations beyond the individual – ties that bind, causes that inspire, enrich, and ennoble, legacies and inheritances to be preserved across the generations. "Ed Burke's" covenant between the dead, living, and not yet born, and all that. The reality that these things at times turn toxic or dysfunctional does not, for them, refute the core of the idea itself; humanity may be eternally flawed, but these forms of living help it be somewhat less so, and sometimes appreciably less so.
**
Williamson will have none of it. For him, the mob is not just the state or angry Twitter users; it is human society and community as such, in any form other than ad hoc alliances of individuals. There is no form of human community, religious or secular, on which he does not pour his complete scorn. The few comments in favor of them are drowned out by a flood of misanthropic bile in the other direction. The conservative movement and even many liberals decried the cratering of human association documented by Robert Putnam; I've the feeling Williamson would be elated if it would be entirely completed.
In one chapter, the very existence of a social order as such so offends him that he celebrates assassins who destroy them. The very act of individual rebellion for its own sake is ,for him, something noble, the motives and consequences for everyone else be damned. The Europe devastated by WWI due to Gavrilo Princip's assassination of Franz Ferdinand would like a word; no-one asked the people living in imperfect but livable conditions whether they all want to die en masse and lose everything due to a young man who rebelled "because he must."
Williamson has often ranted against the Progressive movement's desire to break up families and communities so that they can best be maintained as individuals by an enlightened state. But I fail to see the difference between that and Williamson's contempt for said communities (and really, families can be damned with the same logic he uses against them). At least Progressives believe in helping people, even if in a misguided manner.
His discussion of the potential importance of religion (especially the Church) is belied by his utter indifference to and borderline celebration of the collapse of actual religious societies and communities past and present, and his open celebration of rebellion against the same.
He claims he detests Ayn Rand and he used her own title "because she doesn't deserve it"; I see precious little distance between her amoral and anti-social view of human relations and his own socially averse and still transactional one. His is still the philosophy of social media, of Facebook and Twitter connections easily made and broken for ad hoc purposes rather than based on bonds and commitments that you don't break even when they're inconvenient or you disagree. Ironic, really, given the book's ranting at the same.
The book claims not to praise democracy, but to bury it. That's too modest. This book comes to bury conservatism and indeed any concept of human society recognizable to the overwhelming majority of humanity. Its fulsome and uncritical praise for only free, impersonal markets and nothing else cements the stereotype present-day National Conservatives have of every member of the old guard right. Its contempt for any individual not named Kevin Williamson or adhering to his near-impossible criteria for being "an individual" bespeak a misanthropy that would shock even the Joker – at least the latter loves an audience.
In the end, it's not that the individual is the only minority that matters; it's that in Williamson's world – he's all that's left. What a sad, tragic, dark understanding of the world.
Review of Kevin Williamson, The Smallest Minority: Independent Thinking in the Age of Mob Politics, Regnery 2019