Win it Warren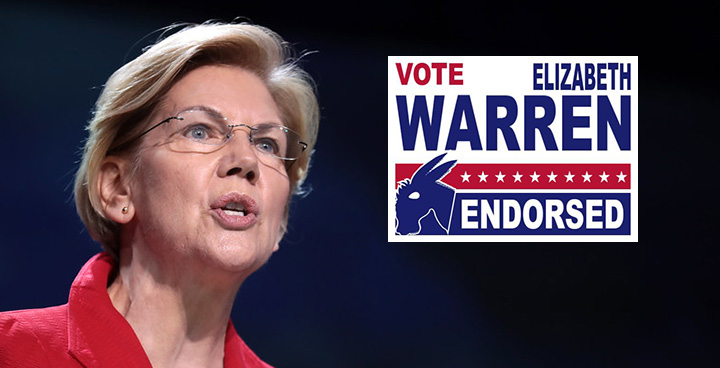 This post is part of Ordinary Time's symposium of contributor's Democratic primary endorsements. The views and endorsement expressed are the author's alone.
Elizabeth Warren has a plan for it. I get it. This is a cliche. This is possibly one of the more unfriendly to Warren blogs out there but I am going to make my stump post for her.
In brief, she is smart and knows her shit. I don't think anyone at OT would be shocked by my complete disdain for Trump. I think he is a racist, xenophobic, cruel, autocratic, ignorant, lazy, incompetent, corrupt, and probably suffering from cognitive decline and/or senile dementia. Elizabeth Warren is from a modest background. She grew up in a lower-middle-class family in Oklahoma. Her dad lost his job. Her mom needed to work to support the family.  Are you tired of the Presidency being dominated by people from the Ivy League? Elizabeth Warren received her undergrad degree from the University of Houston and her law degree from Rutgers Law School. Both of these are public institutions. She is the rare person to make it from public schools to an Ivy League professorship.
Are you afraid Elizabeth Warren will face the same sexist backlash that plagued Hilary Clinton or that she will get tarred because she taught at Harvard Law and lives in Cambridge, Massachusetts? She can successfully stump in West Virginia. I've seen, but currently cannot find, polling that suggests Warren's main base of support is affluent white liberals. That probably fits me as a descriptor to a t. Yet, while I think almost all the Democratic hopefuls dedicated themselves admirably to the public service, I think Warren's plans are aimed at helping all Americans achieve a level of stability and comfort that has been lacking for many, maybe most in recent years.
Concerned about how younger voters are too into "socialism?" Elizabeth Warren considers her self a capitalist.  Despite many decades of right-wing propaganda, not everything to the left of the Koch Brothers or the animated corpse of Andrew Mellon is "socialism." There is a role for the government to regulate and counterbalance the most greedy aspects of business so it does not crash and burn or make everyday Americans suffer the hardships.
The 2020 election is not going to be an easy election mentally and emotionally. I think Trump's recent actions show that he and/or his staffers think the best hope for reelection is out and loud white nationalism. Maybe they are hoping that this can lead to another 2016 scenario where Trump loses the popular vote soundly but wins the electoral college easily. There are no easy moral choices often but with Elizabeth Warren, you have a candidate who comes from a non-elite background, one who cares deeply about the struggles of everyday citizens, and one who rejects the despicable racism and vulgarity of Trump. Plus, she can think things through. Wouldn't it be nice to have a President who is not pure and constant ID?