Sunday Morning! Beginning Balzac & Eugénie Grandet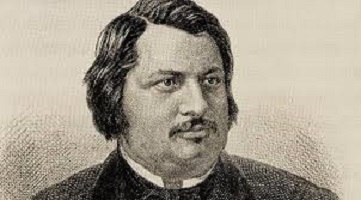 This week, I read a handful of short stories, Girls to the Front by Sara Marcus (which was excellent), and Eugénie Grandet by Honoré de Balzac.
I suppose we can't talk about Balzac without first talking about the coffee. He was famous for drinking gallons of the stuff: "black coffee" he claimed, although it was apparently his own blend of Bourbon, Martinique, and Mocha. This gave him the energy to write for hours on end, which he must have done to have completed as many works as he did before dying at age 51. Plenty of writers drink coffee by the potful. Voltaire drank quite a bit of the stuff, but Balzac wrote a humorous essay about his java habit, which is probably why we today have Balzac Coffee shops. Having the Cabaret Voltaire to your name, which lasted less than a year and was the maternity ward for all modern art and anti-art, would probably be better anyway.
This was the first Balzac novel I've read, oddly enough. Perhaps I've been daunted by the grandiose quality of the comédie humaine: ninety some novels and stories aiming to describe the full range of social types in contemporary France? My mother read them all and enjoyed them greatly, although her tastes tend to run towards whatever she can download for free in the public domain. I found reading Zola's twenty Rougon-Macquart novels was quite enough for me. But, I suppose a not-so-young man grows curious about Balzac with time…
Anyway, I enjoyed Eugénie Grandet, with only a few caveats. It's a well-constructed novel and has a certain amount of joie in its descriptions. I can see why Flaubert especially loved Eugénie Grandet and can imagine its heroine, a deeply religious and romantic young girl isolated in the provinces, having slumber parties with Emma Bovary and discussing dreamy love interests that were, in both cases, rather overtly sexual and pretty bad choices. The heart wants what it wants and these are both, at heart, stories of young female lust that destroys a family structure.
It occurs to me that desire is central to most stories- someone wants something and that desire runs up against social conventions, their own limitations, or conflicting desires. In this case, there are three characters who know what they want but not how to get it from each other.
Eugénie's Père Grandet appears, at first, as a somewhat stock "miser" character who has made a fortune that he won't spend, craves gold, and aims to hoard as much wealth as possible. His wife and daughter are also somewhat stock "religious" women who are kept in a state of want. Balzac opens the book with a meticulous description of their constrained provincial life and it becomes clear that this is the sort of man who would, if he could, charge the houseflies rent.
Papa Grandet is more than a miser though. He's an operator. Grandet had started as a cooper, but has made himself quite a viticulturist; much of his wealth came from the vine and the mythical "art of the deal". He aggrandizes that wealth throughout the story by outsmarting his competitors, who falsely believe him to be constrained within a friendly business community, wheeling and dealing, and investing astutely in government stocks. In other words, he's a type of capitalist that was just emerging in rural France when the novel was written in 1833. At the same time, his obsession with the beauty of gold, captured in a great E.C. Comics image of Grandet and his housekeeper caught inexplicably carrying around a barrel of gold by poles in the middle of the night, verges on the Freudian before Freud. He's obsessive. Balzac's particular gift is this interweaving of very personal psychologies and public types.
Enter the outsider. Grandet's nephew Charles Grandet, Eugénie's cousin, arrives from Paris unaware that he's been recently impoverished by the bankruptcy and soon after, the suicide of his father. The foppish Parisian is utterly different from anything Eugénie has ever known and his arrival stirs something in her that will, inevitably, upend the order of the household and her father's rule. As Balzac describes it himself, it's a tragedy without bloodshed, in which the struggle of how much sugar to add to coffee is as devastating as a sword fight. The basic conflict is between the father's desire to hold on to his wealth, Charles' snobbish concern over his standing in high society, and Eugénie's desire to be with her cousin. It will end badly for all of them. In fact, it probably couldn't end otherwise.
It's essentially the story of a young woman's journey from idealistic innocence to bitter experience. The irony is Eugénie rebels against the family rule but doesn't end far from where she started, and given the social milieu from which she came, it's unlikely she could have. Balzac ends with syrupy talk about her goodness and salvation, but his ironies are thick and inescapable. I especially enjoyed the wry details like Papa Grandet writing calculations on the newspaper item about his brother's death. The French excel at this sort of thing and it rang true, or at least truer than a lot of fiction from the time. There's something quite bitter about a young woman having to choose between a cold and controlling father and a shallow, insincere narcissist. Those hoping for a feminist outcome can, at least, take consolation in that Eugénie eventually realizes what she's getting and has no romantic illusions left, which is a sort of empowerment…
My only issue with the novel was that the characterizations were almost sociological sketches. These are types and, as such, we pretty much know everything they're thinking and why they do what they do. I didn't find a great deal of mystery here. Nevertheless, the analysis of social types and historical forces compared pretty well to contemporary MFA novels, in which bourgeois twenty-somethings take expensive vacations and learn the secret of life, or whatever. But most people are not even transparent to themselves.
So what are YOU reading, watching, playing, or creating this weekend?