Rub and Tug
Scarlett Johansson got in hot water recently for taking a role in the upcoming movie Rub and Tug, playing Tex Gill, a trans man who became a crime boss in 70's era Pittsburgh via an empire of "happy ending" style massage parlors.  Many felt the role should have gone to a trans actor. Johansson possibly pushed back on this, or more generously, her comments were taken out of context by a journalist trying to make them more clickbait-y. 
I'm of two minds about this.  On the one hand, I strongly dislike the way every special interest seems to feel fully entitled to tell everyone else what to do and say, even telling artists how to make their art. Not only does it make for an unpleasant world to live in, a world where everyone is always pulling each other down for every slight real or imagined so we're all walking on eggshells, it is impossible to do as a storyteller. It is simply impossible for anyone to tell a story taking everyone's viewpoint into account. And creating by committee instead of telling your own story your own way is not how good art is made. 
But on the other, I flat out despise how Hollywood selects like 3 hot/hawt actors and then proceeds to cram them into every role that comes along whether or not the actor is even a good fit. Case in point, Zoe Saldana, who has now starred in several blockbusters including Avatar, Star Trek, Guardians of the Galaxy. For some inexplicable reason they decided to cram her into a Nina Simone biopic despite the fact that she looks nothing like Simone and IMO, while I do really like her overall, she is not a particularly good actress in anything other than action movies. Considering that there are countless incredibly talented actresses who could have played the part of Nina Simone just as well if not better than Saldana, my question is, how many roles does one actress really NEED to play, anyway?  
Scarlett Johansson and Zoe Saldana certainly have a fundamental right to play as Johansson put it, a tree or whatever, but surely they have to know that as cutthroat as Hollywood is, every part they take is a part taken away from another person.  Morally speaking, why would you want to do that at all, especially when you know the part isn't even right for you, especially when you know the person you're taking the part away from is someone who has far less privilege than you?*
When is enough enough?  Enough money, enough power, enough fame?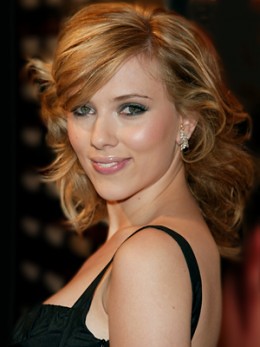 Scarlett Johansson has certainly played more than her fair share of parts.  She's in everything it seems like, alongside Zoe Saldana, Jennifer Lawrence, Reese Witherspoon, Amy Adams, Natalie Portman, Emma Stone, Sandra Bullock, and rising star Brie Larson.  On the men's side we have Leonardo DiCaprio, Bradley Cooper, Robert Downey Jr, Idris Elba, Samuel Jackson, Brad Pitt, Tom Cruise, and my personal fave Bruce Willis. It's a rare blockbuster that doesn't have at least one of these people if not several of them. Some claim this is all down to economics, that the reason why these guys and gals are cast in so many movies is because they bring people to the theater, but you know what else brings people to the theater? An actually good movie, which seems to in rather short supply these days. 
Hollywood seems happy to compromise on movie quality; indeed, is selling far less tickets than it would otherwise because of poor movie quality.  Hollywood seems nothing less than fully committed to cookie cutter entertainment, turning out hundred million dollar flops left and right. Thus it seems to me that their protestations about innocently casting and recasting and casting again the handful of actors allegedly guaranteed to put butts in the seats ring hollow to me. "Well these are the only people who sell tickets!" they say, while seemingly doing everything within their power to make movies no one wants to see, such as a gritty reboot of The Apple Dumpling Gang starring Javier Bardem and Crispin Glover.
America was built on the idea of greed, of more, of building yourself an empire, but something weird happened over the end of the 20th century into the dawning of the 21st. It became possible for people who already had gross amounts of "more" to continue to amass more "more" at an astonishing pace because they'd essentially gamed the system to keep others from being able to compete. Whether by using the force of law to create a Byzantine network of regulations that make it super difficult for the little guy to compete without having vast sums of money already at their disposal, or by creating bureaucratic guilds where who you know is far more important than any skill you may possess and the rules are structures to keep outsiders out, the last 70 years or so have created a level of wealth inequality that is boggling to the mind. Hollywood is spectacularly guilty of both of these sins.
Hollywood casting has become a lot like a monopoly – the monopoly itself begins to stifle competition and protect those who already hold power. At some point the monopoly grows so dominant that competition is pretty much impossible. Like McDonalds and Burger King, the choice between Natalie Portman and Keira Knightley is really not that much of a choice at all. And as with every monopoly, those most affected are those on the fringes to begin with. Minorities. LGBTQ people. Those who don't fit a very narrow standard of beauty, women who maybe look like Nina Simone, for instance.  I'm not saying these folks ~can't~ get jobs – in fact some have carved out their own niches – any more than I'm saying Mom and Pop's Fine Burger Establishment can't go up against McDonald's. But it's crazy to say that they're not at a huge disadvantage.
How would you like to be a trans person going up for a role against Scarlett-freaking-Johansson? I wouldn't. 
Now, you may be wondering about me being a libertarian and making this argument. But just because I don't think the government should be involved in enforcing morality doesn't mean I am opposed to morality. And a fundamental cornerstone of my personal morality is that sometimes enough is enough and you should graciously step aside and let others have a swing at the pinata.  
I understand and sympathize that actors want to act and they want to play many roles, just as I'm sure Ray Kroc wanted to sell as many gosh darn hamburgers as he possibly could and I want to write about everything under the sun. There is great joy to be found in perfecting your craft, absolutely. But the entire purpose of morality is to tamp down our basest, most self-serving impulses, no matter how incredible it feels when we indulge them, to live in a world full of other people who also have needs to be met and share that same desire to be the best of the best that they can. And if you're taking every job that comes your way, even when you're not suited for it, even when others would do a far better job than you can, even when you already have great fame and more fortune than you could ever spend in 1000 lifetimes, I'm sorry but I find that to be greedy and kind of gross.
I just wished we lived in a world where this was self-evident and understood rather than having to rely on the culture vultures who are always circling overhead to point it out to us, since the culture vultures tend to err on the side of calling everything carrion and devouring it.
*Saldana claims that "no one" who more closely resembled Nina Simone would take the part, and states that she declined it for a year but eventually decided that the potential harm of her taking the part outweighed the need of Simone's story to be told. To this, I must respond that surely the producers didn't look too awfully hard during that year.
Photo by mdshimo