Trump's Useful Idiot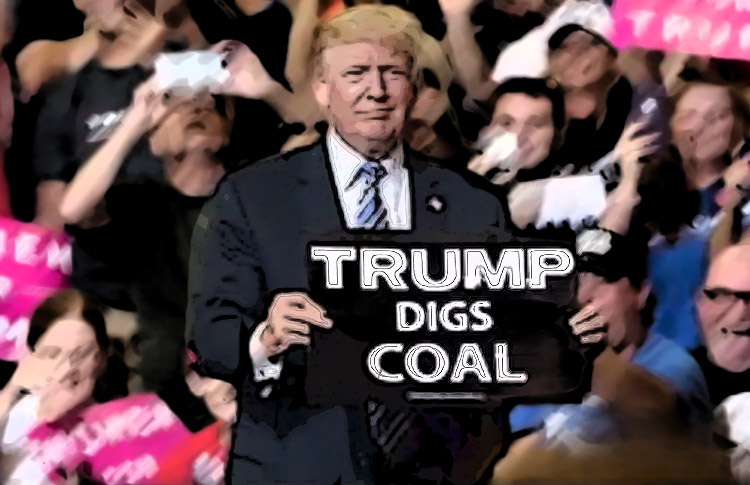 For West Virginians, Donald Trump was some kind of savior from the minute he donned that miner's helmet and promised to bring back coal. And the president has come to the state several times from the time of  his campaign to the present. But citizens of this state should ask themselves why. Why does he care? What's in it for him?
Of course there is the fact that our governor, Jim Justice, is a fellow billionaire 1. Also, he is a Republican and always has been, despite his temporary and completely transparent cosplay as a Democrat for the purposes of winning election. Birds of a feather and all that. But I suspect there is a less practical reason for Trump's apparent affinity for this small, spunky, very rural and very right-wing state.
Consider that movie trope in which a popular, possibly bully-ish tough guy character has a lesser, weaker hanger-on who follows him around, dutifully laughs at all his jokes, and punctuates the bully's tirades with an enthusiastic "yeah!" The bully doesn't care much for his sidekick, but keeps him around for validation and grunt work purposes. Think of Grover Dill, the little chubby kid who pals around with Scut Farkus in "A Christmas Story", or Woim, Butch's sidekick from "The Little Rascals". The bully doesn't really care about his minion; he's simply a useful idiot. West Virginia is Donald Trump's useful idiot.
We are not a battleground state. His victory here in 2020 is a foregone conclusion. So why does he come here as often as he does? Well, why wouldn't he? When he does, he gets the rock star treatment, the adoration his narcissism craves. To his supporters it feels like he cares, more so than his predecessor who largely ignored West Virginia throughout his two terms. West Virginians are almost a caricature of the Trump supporter, a microcosm of MAGA land. To him and them, the entire state is one big Trump rally, with a handful of protestors at the gates. We are the quintessential sidekick to bolster his image as the savior of the common man.
To wit:
The Great State of West Virginia is producing record setting numbers and doing really well. When I became President, it was practically shut down and closed for business. Not anymore!

— Donald J. Trump (@realDonaldTrump) July 21, 2019
And to wit: this response:
All 50 states could be doing as great as West Virginia is only the obstructionist democrats would get out of the way!#MAGA2020

— CC (@ChatByCC) July 21, 2019
In case it's not obvious, let me first clarify that CC is a bot. Because any sentient being would know better than to suggest that other states should strive to do as well as West Virginia. It's true that West Virginia's economy has seen a slight uptick, but much of that is due to the national gas industry having an up period, and the construction of a pipeline through the state. When that project is done, most of that boon will go with it. The state ranks 50th in unemployment rates, 49th in median income, dead last in high tech jobs, per wallethub.com. Sure, our unemployment rate is down, but it's still higher than the national average, and our labor force participation rate hovers around 54%, slightly lower than it was ten years ago and slightly higher than when Trump took office.  In the one area in which we should shine –our natural environment- we are 41st due to the amount of toxic pollution of our land. And yet we cheer in our MAGA hats at Trump rallies for the rollback of environmental protections.
West Virginia continues to lose population rapidly, so much so that we will likely lose a congressional seat after the next census. Our education system consistently ranks near the bottom. Political corruption abounds, with two of our state supreme court justices becoming federally convicted felons in the last year. Deaths due to the opioid epidemic continue to ravage the state. Nineteen percent of West Virginians lived in poverty as of 2017, an increase over the previous year and the fourth highest rate in the country.  One in 25 school children are homeless. Our roads are crumbling, our government is dysfunctional, our best and brightest are leaving.
It's unclear just what record breaking numbers Trump is referring to in his early morning tweet. Has there been any improvement in the economy? Sure. Has life improved here in any meaningful way? Not in general, no. It has, perhaps, enhanced the bottom lines of some rich, out of state businessmen who make money here, but your average struggling West Virginian continues to struggle, albeit, perhaps, while feeling slightly more important. So in what way should other states should emulate West Virginia?  Boot licking for the man who deigns to throw us a bone every once in a while by invoking our name positively or bestowing upon us a visit, apparently.
I don't mean to sound so harsh about the people of the state I love. And I won't condescend or insist that we're all a bunch of dummies who don't know any better. But it makes me wonder: why don't we know any better?
We do, just as Grover Dill knows his friend is a bully. But it's ok, because Scut's not overtly bullying him. Grover gets what little clout he has by virtue of his association with Scut; in return, Scut gets an always willing audience and an adoring fan. But Scut doesn't offer real friendship. When did Trump last open a business in West Virginia? He hasn't. Not so much as a golf course. And when his presidency is over, I predict he will re-ascend to his golden penthouse, replete with golden, er, throne, and never visit the people of West Virginia again- except perhaps to see his buddy Jim Justice at the Greenbrier resort.
Ask yourself, are we doing really well? Do you feel like we are "open for business?" Trump says we are. I know you like the attention, West Virginia, but he's not your friend. He's using you like you're Grover Dill.
Remember what a coward Grover turned out to be? He got knocked on his butt then ran to tattle to his daddy when Ralphie finally gave Scut a beatdown. That's not us. West Virginians are not cowards, and we do not need to be sycophants to the president in order to have importance. Improvement in our situation will only come from within. "Mountaineers are always free", not beholden to a patronizing, opportunistic politician. Let's not be Grover Dill.