Pushing On a String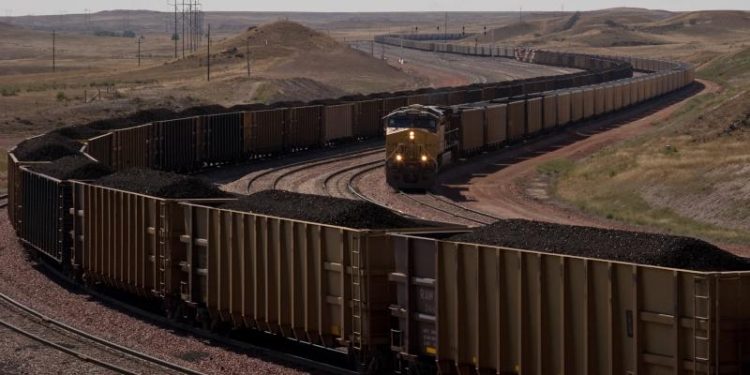 One of President Trump's most consistent campaign promises was to increase the use of coal for electric power generation, coal's principle US market. And you can't say the Administration hasn't tried to deliver on that. They've rolled back the newest rules regarding emissions of carbon dioxide from power plants. They've rolled back some rules on more traditional emissions, and on ash storage. They've opened more federal land to mineral leases including coal. They've even tried to introduce direct subsidies, although those were quickly shot down by the Federal Energy Regulatory Commission.  Actual coal use, however, continues to fall.
There's nothing new in general in this post; it's basically a small private celebration that some de-carbonization of the US energy continues to happen.  I'm going to start with coal's use in the resource mix last year, then cover specific examples of the reasons coal use continues to decline.  All of my examples are drawn from the western US where I am more familiar with details and history.
A couple of months back the EIA finally released the preliminary numbers for power generation by state and source for 2018. Those are summarized in the following table with states (approximately) aggregated into the three US power grids and sources into three main categories: low carbon, natural gas, and coal. The numbers are the share of generation for each source within the particular grid. These categories account for 99% of generation in all three grids. Low carbon is further split into renewable and nuclear because of the rather extreme differences in the mix in different grids. For the first time, low-carbon and natural gas sources both exceeded the share held by coal for all three grids. Coal's national share dropped below 30%. That's rather astonishing considering where things stood even a decade ago.
Some of coal's decline is driven by economics in three areas.
The cost of aging coal-fired plants. The Energy Information Agency closely follows the commercial power industry's scheduled plant retirements and additions. The announced changes for 2019 are shown on the map below. Retirements consist principally of coal, two nuclear reactors, and some aging natural gas plants. New additions are mainly wind farms in the plains/prairie states, solar in the Southwest and Southeast, and natural gas in East Coast and Gulf Coast states.
The closure of the Navajo plant in Arizona is worth looking at in detail. That plant is one of several very large coal-burners built in the Southwest in the 1960s and 1970s. In addition to meeting growing power demand, the federal government pushed hard for coal and particular locations in order to produce jobs and revenues for Native American tribes. Because of their age, major capital investments in those plants are necessary to keep them running. All of the plants have been, or are being, shut down in whole or part. The utilities that own them are reluctant to make the needed investments, as they can obtain electricity more cheaply from other sources. For the same reason, outside investors are reluctant to provide money for other parties that might be interested in purchasing the plants. The Navajo Nation tried very hard to line up enough money to purchase the Navajo plant in order to keep it running, but failed.
Cheap natural gas. Fuel costs matter. Drilling for oil in the Permian Basin region of New Mexico and Texas has surged in recent years. Permian Basin oil wells also produce associated natural gas. Well operators are allowed to flare off gas – simply burn it in the open air – for a limited period of time. During that period, the producers are required to build collection pipeline networks so the gas can be captured and sold. Plenty of the gas goes into pipelines headed west to markets in New Mexico, Arizona, and California. At multiple times in the last few months there was so much gas being produced that wellhead prices went negative: well operators had to pay people to take their gas so they could keep pumping oil. These low prices have made gas-fired electricity less expensive than coal-fired power.
Cheaper renewables. Renewable power, particularly wind power, continues to decrease in price. At the end of 2017, Xcel Energy in Colorado put out a request for bids for additional wind power. The bid prices from almost all of the wind farms were lower than the cost of building and operating additional natural gas generators, which is Xcel's normal benchmark. There are some local conditions working to wind's advantage that might not apply elsewhere. The downslope wind from the Rockies, particularly the outflow from the South Pass portion of Wyoming, is probably the most reliable and predictable onshore wind resource in North America. Somewhat special circumstances allow Xcel to sign contracts requiring them to buy every watt the wind farms can produce, even if it means curtailing Xcel's own power stations on relatively short notice. Since the wind farm owners know they will sell every watt-hour they produce, they charge less per watt-hour.
Finally, the political classes, responding to the increasingly urban population in the West, have become more opposed to coal in general. The Los Angeles Department of Water and Power has committed to converting its last coal burner – the Intermountain power plant in Utah – to natural gas by 2025. Under pressure from the customers, regulators in Oregon and Washington are allowing utilities there to buy their way out of long-term contracts with large coal-fired power producers in Wyoming. This year, New Mexico's new Democratic trifecta state government increased its renewable electricity requirement to 50% by 2030.
Sane mandates have become relatively easy to pass. (Although Arizona voters turned down an insane mandate last November.) Building a reliable grid that accommodates more intermittent renewable resources is trickier.  One of the keys in the western grid will be operating the grid on a broader scope than is currently done. California's legislature and Independent System Operator are slowly but steadily positioning the state, as part of its own mandates for using renewable power, to act as a necessary broker for exchanges of excess renewable power between different parts of the Western Interconnect.
So, small steady progress continues, largely done at the state level.  Not what I would prefer, but I'll take what I can get.
---
Front page image by Kimon Berlin, released for all uses under the Creative Commons license. The image shows coal trains at the North Antelope Rochelle mine in Wyoming, the largest coal mine in the world. In 2015 the Rochelle mine produced more coal than all the mines in West Virginia combined.