Bigot.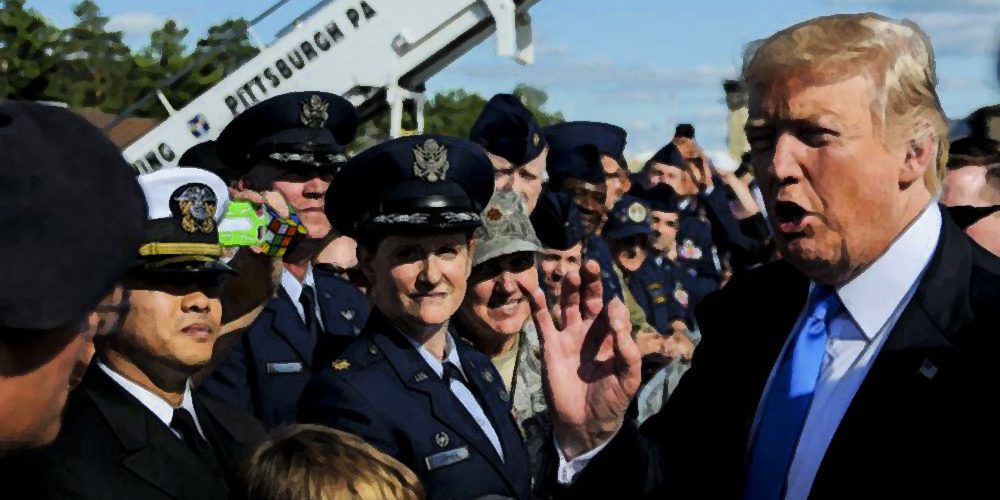 Donald Trump tweets.
So interesting to see "Progressive" Democrat Congresswomen, who originally came from countries whose governments are a complete and total catastrophe, the worst, most corrupt and inept anywhere in the world (if they even have a functioning government at all), now loudly……

— Donald J. Trump (@realDonaldTrump) July 14, 2019
….and viciously telling the people of the United States, the greatest and most powerful Nation on earth, how our government is to be run. Why don't they go back and help fix the totally broken and crime infested places from which they came. Then come back and show us how….

— Donald J. Trump (@realDonaldTrump) July 14, 2019
….it is done. These places need your help badly, you can't leave fast enough. I'm sure that Nancy Pelosi would be very happy to quickly work out free travel arrangements!

— Donald J. Trump (@realDonaldTrump) July 14, 2019
For the record, three of the four he is referring to were born in the United States (one of which for generations) and the fourth got here when she was ten. That's not central to the problems with Trump's tweet, but it is significant insofar as it's clearly an association of Americanness not even with immigration and assimilation specifically but race in particular.
This is far from the worst thing Donald Trump has said in his political rise and tenure. It is, however, one of the least ambiguous. There is typically some nail you can hang an argument on and have some sort of not-bigoted explanation. Not that people haven't been reaching for some.
Actually he knew it was Brooklyn and Detroit and that's what he meant. He said "countries"
Actually he was referring to Ilhan Omar who was born in Somalia "Congresswomen" – plural.
"Somalia is a hellhole, though" Again, wasn't that specific. And Pressley's and Ocasio-Cortez's roots are in the US, going back for generations.
A lot of people don't think of Puerto Rico as the United States. Yes, including the president, which is not unrelated to the discussion we're having right now.
People know that he means where their ancestors are from… Yes I think it is quite clear that he is arguing that they aren't really from here by virtue of where their parents are (or aren't) from.
The point is that they could go back but don't and maybe they should think about that. In my 40 years nobody has ever suggested anything like that to me when I have complained about this country. "Love it or leave it" maybe but never a reference to Britain. Beyond that, Pressley is the descendant of slaves. She probably doesn't even know where she is from because slavers, like the Trump Administration, did not keep good family records while they were separating families.
He wasn't telling them to leave he was saying they could come back They are already here. The whole point is about them not being here and learning their lesson.
There are a lot of women in congress and he only criticized a few of them so it's obviously not about race. Ted Bundy knew a lot of women and most of them lived long lives and died of natural causes.
And on and on. But all of this is so unnecessary.
I have been at Ordinary Times in some capacity or another for approaching ten years now. The list of times I have called racism is pretty short. There are multiple reasons for this. It rarely helps a conversation progress and that's what I'm usually here for. I don't believe in binary racist/not-racist declarations and have this elaborate 10-point scale I use1. Even when it comes to politicians and commentators that perpetuate racism, I often find that I don't make a moral distinction and am content to think of them as Agents of Racism because I don't care if they're feeling it or playing a part2.
But Donald Trump is a racist. This is not news or a new opinion for me in response to this latest thing. It's mostly a matter of becoming exhausted with tedious But Actually arguments suggesting that he's not, that he is due the benefit of the doubt as though every action is clear of any context of all of the words and actions that have occurred before. He doesn't have a well-formed racial ethos the way that some others do, but he has unusually racist intuitions that clearly inform the things he says and does, which he does not resist and is not bothered by. It's very common among normals. It's more notable when it's the president and it is left unchecked.
The next dodge is usually something about crying wolf and how liberals call everyone racist. That's sometimes true but beside the point. The fact of the matter is that I do disregard what a lot of leftwards have to say on the subject. They have proven to be unreliable and I have responded accordingly. It would, however, be the height of intellectual laziness to simultaneously outsource all of my judgment on racial issues to them and then reject their opinions. If you don't have your own opinions on what constitutes racism, that's on you. If you don't have a center of racial equality that involves not telling people of color who annoy to you go back to where they came from, you're saying more about yourself than you are about them.
And I'm listening, and will keep this in mind in future discussions as to what does and does not constitute racism.
As we discuss the situation at the border, we have run into this awkward situation where critics of the president will point to Trump misbehavior using evidence that comes from Obama's.
"Look at these kids in cages!"
"Actually that's from 2014."
"Look at this ACLU report!"
"Says here 2009 to 2013."
"Trump is making things difficult to discourage people from coming!"
"The Obama administration literally went to court to argue that they should be able to keep families locked up in order to discourage families from coming."
It's pleasant to think that none of the things happening right now would be happening under the Clinton Administration (or a Democratic Administration with a Democratic congress) but there is little reason to believe it's true. But we would have a lot less of it, and a lot of it would be considerably less bad, because we would at least have an administration that views it as a problem. That views these things as something to be avoided. That at least tries to strike a balance between treating people humanely and discouraging them from coming unless they really need to.
With the current administration, none of that is the case. It's not just "The cruelty is the point" but that even when it's not the point it is something they are simply indifferent to. They believe that by virtue of coming here uninvited, they deserve whatever they get. The administration and its supporters have been quite straightforward about this, enthusiastically embracing policies his predecessors pursued reluctantly or administered unintentionally. Given that, it's absolute folly to treat these things the same just because some pictures look the same. It's not a double standard as much as it's taking them at their word.
This administration is coming from a dark and vindictive place on a lot of these issues. In this context, the words matter quite a bit. They feed into the mentality. They are the communication into the darkness. There are people on both the right and left alike who suggest that all non-ideological opposition to Trump is aesthetics and style. That it's an objection to the vulgarity and thus trivial and superficial. But it matters because the trappings directly excuse the policy and undermines any sense of restraint. Position papers aside, policy manifests itself in thousands of decisions made by hundreds of people who are taking cues from the top. From what they say and how they say it. It matters. All of it.
We spend a lot of time here discussing whether supporters of Trump are inherently racist, mostly racist, or not racist unless proven by a jury of our peers or trial through combat or something. Some clearly are and it's equally clear that Donald Trump spends a significant amount of time cultivating their support and loyalty. There are others (including some non-reluctant ones) that I simply cannot conclude are (in any binary sense, or rating high on my ten-scale) based on everything I've known about them over the years. There are a lot of others in between. As far as I am concerned, while they do all have in common either a willingness to accept this odiousness or what can only be described as willful blindness towards it, the lines are often blurred and it is and ever will be complicated because people are complicated.
Trump himself is less complicated. He spends a lot of time cultivating the support and loyalty of the first group. He brings out racism in otherwise non-racist people. He picks at the scabs. He empowers the bad and often corrupts the rest. He brings out the worst in his supporters and his opponents alike. That he is personally racist makes him more effective at it than the pretenders.
This isn't something that just happens. It isn't something the liberals caused. It is his political business model. Those running interference for him and making excuses for it are active participants.
Something I developed for fictional characters I write. Once I had it, I actually found it more useful than a boolean variable