Lee Iacocca: The Car Guy Who Could Count Beans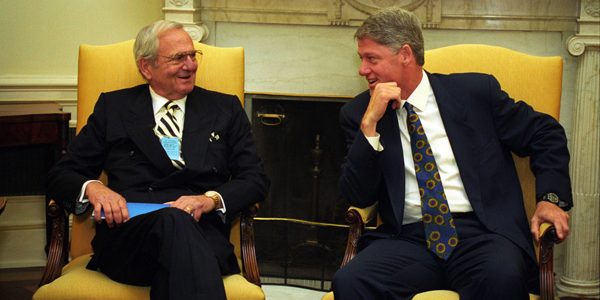 Full disclosure: I dressed up as Lee Iacocca for Halloween when I was in fifth grade. I don't think anyone recognized who I was trying to be even when I did the pose on the cover of his autobiography. I might not be a perfectly neutral observer.
Iacocca's was the auto bailout before the auto bailouts. The difference being that he made the US government billions of dollars in excess of what it borrowed while the modern Bush-Obama version permanently impoverished the country. Everything that has happened happened once before and will once again.
Iacocca, in his own words, was a car guy. He earned his engineering degree at Lehigh University and was hired by Ford Motor Company to be an engineer, which he did. One thing led to another, and he was eventually designing cars, the most famous of which was the Ford Mustang.
To hear Iacocca say it, there is no other car the heart could want more than the original Mustang, though if one reads carefully even that original Mustang had a blemish on it, imposed by the scion Henry Ford II who demanded that a couple of extra inches of rear legroom be added before it was moved into production.
Even so, it says something that the Mustang continues to exist decades afterward at a manufacturer that attempts to introduce new model names all the time, not with predictable success, but with predictable failure.
Iacocca pitted his style against technocratic management. Such bean counters would conduct marketing surveys and analyze spreadsheets (I suppose it must have been the predecessors to spreadsheets, really) to find opportunities for cost cutting. The result would be cars like what the Mustang eventually turned into: overweight cars that check off a lot of boxes for a lot of people, but ultimately miss the point about what the point of the car was supposed to be in the first place.
Iacocca didn't just make a muscle car. At Chrysler, he invented the minivan as a category. The minivan's time has now come to an end, but the reader should understand that it was once the staple of every mother just as the SUV is today. And most of them were Plymouth Voyagers or Dodge Caravans.
Additionally, Iacocca bought AMC for Chrysler. AMC made the beloved Gremlin and Hornet. Additionally, it also happened to own Jeep.
Before the abomination [what's the word that means bad word? Appalation?] "SUV" was conjured, we called all Jeeps Jeeps. When Ford started making the Explorer, that was Ford making a Jeep.
Now, my two year old can recognize cranes, Bulldozers, excavators, dump trucks, pickup trucks, cars, and Jeep Wranglers. The Jeep is the only car that has elevated itself in his vision as needing a specific kind of descriptor because to his eye it is an entirely different sort of thing. The Jeep brand is inarguably the most valuable thing the remnants of Chrysler owns, and it is there thanks to a merger with AMC from 1987.
And still, I can't help but point out all I've learned since reading his autobiography back-to-back several times when I was growing up.
First, Iacocca's autobiography is self-hagiography. The villains, including scion Henry Ford II , are obvious even if they are truly villains. And I don't know that they are because it's not like I ever read Henry Ford II's side of the story.
Iacocca got bailed out by Jimmy Carter's administration. When reading the book, he mentioned all the impediments that made this decision controversial, and it was more than a decade later that I realized that as a libertarian I would have obviously opposed the bailouts.
A couple decades later, a key argument underpinning the bailout—that no one would ever buy a car from a company that had gone bankrupt—was proven false by General Motors who went bankrupt and proceeded to sell a lot of cars.
That's more politics though. Lido was a car guy. I'd later learn that his view of bean counters absolutely is correct with respect to integrative products like cars or mobile phones. Such products have trade-offs where if you try to put everything that everyone wants, you can sabotage the whole rationale for the product you are producing.
Modular products exist too though, and with them, the technocratic approaches can work better. And certain cars (unlike small sporty cars) tend to be more accommodative of modular development than others.
Iacocca had me convinced that my life's work would be to start a fourth car company in the United States. I think I made it to high school before I realized that starting a car company is not just kind of hard, but actually impossible.
And then Elon Musk went ahead and actually did it. The Tesla roadster is absolutely the product of a car guy. You can tell that a singular vision formed all of the design choices therein.
One thing that Iacocca understood very well that it doesn't seem like Musk appreciates is that it actually does matter how many beans you have. Musk has benefitted from an unfettered ability to raise money to build cars the way he knows they should be built, but that is a route that can only last as long as it lasts.
Rest In Peace, Lido. I hope someone is able to do for Tesla someday what you did for Chrysler.