Oh Say, I Could See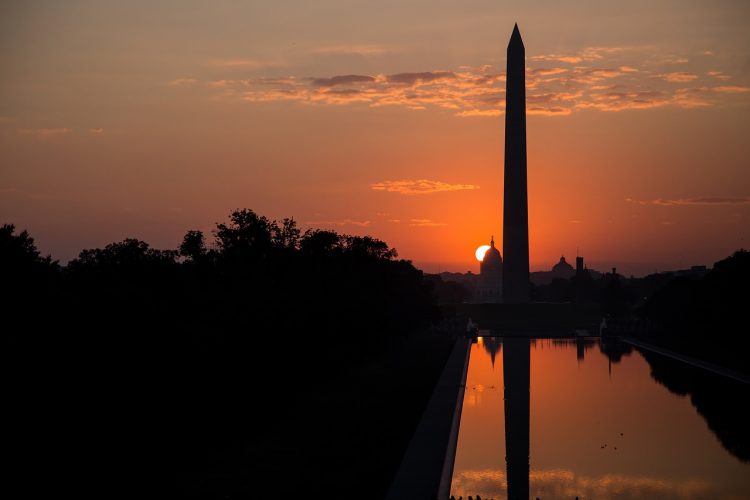 Standing on the steps of the Lincoln Memorial, looking across a long column of grass and water to the Washington Monument, I felt, rising inside me… patriotism.
I'm always a little surprised to feel things. I mean the big feelings, the physical ones, passions. My dad said of my older sister when she was upset about something "She feels it more," and it was always understood that he and I feel it less. What's more, of all the passions patriotism is one of the most uncomfortable. Loving my mother doesn't have implications for ideology, not the way loving my country does, and ideology seems like it should be about theory and arguments and sense. Seeing American flags in a row behind a white obelisk and feeling warmth in my chest is a reminder of my recurring suspicion—that the reason and reasons of my worldview are just circles drawn around hidden fragments of passion.
I was on those memorial steps because of a whim. My brother had a few days free before starting his new job, and so he decided to take a trip to Washington D.C. "I thought I'd see the monuments and the White House and things," he told me. When he said it I felt my own flash of wanting-to-see-in-person-things-seen-in-pictures (which there should be a word for), and decided to join him.
The city was hot, and humid as the Mississippi summers I grew up with, though after ten years in dryer places you forget how it hits you like a club. We walked to our Airbnb sweating and stopping frequently to consult our phones about what this august neoclassical building was. Then we rented two of those electric Bird scooters, the ones that are clearly a public menace but for the people actually riding them are wonderful. At 11.6 miles per hour with the wind catching my dress and hair, the weather was perfect.
We rode as close to the White House as we could get and made sure to whisper when we pointed out to each other where we would jump the fence if we were maniac White-House-fence-jumpers. We rode along the Potomac where the air smelled like water and visited memorials in a line—MLK, FDR, Jefferson, Lincoln. I appreciated that the memorials were text-focused, with quotes from the men in question carved in stone.
Jefferson's quotes were written in copper, and the letters wept green down the white walls of his pavilion. Curving around the top was: "I have sworn upon the altar of God, eternal hostility against every form of tyranny over the mind of man."
Reading that, I found that Jefferson's personal hypocrisy didn't matter much to how his words affected me. I am a bit of a Free Speech Warrior, and like other FSWs I have lots of arguments about why we should respect free expression and free inquiry even for offensive people. I talk about "the marketplace of ideas" and "restrictions on speech are worse for the marginalized" and "who gets to decide what ideas are acceptable?" But in the end, all of that is circles around I have sworn upon the altar of God eternal hostility against every form of tyranny over the mind of man.
Which is a problem for figuring out what's actually right and true, since those who disagree with me have their own phrases that they would carve into stone walls.
The day after seeing the memorials my brother and I fled the heat by wandering through the National Portrait Gallery and Smithsonian Art Museum. Here, the exhibits blended into a haze of pan-racial, pan-regional Americana. Benjamin Franklin next to Pocahontas next to Frederick Douglas next to Joseph Smith next to Sequoyah next to Booker T. Washington. WPA murals celebrating the automotive industry in one room, posters depicting Suffrage as a Roman goddess in the next. A bronze statue representing nirvana, commissioned by a transcendalist whose wife committed suicide by drinking photography fluid; a freed slave reading the Bible; stained glass from the mansion of a Gilded Age industrialist; cowboys and flappers and American Indians mingling at an Arizona carnival; ice skating in Central Park.
Walking outside, it almost felt like I was still within the curated journey through American-ness. Those men on the corner playing trombones over a Maroon 5 song—they could be an exhibit. Also those men in suits who were probably lobbyists or something, and the people on their phones, and the Planned Parenthood volunteers in painfully pink t-shirts failing to get my signature. Even those I wouldn't normally think of as "my people" became part of a rare, warm moment of nostalgia for the present.
So it turns out I love America. With the Democratic primaries upon us, I almost hope the candidates pile on the cheap and cheesy patriotism, with flags flapping as the last shot of campaign commercials. I also continue to send best wishes to those Republican politicians trying to forge a kinder, gentler, pan-racial nationalism to run on, even if I'm skeptical they'll successfully change the tenor of the party as a whole.
And for myself, the next time I see someone passionately declaring their beliefs and respond with "How do you know that?" or "But what does that mean exactly?" I will remember that my own beliefs, down at their bottom, are tangled up in poetry.