House on Fire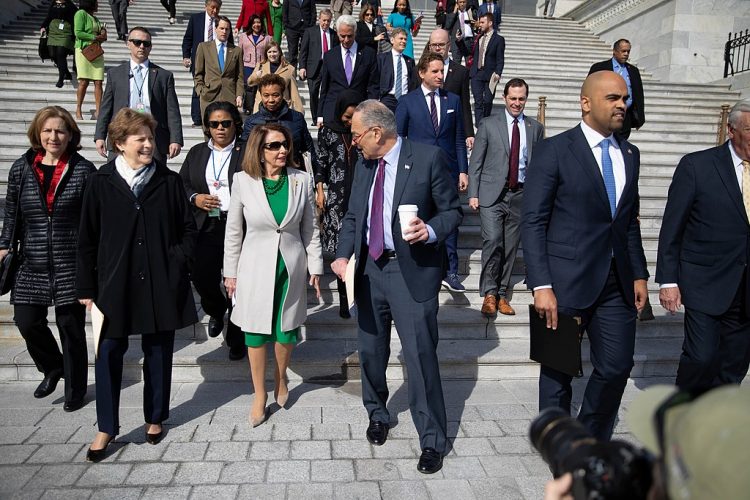 While most of the commentariat were focused on the Democratic Debate doubleheader, that party's house caucus was having a rough go of it. The House passed the Senate's version of the border funding bill, and nobody on Team Blue seems to be happy about it:
House Speaker Nancy Pelosi told her colleagues in a private meeting Thursday that she thought she had a deal this week with her longtime ally, Senate Minority Leader Charles E. Schumer: She would ensure passage of a more liberal border funding bill in the House, and he would back her up by persuading Democratic senators to fight for it.

Instead, Pelosi (D-Calif.) said, she was blindsided. Nearly all Senate Democrats voted for a Republican-backed bill that kneecapped the House and marked the most embarrassing defeat for Pelosi in the six months since Democrats took over the chamber.

"Schumer destroyed all our leverage on Wednesday by not being able to hold his people," said a senior House Democratic aide.

Schumer (D-N.Y.), meanwhile, believed Pelosi failed to deliver on a deal of her own. After House moderates revolted Thursday, Democrats had to discard a plan to send the bill back to the Senate before an end-of-month deadline.

"They're blaming everyone but themselves," said a senior Senate Democratic aide. Contrary to Pelosi's private assertions, the aide said, House leaders never asked Schumer to withhold votes in the Senate.

The breakdown between Pelosi and Schumer revealed the extent of the raw divisions among congressional Democrats and raises the possibility of more skirmishes to come as Congress barrels toward funding and debt ceiling deadlines this fall. Democrats in both chambers agree they have to be in strategic lockstep to have any hope of besting President Trump and Senate Majority Leader Mitch McConnell (R-Ky.).
The result was the bill passed with 128 Democrats supporting it, and the more progressive wing apoplectic at the moderates who were in open rebellion over it.
More than 90 Democrats voted against the Senate bill, including members of leadership like Reps. Hakeem Jeffries of New York, Katherine Clark of Massachusetts, Ben Ray Lujan of New Mexico and David Cicilline of Rhode Island — a sign of the deep discontent simmering within the caucus. In a shocking move, Pelosi's entire team of negotiators on the border aid bill, including House Appropriations Committee Chairwoman Nita Lowey of New York and Reps. Lucille Roybal-Allard of California and Rosa DeLauro of Connecticut also voted no.
Progressives, including Pocan, said they felt stung by the stunning course-reversal by Pelosi, where she swiftly bowed to pressure from moderates who had threatened to tank the House version of the bill — which contained hard-fought wins for the liberal Democrats. And Pocan warned that it could fire up the 90-member Congressional Progressive Caucus to take more hard-line stances on key bills in the coming months.

"I just think it's hard to ask our caucus to help deliver votes to pass things," Pocan said. "It's just going to be a lot harder for us to care to help deliver votes."
Multiple other liberal Democrats were also publicly seething at their centrist colleagues for forcing Pelosi to abandon her initial plan to vote on an amended version of the Senate bill that contained additional protections for migrant children.
The in-fighting, as such things are wont to do in this day and age, spilled over to social media.
Since when did the Problem Solvers Caucus become the Child Abuse Caucus? Wouldn't they want to at least fight against contractors who run deplorable facilities? Kids are the only ones who could lose today.

— Rep. Mark Pocan (@repmarkpocan) June 27, 2019
.@RepMaxRose just talked with Pocan on the floor about this.

Rose tells me Pocan's tweet was "crazy, crazy language."

"Mark's tweet just speaks to why everyone hates this place. He's just trying to get retweets. That's all he cares about." https://t.co/LMUAwc5GNu

— Andrew Desiderio (@desiderioDC) June 27, 2019
Rep. Ilhan Omar reacts to the House passing the controversial border spending bill: "We had an opportunity to put forth a humanitarian policy and we wasted that opportunity, and it's quite sad. And I hope that Americans are as appalled as I am" https://t.co/7gKZjFnPmH pic.twitter.com/akACnywwKU

— CNN (@CNN) June 27, 2019
This is what AOC's Chief of Staff deleted https://t.co/ZR0sEThZTi pic.twitter.com/zZQ1dlaH0J

— Jerry Dunleavy (@JerryDunleavy) June 27, 2019
Chakrabarti's boss, coming off a week where she sparked the "concentration camps" debate that had eaten up airtime and characters, was having her own rough day a few hours previously with Jake Tapper:
Jake Tapper Full Interview with Alexandra Ocasio - Cortez says Obama ran concentration camps
While this particular incident mostly stayed in the shade of the debates, this highlights some very real and glaring issues for the Democratic Party. Only 8 months ago, the taking of the House of Representatives was supposed to be the beginning of the end of the Trump Administration. It definitely feels very different today. This latest row over border funding in the wake of the supercharged emotional debate over the events, places, and people along the border has become indicative of high hopes meeting very challenging reality. Just blaming Pelosi is too simple, since once you start putting blown-up pics of drowned people trying to cross the border on the floor of the Senate not passing something was not an option. The in-fighting and machinations of legislative sausage making means things like this happen, but the reactions and vitriol is telling of fault lines within a party that is going to need unity, or at least some semblance thereof, to oust Donald Trump from behind the Resolute Desk.
Speaker Pelosi might be right about Leader Schumer not keeping his senators in line, but it's abundantly clear the new progressives, especially the freshman that have garnered lots of press, are not going to be bridled in any meaningful way. Such unbridled language as invoking "New Southern Democrats" on Blue Dogs and New Democrats is not going to help anything. The problem with that idea is that in taking the House last November, a lot of those suburban districts that turned the tide, and the House blue, are closer to the Blue Dog/New Democrat model than the Justice Democrats model. And the moderates know it, and are tired of not just the constant press the latter is getting but the lack of anything to go home and campaign on besides various matters related to them.
Across the capital, a very sobering reality check lies for all those presidential candidates and a party that feels they have a great shot at taking the White House in 15 month: Mitch McConnell once again worked his Democratic colleagues, and baring something truly extraordinary, he will still be the Senate Majority Leader after the 2020 election:
In a statement Friday, Pelosi spokesman Drew Hammill said that "the Speaker's focus has always been on Mitch McConnell. He shortchanged the children when he said 'get lost' to the House."

"Senate and House Democrats are united in realizing Mitch McConnell is standing in the way of doing so much good for America, including doing even more for the children at the border," said Schumer spokesman Justin Goodman.

Neither spokesman would address questions about the other leader.
All those big, bold plans the candidates are espousing on the network coverage of the horse race won't mean a thing on C-SPAN over the next four years regardless of retaking the White House with Cocaine Mitch manning the senatorial ramparts. Barring them unseating him in an election — and don't hold your breath for that — the math is just not there for the Democrats to retake the senate. Add in Joe Manchin's likely move to go after his old job of Governor of West Virginia instead of its senator, and the long odds get impossible.
While making Mitch McConnell the boogeyman will do great with the base and donors for Team Blue, it probably also helps him get re-elected. Running clips of folks saying "Only Mitch McConnell stands in our way of getting all we want" from Pelosi, Schumer, and AOC can be taken by Team Mitch and just tack on the "I'm Mitch McConnell and I approved this message" for the Kentuckian's ad buys. That same lesson can be extrapolated out to the 11 members of congress running for president. Donald Trump is going to run as "It's me or the left" to try to hold his coalition together from 2016. The idea is common enemy makes common cause and, they hope, reel in some former Never Trumpers who hate progressives just sufficiently more than the president to turn out and vote for their former hobgoblin. A rebellious, uncontrollable progressive faction in congress fits that narrative rather nicely; while the true believers are burning down the democratic establishment for the greater good they are also probably helping the last person they want to.
Meanwhile in the chamber that Democrats took control of just 8 months ago, things are decidedly looking grim. The House has passed a flurry of its initial legislative agenda which promptly went across the way to die in the Senate, and now the monotonous routine of passing pointless legislation and frustration of doing so appears to be getting to the members. Nancy Pelosi did not suddenly forget how to run the House, so the answer must be in the new makeup of her caucus. The spat over the border funding bill is likely to be replayed on every divisive piece of legislation, and the harder edges of the progressive wing have shown they have no intention of surrendering an inch to Pelosi, Trump, public sentiment, or anyone else.
Donald Trump polling-wise is as weak an incumbent as we've seen in a while. But he is an incumbent, and like fighting the heavyweight champ you aren't going to get a decision; you have to decisively defeat him. That is going to take all of Team Blue singing off the same song sheet, or at least faking it, for 15 more months. The pressure to beat Trump is only going to grow, and from the freshman congress critters hellbent on remaking the Democratic Party to Joe Biden, Bernie, Elizabeth Warren, Kamala Harris, and the other campaigning for the party's future, that pressure will expose every possible flaw. How they react and overcome that will determine their and their party's success both in their current roles and at the ballot box in 2020.
Plenty of work to do on that front.