Tenshot: Beyond Burger, Home Edition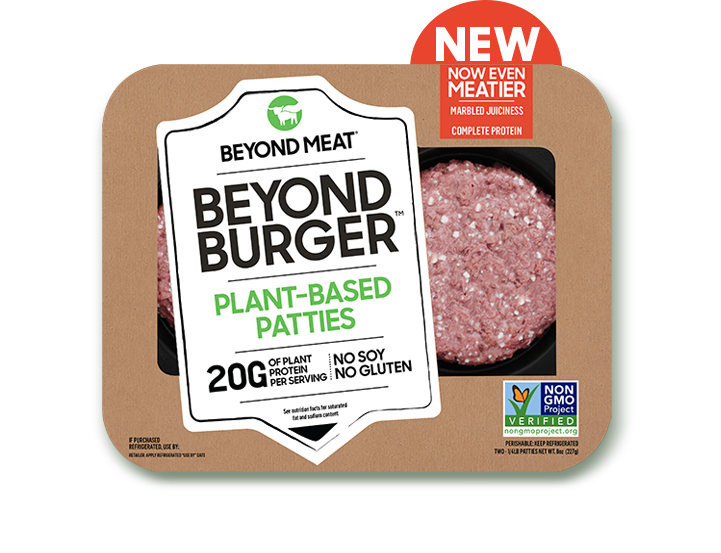 We grilled Beyond Burgers for dinner tonight.
Only a subset of the local Kroger chain currently stocks them.  Available in the more upscale neighborhoods, not in the more working class ones.
$5.99 list price for two quarter-pound patties in a shaped foam tray sealed under clear plastic. Today there was a one dollar discount.  I can buy lean ground buffalo for less than that.  Use-by date was ten days out, quite a bit longer than I'm used to seeing on meat.
The appearance is meat-like if you don't look too closely.  Much more so than a typical veggie burger.  The fat just looks wrong.  When I opened the package, it didn't smell like meat.  Not unpleasant, but not meat.
Sizzled when it hit the hot grill bars, suggesting that there's some amount of fat there.
Not a lot of fat, though.  Not enough drippings to cause any sort of flare-up.  The patties don't shrink while cooking.  They don't change shape at all.
The grill marks are acceptable, but not outstanding.
Very little aroma while cooking.  See #5.
We didn't add any of our usual seasoning.  Did melt a slice of provolone on each patty, mayo and a slice of tomato with the bun.  Fresh corn-on-the-cob for a side dish; okay, it came in a husk that hadn't dried out, but at this time of year, probably not really fresh.  Later in the season we'll get picked-the-same-morning corn.
Blander than beef. Blander than buffalo. Much blander than elk.
Won't be any repeat performances.  If we're going to spend that much money, we'll get buffalo or elk.  Buffalo is readily available.  Elk requires going out of my way a bit.
---
Front page image from the Beyond Meat web site.