A Very Welcome Victory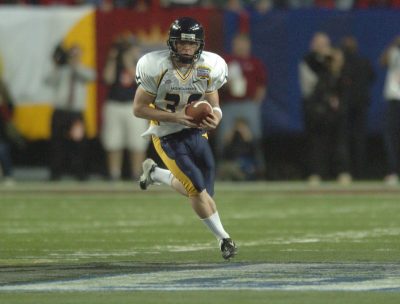 West Virginia's 156th birthday is today. It is tempting to contemplate the state – its fraught history, its struggling today, its bleak future – but, rather than doing so, this will be about something else altogether: a fake punt.
In 2005, the West Virginia University Mountaineers unexpectedly made the Sugar Bowl. The team had been…well, good is a word that could have been used to describe it…the three previous seasons, repeatedly going 9-3 in the regular season before getting absolutely embarrassed in its bowl games. WVU fans, understandably, took each loss with the same sort of stiff upper lip that we always had, which involved watching televisions in horror as seemingly talented teams crumbled on the biggest stage. It was something that WVU fans had gotten used to over the previous two decades, constantly losing bowl games by embarrassing margins under previous head coach Don Nehlen. New head coach Rich Rodriguez had simply managed to continue WVU's long tradition of sucker-punching its fan bases with disappointing performances.
2005 had started out with more of the same. WVU unleashed a bizarre quarterback platoon that featured Adam Bednarik and former baseball player Pat White. Each would lead the team for a few minutes, before turning it over to the other guy. WVU started the season 4-0, winning games 15-7, 35-7, 31-19, and 20-15, before losing 34-17 to a very good Virginia Tech team. In that game, Bednarik got injured and White was given full control of the team. The team just looked better when he was out there, and despite losing that game, WVU ended up running away with the season. It would not lose again the rest of the way, as Pat White teamed with breakout freshman running back Steve Slaton to win the team's next six games, which included an absurd 3OT victory over Louisville, 46-44. The team finished its regular season at 10-1. The Sugar Bowl beckoned.
But, again, WVU fans knew what to expect. At best, WVU would be competitive, maybe, at least for a bit, before inevitably getting its doors blown off, leaving us to stare, once again, at the heavens, silently asking what exactly we had done to deserve having a football team that we dearly loved that never delivered in the biggest moments.
Except that White and Slaton staked WVU to a 21-point lead in the first quarter, which went to 28-0 early in the second quarter. It was here that the bleeding began. WVU's offense stopped working, and Georgia outscored the Mountaineers 21-3 to finish the second quarter. At halftime, it was 31-21, WVU, but Mountaineer fans knew what with an entire half of football left, and with Georgia having seemingly solved WVU, that it was all over but the crying. Georgia made it 31-28, WVU made it 38-28, Georgia made it 38-35, and WVU fans waited for the final shoe to drop.
WVU got the ball back with 5:13 left on the clock and ran it six times in a row, bleeding the clock as far as it could, but with 1:45 left on the game clock, WVU was going to punt the ball back to Georgia, a team that enjoyed all the momentum and had two timeouts to use. What would come next was inevitable: Georgia would win with a miraculous special teams play or it would grind WVU down with heartbreaking completions or it would do something else equally heartbreaking. Things were going to go as they had always gone. We knew it.
What we did not know was that WVU had noticed that Georgia was so focused on its return game that it had not been rushing anybody at the punter, instead sinking all of its special teams unit back into coverage in an attempt to give its returner the greatest possible opportunity to score. It had been doing so all night. It was a perfect strategy just as long as WVU kicked the ball. Instead, WVU did this:
Phil Brady Fake Punt in Sugar Bowl (2006)
Phil Brady ran a fake punt, picking up enough yardage for a first down, sealing the game for the Mountaineers. WVU, after literally decades of heartbreak, had actually won a game on the biggest possible stage.
The room I was in went absolutely bonkers. We had never imagined that such a day would come, never imagined that it would be that night, and never imagined that it would be sealed in that moment. We had sat there for hours preparing for the worst and, then, the worst had not happened. We were happily lost in our delirious happiness.
Sports are not a salve. Wins do not fix what is broken. But in a place where wins are an often precious commodity, the decision to attempt that fake punt – to say, for once, that if we were going to lose, we were going to lose trying something – delivered one the state's biggest sporting victories.
Happy Birthday West Virginia.