OJ Simpson and The World Around Him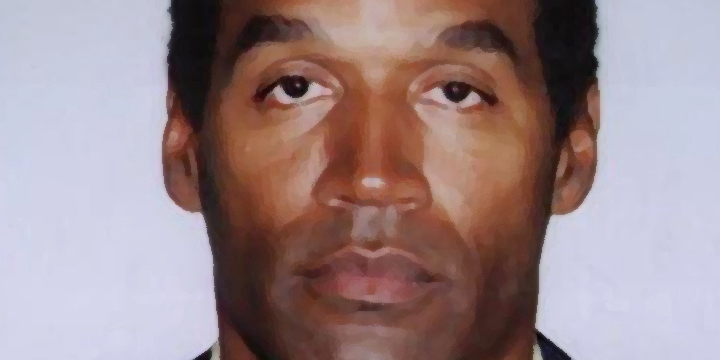 When the OJ Simpson verdict was announced, I was in the high school cafeteria eating lunch. Someone down the hall yelled "Not Guilty!" and football players – who I hadn't realized until that moment were firmly on OJ's side – started giving them high-fives and saying "The Juice is loose!1" In her classroom, my sociology teacher was crying.
I didn't really respond. I didn't have a response. The verdict was not news to me. I had known from the second of the announcement there was a verdict what it would be. In fact, in that morning's class (after the announcement of a verdict, before the announcement of what the verdict was) there had been a poll. Out of a class of 20 or 25 students, I was one of three people who said that they would find him not guilty. The teacher was surprised. I explained quite matter-of-factly that there was simply no way the largely black jury was going to convict him.
I got it from Mom. She had said before the jury was announced that the trial was going to end and begin there. And once the jury was announced, she said the jury would probably hang. In other circumstances, it might have. So I went into it thinking the jury would hang. Things went badly enough for the prosecution that the alternative – acquittal, the only alternative – did not surprise me.
---
When it all began, I had no idea how racial it would become. It's difficult to appreciate now how neutral and safe OJ Simpson was when this all happened. I really didn't even think of him as black. This is not because I was especially enlightened or colorblind as far as race went. Black was black. Bill Cosby was Good Black. Louis Farrakhan was Bad Black. OJ Simpson was a football player. He didn't have a reputation for being cocky or rebellious or an athlete. At least, not during the late eighties and early nineties. I wouldn't say he was beloved, but he was popular in a pretty safe way. The best comparison I could make today is Tiger Woods before he wrecked his car. OJ Simpson was Buffalo Bills and USC. He was sports commentating, Hertz Rent-a-Car, and Naked Gun movies.
1978 Hertz Commercial (w/ OJ)
I was naive, of course. It doesn't matter how not-black black you are when you're accused of doing what OJ Simpson was accused of doing. Especially – and the importance of this part didn't fully sink in until much later – when the primary victim was a white woman. It was inescapable, and not because Jesse Jackson made it so.
I hesitate to say it because there has never in my life been a time when race relations were un-tense, but in the greater ebb and flow of such things the mid-nineties were a flow. Affirmative action was one of the big issues of the day. The confederate flag was becoming a live issue rather than something that was mostly overlooked. Louis Farrakhan was at his peak with Pat Buchanan not far removed from his, and David Duke had not yet been politically slain. That particular era of Political Correctness was winding down but had not wound down yet. There is no time at which the OJ Simpson trial would not have been heavily racial, but everybody was primed for it in 1995.
---
I remember the precise moment I understood Trump's appeal in the 2016 election. It was when I read his convention speech. It's not that I suddenly found him appealing, or that I found the speech convincing. But I remembered, as I read it, thinking that my sixteen year old self would be intrigued. I was sympathetic to Ross Perot. Crime as an issue had different dimensions.
This isn't my roundabout way of saying "I was racist when I was sixteen" from which I have since recovered and repented. I'm not saying I wasn't, of course, but I don't have any Kyle Kashuv skeletons in my closet that I recall. I'm saying that I had a lot of attitudes that were very common at that time. The nerve that he touched probably touched a lot of people in that era. I'm not saying I would have voted for him – I voted for Clinton and already liked him at that point – but he would have had my attention and I would have understood him in a way that became alien to me twenty years later.
In some ways Trump is a manifestation of our times. In some ways, he is a manifestation of that time. It's where a lot of people were, and a lot of his voters are trying to relitigate those fights.
---
The day after the verdict, it was the only subject of sociology class. That was when the teacher told us of her tears and explained how distraught she was2. A liberal feminist, she was mostly angry because it was all about race when it should have been about something else entirely: Violence against women.
I think back to that, and I think back to the football players and their high-fives, and am somewhat disturbed. I assumed at the time it was a football bond that had them in OJ Simpson's corner. It likely was for most. But in the rush to take sides due to football or race or politics, that part of the story did get lost. The verdict didn't just give a black man a benefit of the doubt, but it gave a man the benefit of the doubt. If Simpson had been white, or his wife had been black, that might well have been the lens through which we saw the whole thing.
In 1993, a story arose that domestic violence incidents skyrocketed during the Superbowl. There was a great call to Do Something about it, but there wasn't much to do. There were some calls to just not play for the Superbowl at all for the sake of women. It became a meta-issue about violence in sports and violence towards women. Commentators eventually addressed this, if I recall, by simply asking husbands not to beat up on their wives if the game doesn't go their way. There were hotlines for psychological help for men and shelters for women. It was a cause-de-jour for a year but it would be years before it would largely become accepted that the original claim actually lacked much basis and it died out. But it was a live thing in 1995, while mostly absent from the discussion surrounding OJ Simpson.
Chris Rock had a segment on OJ Simpson, where he talks about the case. In his way, he has a lot of insights into the racial and fame dynamics. When it comes to what OJ did, he talked about Ron Goldman (the other victim) driving around in a car OJ had bought for OJ's ex-wife Nicole saying "I'm not saying he should have killed her, but I understand!" before going into the injustices of alimony. "If you make $30,000, and your wife wants fifteen, you might have to kill her!"
---
After the verdicts, President Clinton had the following to say:
USA: PRESIDENT CLINTON'S REACTION TO OJ SIMPSON TRIAL VERDICT
He was careful not to really comment on his thoughts on the innocent and guilt. Presumably this is because it would be bad form for a president to second-guess a jury like that, but also because a lot of his constituents believed not only that he shouldn't have been convicted but that he didn't do it. Saying "OJ is guilty" used to be something you wouldn't say unless you wanted to get into an argument.
For the most part, that's not an issue much anymore. After saying that he was going to devote himself to finding the real killer, he didn't do much to give people the impression that he was somebody who wasn't guilty. Then, in the mid-aughts, he "wrote" a book entitled If I Did It that more-or-less cemented public perceptions. Around that time he was tried and convicted of a separate crime (well, crimes).
By and large, though, Bill Clinton had it right. Both juries (of his criminal and civil trials) probably got it right. There were some real problems with the prosecution's case and the standard for conviction is at least theoretically pretty high. The DNA didn't match, the glove didn't fit, and Mark Furhman was Mark Fuhrman. That wasn't enough to get him off, of course, but it made the verdict justifiable despite his guilt. My sixteen year old self was also correct that race did a lot to make it happen. Once the jury was selected, conviction was not going to happen in that environment. Hung Jury was the bet option, but for the aforementioned prosecution holes. In the above-mentioned Chris Rock skit he said that Simpson didn't get off because he was black but because he was famous. Whites would have done the same thing if it had been Jerry Seinfeld, he said. Fame helped, but money helped a lot more than fame or race. He had a team of lawyers able to find those holes and take advantage of the racial divisions. That just doesn't happen with a rando black defendant without profile or means.
I don't remember if I was mad about the verdict at the time. Probably. It was really easy to wind me up back then. Now I mostly feel for the families of the victims who experienced a kind of hurt that I imagine never goes away.
This was the slogan for Starburst candy. OJ Simpson's nickname when he played was "The Juice", and that's where that phrase came from if you didn't know.