Lessons From a Bike Thief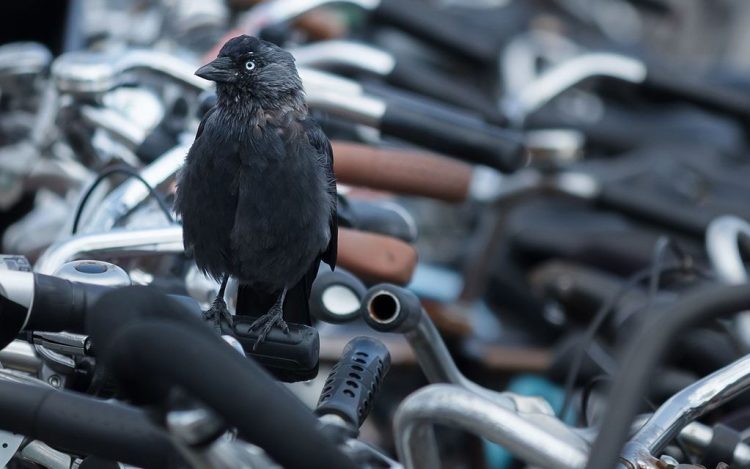 So the other night some reprobate rolled off with my 11 year old son's bike from my front yard. The thief walked right up to the porch in broad daylight, in front of the living room window, with two cars parked in the driveway, and simply rode away with it. This is the second time his bike has been stolen; the first time was four months ago to the day. Both times, it was daylight and we were right inside. (We don't have a garage, so he has been bringing his bike in the house with him. The one time he didn't…) We noticed within the hour both times, and both times my husband went driving around in the car to see if he could find the thief while I called the non-emergency line.  My son's bike, a really sweet black Mongoose 21 speed with neon green lettering, was two months old at the time of the first theft, a Christmas gift from his grandparents. They kindly and immediately replaced it when the search proved fruitless.
Last night's search also failed to turn up the thieving scum ball or the bike. 1 My son was angry and hurt that someone had taken his bike again. He's already quite the young misanthrop; this didn't help. So, we loaded up and headed to the store to get another bike. It's the exact same bike, and his world was righted within a few hours. As he wheeled it out of Wal-Mart, my wallet $150 lighter, I snapped a picture and tweeted it out, with the caption "Hashtag spoiled." One of my Twitter friends replied that he was not spoiled; just lucky.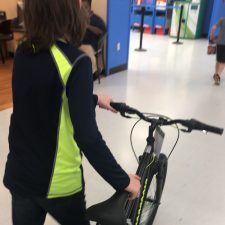 It was a distinction I pondered for a while. Indeed, he is lucky.  In my childhood, I had a decidedly less expensive bike (and then an ancient hand-me-down 70s orange ten speed), but even it would not have been replaced quickly, had I fallen victim to a thief in the market for a pink and purple Huffy. I would have had to wait for a tax return, or a benevolent relative on my birthday or Christmas. Thinking back now, I understand how my own mother must have felt as she struggled at times to provide necessities, let alone wants.
My kids are unfamiliar with want. Oh, they want plenty of stuff- and they get a large portion of it. But with the exception of large tag items like a new X-Box or a computer, they don't experience prolonged, unsatisfied want. I worry a lot about that. It was the constant, extended wanting that made me resolved to remove myself from poverty as an adult; my kids will have to find the motivation for that elsewhere. They can't fathom only getting new toys or games or clothes at certain, specified times of year. They don't carefully ration the cereal, the box of Fruit Roll-Ups, or the popsicles, because they know it will be weeks before any more treats come into the house. My kids know they will only need to wait, at most, until mom's weekend grocery run.
It has been a source of conflict between their father and me. His upbringing was mid to lower-upper middle class, and he was also unfamiliar with the kind of want that I experienced. He likes to tell the story about the time his dad asked him and his sister if they'd rather have a dirt bike or a pony; they ended up with both. He hears one of our two boys comment on some little toy or tchotchke they want, and he gets it for them. Granted, it is mostly little stuff, but I fear it will instill the need for instant gratification that will set them up for failure.
But I've learned there is something in between raising an entitled child and a deprived one. Just last week, my older son wanted to purchase a $20 game on his X-Box. I gave him a list of the chores he needed to do through the week to earn it, and he was amenable. "But," he asked "can I just buy the game now and then do the work?" I declined to advance the money and he waited until Friday. He pouted, but he made it without much consternation.
But the loss of his bicycle was not his fault. Sure, we should know better than to leave it outside, but he should be able to come in to eat his dinner without hauling his 21 speed up the porch steps, especially when he was just planning to jump back on it and ride off as soon as he finished his burger. And for a boy his age, that bike is very important. It's the beginnings of independence, a social necessity, and a means of both transportation and exercise. My immediate replacement of the bike was not an overindulgence or a negative lesson; the only negative lesson he learned that night was that there are people in this world who will take from others, even from kids. He's not spoiled because his parents had the means to make it right. He's just lucky.
That I could replace my son's bike, immediately and without difficulty, means that I am lucky, too.