Inheriting Batman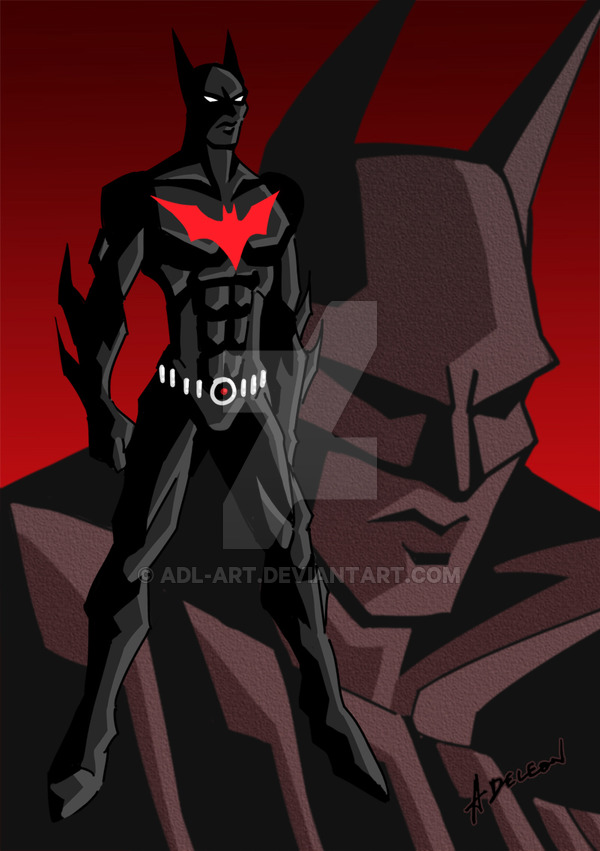 [This article refers exclusively to the DC animated universe. Spoilers are contained throughout; you have been warned]
I will admit that when I first heard of Batman Beyond, I thought it was a lazy marketing gimmick. Reading episode summaries weren't any more encouraging. It was only when I viewed the entire series and its cinematic masterpiece – Return of the Joker, one of the best Batman movies ever made, animated or live action – that I realized just what enormous potential it contained and contains. If Batman: The Animated Series was the perfection of a world already created, Batman Beyond represents a new, fascinating world waiting to be explored and developed.
**
At the core of the series, when you strip away the cool tech and the fanservice, is a core question:
Can the role of Batman be inherited or passed down? Should it?
Neither Bruce Wayne nor his physical successor in the suit Terry McGinnis are really all that sure.
Let's start with Bruce. Having given up the cowl after being forced to use a gun to save himself and a hostage in the wake of a heart attack, he appears to have done nothing to ensure Batman is succeeded or even remembered. When Terry finds the suit by accident, he expels him. When he steals it to punish the people who murdered his father, Wayne nearly lets him die for daring to defile what was not his.
Even after they form a partnership, with Bruce giving advice and orders in the Batcave and Terry in the field, the questions remain. Both due to his doubts about Terry's abilities and his fear that he ends up like him or worse, he often suggests he "leave it to the police" and in Return of the Joker goads him into giving up – something he himself would never do.
Terry, for his part, isn't sure either. He constantly chafes under Bruce's critical eye, his unwillingness to let him have a real life outside of being a vigilante, his belief that deep down, Bruce doesn't believe he's actually Batman. There's a real sense that he's a stand-in for someone else rather than his own man, and when the villain King demands "Do you have any idea what it's like living in someone else's shadow?" Terry replies (after taking him down, of course) "Actually, I can relate."
Even the way in which they each see Batman is starkly different, and this is clearly demonstrated at the end of their respective animated movies – Mask of the Phantasm and Return of the Joker. In the former, having lost what chance he has at any personal happiness, Bruce stands as Batman, heeding the call of duty embodied in the Batsignal, driven by his fidelity to his parents and to the city of Gotham itself.
It could not be more different for Terry. As he makes clear to Bruce in a key scene in Return of the Joker, he's not just in it for justice for his father – he's in it to become a better person, to fight the demons within him (something never explored nearly enough in either the series or the comics afterward, in my view).
Batman, for him, is a personal choice, not a duty in the sense commonly understood. It comes internally, not externally. At the end of Return of the Joker, he stands over Gotham, mask in hand. There is no Batsignal. There is no cry for help he can hear. Yet he puts on the mask willingly, going into an indifferent and almost inhuman futuristic city to save humanity, including his own.
**
Given these contrasts and doubts, given the questions both men have about each other and their differing views of what Batman is and should be – can they be resolved? Should they be?
Wisely, the series never really does fully resolve any of this, not even in the ultimate and somewhat controversial Justice League Unlimited episode "Epilogue," where McGinnis is revealed to be the biological son of Bruce Wayne due to the intervention of Amanda Waller. He tells Bruce in an imagination sequence that he had "potential he never dreamed of" while Waller tells him he doesn't quite have Bruce's magnificent brain. Batman remains a cursed duty yet one he can alleviate by bringing people into his life if he wishes. The dance of doubt and struggle never ends.
Perhaps the most striking thing about Batman Beyond is how Bruce Wayne rarely refers to Terry as Batman but does speak of Batman in the third person. Unwilling as he is to admit it, Batman has become something bigger than them both – not just a legacy but a tradition, an institution. Something that stands above any individual who happens to wear the mask.
This is a powerful and somewhat counterintuitive lesson to learn in an America drenched in the idea of not just a hyper-individualism but also a near contempt for anything that binds one against one's will – whether it be family, ethnic group, religion, or otherwise. Most Americans, after all, came to the US to start anew and fresh, free of the old ties that bind and often repress. What some of us see today as a corrosive atomization of society is really the old American ideal taken to its logical extreme.
But Batman Beyond is a stark reminder that the shadow of those ties, traditions, even the need for a tradition and duty, are always there. They shadow us, they drive us to take up causes we often don't fully understand or yearn for a past we do not fully remember. Batman, at least in the animated universe, is intended as a fully realized individual project for one person alone – fitting, given its American setting.
Yet the needs of humanity and Gotham somehow end up making it something beyond (pardon the pun) and those old questions of legacies, traditions, and even beliefs in something still make themselves felt. One can never be rid of them, and as the show demonstrates – this is not always a bad thing. For all that we are modern and "liberated" from the past, all the questions and needs and doubts will continue to haunt us, whether we take on a cowl or think of the future in general.
It may have started out as a gimmick, but like its subject matter, Batman Beyond is or at least potentially is a deep musing on the human condition, on continuity, and on the impossibility and indeed undesirability of ever entirely detaching from everything we hold dear.
Feature Image by ADL-ART