Trophy Lives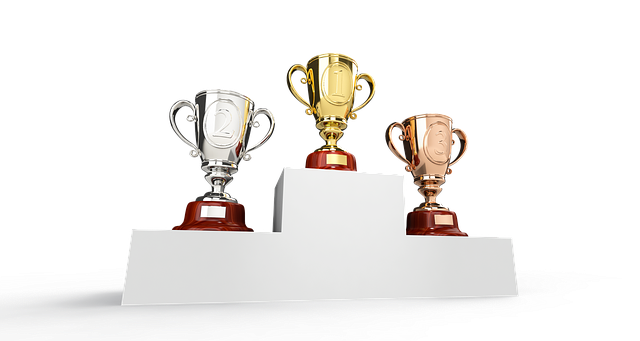 Lately I've been thinking about trophy culture.
According to some, American culture is being destroyed because we've given kids too many participation awards. Kids get trophies for everything, the theory goes, and so they've grown into adults that demand recognition for everything. If they aren't constantly patted on the head and praised, they get surly or depressed or discouraged, and they have no intrinsic motivation.
This is one of those things that made sense to me at first, but then the more I thought, the less sense it made. I mean, are we really really saying that the reason why we are where we are is because Aidan and Ashley got a teeny tiny Little League trophy in 1993 just for showing up that's now collecting dust in their parents' basement? Really? Because I got some trophies and ribbons and certificates when I was growing up back in good ol' Generation X too and personally, I thought they were stupid. I knew the ones that were handed out freely were meaningless, they were comical garbage that never motivated me one iota, and I knew damn well that the reason the winning softball team got the big trophy was because they were winners and I wasn't.
People often assume kids are dumb and believe without question what the adults say. But kids are not dumb, they just lack experience. If their experience is that coaches and teachers are handing out trophies left and right, if everyone is getting an award for just showing up, kids quickly put two and two together and realize "this is a low-value good not worth striving for." And kids, being not dumb and everything, don't get "addicted" to the "thrill" of "winning" a cheap POS plastic goldtone human figurine on a wooden base that is handed out to all comers. They just don't. They know better. There appears to be something in human nature that craves recognition, but we need that recognition to be rightfully earned to feel satisfaction from it.
Children are smart enough to know that for all the adult chatter about self esteem, for all the Barney the Dinosaur BS the Millennials in particular endured growing up, some people are more special than others and some of them deserve that status and some of them don't. Life is not fair, the world is not equitable, a good number of people are born into massive privilege and a good number more have it bestowed upon them not due to inherent goodness or work ethic or intellect but because they won a genetic lottery and have a nice face or athletic prowess that others lack.
You would have to be delusional to make it to adulthood in this world not knowing that fact right down to the marrow of your bones.
Now, this doesn't mean we don't have a problem with a lack of motivation in our society at present. But it isn't due to trophy culture. It's actually the opposite of trophy culture. Instead of everyone getting their just rewards, a few people seem to get everything while the rest of us get a participation certificate. We are grossly and gratuitously rewarding a small number of people for things that are in many cases largely unearned while the little people fight and bleed and work and die unrecognized and we get the adult equivalent of a scratch and sniff sticker for our trouble. We get an employee barbecue once a year in which half the food is cold and the other half is burnt, and Kylie Jenner  is lauded as being like, you know, totally the youngest self-made billionaire in ever, or whatever. We, the little people, the average, the normies, are made feel like suckers and chumps and losers, for not being winners in a game where the rules are made by Monopoly Men, for Monopoly Men. All the trophies and meaningless platitudes in the world don't level a playing field so tilted it may as well be perpendicular to the ground most of us are walking on. And it's practically an insult to fling undeserved trophies at the plebes and tell them how special they are while simultaneously worshiping at the altar of Instagram and college sports.
The Decemberists have a pretty good song about it.
I don't think the world always used to be like this. I believe, fairly emphatically, that the world used to have way more love, or at least wiggle room, for everyday people doing everyday stuff – working hard, raising their kids, paying their taxes, being good friends and neighbors and upright moral folks overall – and the concept of the superstar is a modern toxicity that has really had a negative effect overall on our easily confuddled human brains. It is this superstar toxicity that is eating away at intrinsic motivation, not participation trophies.
It is epically discouraging to know that no matter how hard you try, someone else is always going to be better in a culture where only the very best person is celebrated. Especially when the definition of "best" hinges so much on sheer dumb luck.
If you take an Olympic bronze medalist, that person is, really, to all intents and purposes, the best in the world at their chosen pastime. They are, by any reasonable definition, the best in the world. Did they not win the gold? It wasn't because they weren't the best, it was because they had a bad day that day or simply that someone else had a better one. And yet when we think of a bronze medalist, it's hard not to see them as a loser. As a disappointment. They weren't even good enough to win the silver for God's sake. Let alone you out there, that person who played sports back in college or back in high school and sat on the bench most of the time.
What is even the POINT of you?
You will never win a gold medal, you won't even win your bracket at the Y, so why even bother? Why waste your effort? Why not stay home and play video games, at least you can win doing that. This insane focus on winning at all costs and being the best of the best of the best in a buzzing hive of 8 billion people is turning we Americans – who value achievement so highly it's practically a pathology – into a nation of people who either go big or go home, literally.
Only a couple centuries ago, it simply wasn't possible to be "the best in the world" at anything. You could maybe be the best in your family, your tribe, your city-state, your nation, but there was always a world full of human beings out there who didn't have a clue you even existed. The printing press, global transportation, the telephone, movies, radio, significantly faster global transportation, television, radically faster global transportation, and of course now the Internet has changed us from a world of people whose motives were to excel at being themselves in their own tiny sphere (a goal that's reasonable and attainable, a goal that requires and rewards intrinsic motivation) to a world of people whose entire being revolves around competing to be the best at something, anything, because if you aren't the best, you're worth nothing.
"If you're not the best, kill yourself" is not a sustainable philosophy for a very crowded planet.
As for that oft-bemoaned sense of Millennial entitlement – in a world where everyone is constantly competing to the death for #1 and every setback goes on your permanent record, if you don't toot your own horn, if you don't demand your fair share of the piecaken and talk up your accomplishments, no one else will. There is no 'I' in team. If the only people who matter are stars and you're not born one you better get darn good at faking it till you make it. Humble, unassuming workhorses that put their heads down and don't talk themselves up don't get far in a world that's constructed entirely from stardust dreams.
How do stars behave, anyway? They're demanding, spoiled, entitled; they're shameless self-promoters that play up even their lamest vehicle like Actor Troy McClure. Stars expect the world to revolve around them and demand everyone take notice of even their smallest accomplishments. In short, they act an awful lot like the worst stereotypes of Millennials.
Ernie Pyle was a human interest reporter in the 30's and 40's who reported on everyday people – from the perspective of having been one himself, not that nauseating Steve Hartman "On the Road" kind of thing where a slick big city reporter marvels disingenuously at some old fart's collection of license plates. Ernie Pyle was of the people, by the people, and for the people, the men in the trenches (both figuratively early in his career, and later as a war reporter, literally). The little guy and gal. Small people from small towns living small lives, yet he treated them as if they had just as much right to exist as a Rockefeller or something.
Imagine that, if you can.
The foundations of this awful reality tv world we inhabit now weren't set in stone at that time; for every girl sitting at a soda fountain hoping to be the next "It Girl", there were far more everyday folk just going about their business, trying to live their best life. Pop culture was only just being midwifed into existence. Ernie Pyle notoriously pushed back against the idea of celebrity, pushed back against the idea of superstars, pushed back against the rising tide of anti-egalitarianism, declining to cover the glamourous pilots and military leaders (who were already being covered by others, of course) in favor of reporting upon the lives of lowly infantrymen. And he died alongside them during the invasion of Okinawa in 1945.
I sometimes wonder what would have happened if Ernie Pyle had survived the war*. If he might have gone on to turn that Everyman's eye towards the world of the 50's, the 60's – that world that laid the groundwork for the world we live in today in which Kim Kardashian is worthy of constant breathless media coverage and someone living quietly and honestly in Dubuque, Iowa, is assumed deplorable till proven otherwise and no one in the media cares to investigate unless they have an amazing collection of license plates to condescendingly marvel over. Maybe things would have been different if there would have been just one respected, respectful adult voice in the crowd saying "Hey, you know, it's ok to be just ok."
It is my very great hope that the pendulum has already begun to swing back the other way. I am of the opinion it was the "Silent Generation" (my parents' generation; I once got into a heated argument with my father who fully believes in personal greatness as a means to an end and all others need not apply, about whether or not the manager of a Pizza Hut – THE MANAGER! – was a scumbag loser) and the Baby Boomers, who got their heads turned by the newfound discovery of fame and celebrity, who valued record-setting achievement and widespread public recognition so highly that it blinded them to the joys of being average. Generation X and now the Millennials are hopefully wiser due to our extensive prenatal exposure to pop culture.
Because it just doesn't matter. It just doesn't matter if we win or if we lose.
Meatballs - Great Motivational Speech - It Just Doesn't Matter
There is MEANING in existence, great meaning, if you know to look for it. There is peace and fun and immense personal fulfillment in being the 3337th best at whatever you want to do because YOU enjoy it. Who even cares about anyone else? The only yardstick to measure yourself against is the yardstick that tells you you did a little better than you did yesterday. Maybe we will find some way to return to a world where people arranged their lives to be the best them they could be and aren't viewed as failures if, for example, they're simply the best goddamn manager of the Spokane Valley Pizza Hut who works Thursday the world has ever seen.
What is even wrong with that anyway? How did it come to pass that a hardworking person with a job that they're good at is a disappointment, a failure, rather than a quiet hero?
Ironically, I think the Internet may be our salvation. While the Internet has certainly brought out the worst of superstar culture (who among us has not succumbed to the temptation to post pictures of the spectacular meals we've cooked and to chronicle even the most tedious moments of our children's development for our many deserving fans) at the same time the sheer unimaginable bigness of it has created countless niches where all of us can excel at something, be a storied expert in something, find ourselves surrounded by likeminded people who look at us and think we're pretty darn cool no matter what People Magazine has to say?
We were born into a world too big for communities but too small for anonymity, where we were told from the cradle to care profoundly about the hijinks of talentless, depraved hacks and that no one cared about anything we did because we were one of the little people and couldn't we just try a little harder at awesomeness? How strange that the solution may be to create something even bigger where we can form our own enclaves, electronic home towns small enough to allow us to belong, to join an ensemble cast where we can be the star of our own little shows. Social media can provide a rough approximation of what it must have been like to be born in a village in the Middle Ages, a place where everybody knows your name. That safe space where a handful of people come to know you quite well and find you a valued member of the community because of who you are and what you bring to the table rather than what you look like and how much money is in your bank account and how fast or high you can throw a ball (not that there's anything wrong with ball-throwing, of course).
Yet most of us still spend the bulk of our lives treading water in that shallow sea of winners and losers. I think it's the reason why so many end up as Extremely Online, because those are the places we are valued, those are the people to whom we really matter. No one gives us a cheap plastic trophy or a participation certificate; we get meaningful rewards from strangers who become friends and see in us worth that our coworkers and neighbors and parents and children and even sometimes our spouses may not see.
Maybe you don't like this online world.  Maybe you think the Internet is unhealthy or unnatural. I agree it can be those things and worse; in that rush to accumulate likes and clicks and shares and followers, it can be just another vector for the tyranny of Trophy Culture that plagues us all. But at the same time, I believe social media is a vehicle through which human beings are meeting some deeply felt needs – for community, for respect, for achievement, for friendship, for that sense that your life matters to somebody out there even if that person is only pixels on a screen – that went unmet for many of us during the last half of the 20th century.  And we can all find a place in that world no matter what we look like and how much money we have.
If you want to move past Trophy Culture, you have to put something else in its place.  Because cheap plastic POS goldtone human figurines were never any replacement for true recognition.**
*If this seems weird or possibly untrue to you, Ernie Pyle is a personal hero of mine and I think about him sometimes, so eff off.
**If you want to read a short story I wrote that touches on some of these themes please check out Wonders After Dark.