The Gig Is Up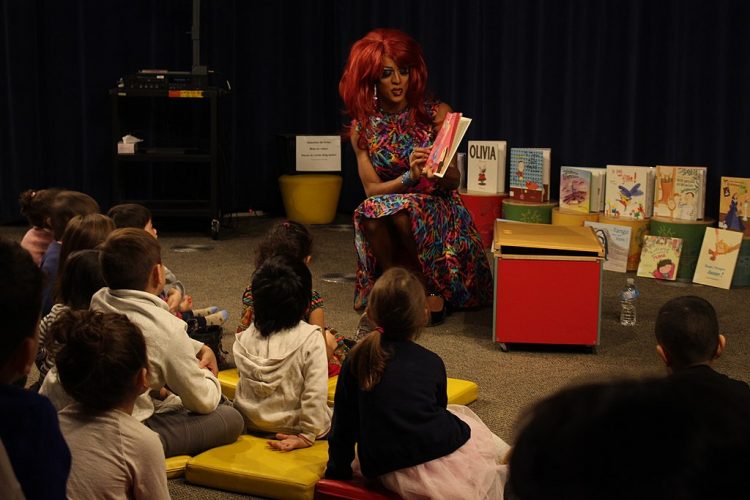 Sohrab Ahmari is mad as hell and he is not going to take it anymore. He is shocked, shocked that drag queens read stories to children at public libraries across the United States.
The too long/didn't read version of this is that Sohrab Ahmari published an essay in First Things, a journal of religious conservatives. Usually Christian conservatives. The essay took aim at David French specifically and conservatives with a libertarian bent more broadly especially when said conservatives praise individuality, autonomy, decency, and tea-time civility in debate. The debate esclated into the rare right-wing circular firing squad with David French eventually noting that "the cruelty is the point" for people like Ahmari, agreeing with left-of-center writer Adam Serwer.
Ahmari is largely wrong but he is also potentially partially correct. I think he is wrong in finding that there is anything evil, immoral, or wicked about drag queens reading stories to children. The particular Drag Queen story hour that broke Ahmari was in Sacramento, California. This is thousands of miles from where Ahmari lives. The other solution for not wanting to be exposed to Drag Queen Story Hour is not to attend.
Where Ahmari might be partially correct is that hardcore social conservatism will probably always lose eventually in a society that values liberal proceduralism, individuality, autonomy, civility, and decency. I don't think writers at the National Review or the Bulwark are fans of Drag Queens or Drag Queen Story Hour. They might have made their peace that this is not argument they are going to win. Learning to be a graceful loser on issues you care deeply about is an essential part of living in a democracy. Ahmari represents a more firebrand form of right-winger though. He doesn't want conservatism to be a force that merely slows the inevitable march of social progress. He wants it to be a force that can put LBGT people back in the closet and out of sight. He wants to be able to ban nearly infinite free pornography on the Internet.
The question becomes how hard are right-wingers willing to press for the ability of control. Wikipedia states that First Thing's circulation is about 30,000 copies an issue. If Ahmari is willing to keep his rants to the written page, tweets, and talk-show appearances, fine. The problem arises when venting the spleen is not enough. California is as blue as states come and the chances of Ahmari's clique being able to ban Drag Queen Story hour here are non-existent. Same with many other states in this county. The picture is not rosy everywhere. Libraries in Ohio canceled events after receiving hostile letters. The Ohio State House speaker also condemned the event in a letter to the Ohio Library Council. Other people might choose to take violent action into their own hands if the legislatures won't do anything.
Trump is not an aberration. He is the logical conclusion of a Republican political strategy that began with Nixon's Southern Strategy if not before. This strategy always depended on social conservatives just not getting enough to keep them voting with the plutocratic business interests. Ahmari himself told Vox: "Working mothers wouldn't be expected to return to work a mere eight weeks after giving birth. It's possible, within our regime, to tip the balance toward the common good, beginning with the good of families."
This is theoretically something that social conservatives like Ahmari should be able to cooperate with liberals on. Liberals also want more generous family leave policies that allow new parents to spend more time with their children after birth. Ahmari decided that it is more important to rant about and do something about Drag Queens though. This does not bode well for the Republic.