The Media Really Want You to Know How Great Elizabeth Warren is Doing
Uh…what? Are we watching the same movie?
Witness the fall and rise of Sen. Elizabeth Warren of Massachusetts. She had a disastrous end of 2018, as — in hoping to put questions about her claims to Native American heritage behind her — she released a video that she hoped would clear things up. It did the opposite.

She became a punch line for, among others, President Donald Trump. Observers — including us — who had rated Warren as one of the two or three people most likely to be the Democratic nominee dropped her out of the top five.

But Warren understood that where she was in February 2019 mattered far less than where she would be in February 2020. So she started to build and roll out a series of detailed policy proposals designed to put the Native American flap behind her (again) and carve out space as the race's resident policy wonk.

Mission accomplished. Warren is back in the top four in this week's CNN 2020 rankings, thanks to a series of strong polls and the growing sense that she is very much back in this contest.
All due respect to Chris Cillizza and Harry Enten, but what are they talking about?
CNN's own polling and the latest Morning Consult numbers released on June 4th, show Sen. Warren at the same 7-10 percent she has been bouncing around all of this year. Tracking up from 7% to 10% when that still leaves you 28 points behind the leader Joe Biden isn't exactly "strong polling."
RCP average has her right in the middle of her range at 8.2%, and while she is third nationally, more telling is that she is 4th in Iowa, 5th in New Hampshire, 4th in Nevada, 5th in South Carolina, and 5th in the newly moved up and important California. That is a strange batch of data to conclude "growing sense that she is very much back in this contest."
It isn't just CNN either. A quick glance at the Google reveals there is at least a strain of groupthink when it comes to Elizabeth Warren over the last week: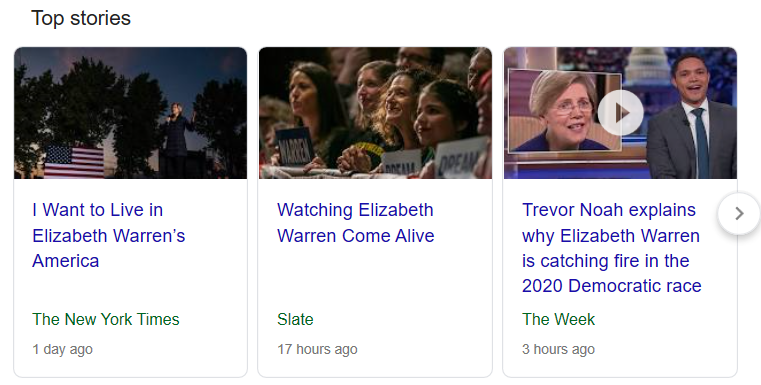 That is a lot of coincidence. Either A) it's really happening B) it's a media conspiracy to push a narrative C) it's a large group of folks who all talk to each other, read the same things, think in similar ways, all saying what everyone they know is saying.
The numbers don't seem to support A) and while I'm sure there are those on the right convinced B) is the answer cause everything is a media conspiracy, or something, I lean towards the latter. Add to it a healthy dose of boredom in the "horse race" that really isn't a horse race until the paring of the field in September. Writers and commentators have to write and commentate, after all.
She has rolled out a series of policy proposals, but missing in most of the adoring coverage of Elizabeth Warren's supposedly great week was that this also happened:
"When Did You Find Out You Weren't?" Warren Grilled On Lying About Native American Ancestry
This has the potential to be a problem: right in that clip you see Warren try to pivot to policy, rattling off her list of proposals, only to get tagged with the "Rachel Dolezal" tag and get put right back on the defensive. The friendly media coverage she continues to receive pounds the drum beat of "policy wonk" but most voters aren't voting for policy details; they are voting for narratives and stories. Right now the prevailing story on Elizabeth Warren to a whole bunch of folks is the "1/1024th" botched DNA rollout. Being challenged on appropriating race and culture by a popular African-American radio host on video is all the more problematic when you look at Elizabeth Warren's paltry 7% support among African-American democrats, compared to Joe Biden's 47%. That isn't a bad number; it's a death knell when states such as South Carolina figure prominently in the early primaries.
No policy proposal outweighs the viral visual of her stumbling around "I'm not a person of color but I believed what my family told me." The media narrative of "charismatic policy wonk" didn't make a dent on the stoic face of Charlamagne tha God as he refused to settle for anything less than an answer to the simple question he was asking. Supporters protested that it is three minutes out of an hour long conversation, but this is the world we live in. Three minutes is all the attention span most folks give a candidate that isn't leading. Three minutes is all you get in the debates, if that, so wonky better give way to sound bite. Three minutes should be more than enough time to give an answer on an issue that you've known about for years if you are a master communicator. Those three minutes are now on video.
To be fair to the senator the Warren family isn't the first or last family to claim heritage that isn't theirs, innocent mistake or otherwise. As our friend Vikram Bath pointed out when the "1/1024th" debate was roiling, plenty of people who otherwise are supportive were conflicted on what to make of it.
I'm genuinely torn here. I feel respect should be given to those who have truly suffered for their identities, which Warren has not. If they object, I would like to defer to their views. Unfortunately, it may be difficult to get a true census rather than a handful of tweets I was able to find.

On the other hand, her claim was likely made in good faith.
But that benefit of the doubt is going to need a better answer to the question than she has so far given, and certainly better than The Breakfast Club gave.
The answer to something fundamental about you, as a person, cannot be a wonky proposal about doing something for someone else.
All of which runs counter to the "she's on fire" parade of stories. What they, and Warren 2020 supporters, should be saying is it's early, and though he has a huge polling lead right now, Joe Biden flamed out the previous two times he ran and carries a high probability of doing/saying something really damaging because…well, he's Joe Biden. Bernie is a high floor/low ceiling candidate and has been stuck with the support of the quarter of the party that has always supported him but not made much headway with anyone else, especially without Hillary Clinton to push people towards him. So sitting in third isn't that bad, and theoretically is the position to build a coalition to clip a fallen Biden or a distasteful-to-the-Democratic-normies Bernie Sanders.
That is what they should do. That is the path for a Elizabeth Warren nomination. Wishcasting that going from 7% to 9% or 10% in polls, (something Pete Buttigieg did back before the Joe Biden announcement when the media was bored and wanted a story before slipping back) is changing the shape of the race isn't going to help. There is a high probability that some of this same-speak narrative of a Warren "on fire" absent anything positive outside of media events/stories is also boredom, as nothing much is going to happen in this race between now and the twin debates at the end of June.
Campaigns are months of talking and narrative building, ending in hard data — the votes. At some point if she wants to be the nominee Elizabeth Warren, the widely proclaimed "policy wonk" in this race, is going to have to get some real world data points on her winning over the voters in her party in substantial numbers, not just being told how great a candidate she is on TV.