Fear and Loathing Among the 1%ers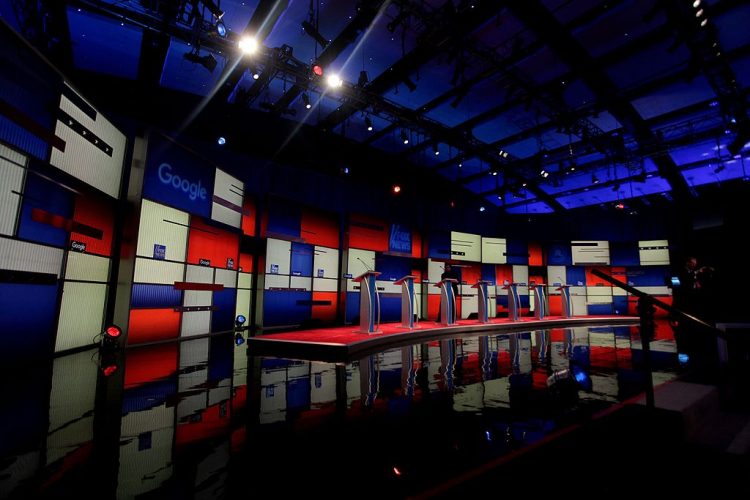 Usually a lower tier presidential candidate hopes to make it to at least the first primary or two, or when the money runs out, whichever comes first. This cycle though, the DNC has finally decided to winnow down the baseball team-sized field of Democratic Nominee hopefuls by September of this year:
To appear in the first and second debates in June and July, candidates must poll at least 1% and have received donations from 65,000 donors with a minimum of 200 in at least 20 states. It will be even more challenging to qualify for the third debate: candidates will need to reach at least 2% in the polls and will need 130,000 individual donors with a minimum of 400 in at least 20 states.

The list of approved pollsters will change for the third debate. Not only will candidates need to hit 2% from four, rather than three, polls, but also Reuters and Las Vegas Review Journal have been removed from the list. The list still includes a range of other pollsters including the Associated Press, the major broadcast networks, New York Times, NPR, Wall Street Journal, Washington Post, and Quinnipiac University. Only polls published between June 28 and August 28 will count toward qualifying for the September debate.
With the first debates coming up on June 26 and 27, 21 candidates have qualified despite the DNC saying the cap will be 20, so someone is going to be done by the end of June. The kicker for the 1%ers is that none of them are going to be included in the Sept debates, and only the polling data from June 28 and August 28 as compiled by the Associated Press, the major broadcast networks, New York Times, NPR, Wall Street Journal, Washington Post, and Quinnipiac University counts. The candidates have to be 2% in four of those to make the cut, along with fundraising numbers that are up to standards.
If that cut were to happen by today's numbers, the field goes from 23 to 8-10 quickly.
Frankly, this was needed. The DNC has bizarrely decided to use a random slotting method of mixing the candidates into two groups of ten for the twin first debates, almost assuring the top candidates are not bunched together. But the size of the field was doing no one any favors, and we have seen these large debates which turn into 90 second soundbite fests. At least by September the herd will be culled to those that are least semi-serious campaigns.
There will be cries of unfairness but they should be ignored. If you have to make an intricate argument why you should be the 14th included person you aren't making a difference anyway. Time and attention is the most precious commodity in a presidential campaign, and if you doubt what coverage can do all you have to reflect on is the $5B in free media the current occupant of the White House received that turned him from joke candidate descending a golden escalator to juggernaut in a matter of weeks. And on that note, it would do well for folks to remember that in a very crowded Republican field, by this time in 2015 Trump held a polling lead that he would never relinquish.
That brings the focus squarely on Joe Biden and Bernie Sanders. The problem with the large first debates is, as we saw with the Republicans in 2016, the cattle call debates leave little room for focused fire in any direction. Barring a major gaffe or scandal, it is hard to see how anyone makes much headway against the top tier candidates. As Nate Silver points out, usually there are one or two who get a bump out of the debates, but who?
Of course, odds are that at least one of the candidates currently in what I think of as the third tier — that is, everyone behind O'Rourke, Klobuchar and Booker — will have surged by the time we get to September, most likely based on their performance in the first two debates. It's probably a fool's errand to guess at the most likely surgers, but I'm a fool so let's run the errand. My wild guess is: Kirsten Gillibrand and Jay Inslee.

As discussed here, I tend to see debates as resetting the race toward the "fundamentals." In particular, they tend to reset or reverse media narratives, which can often drive short-term surges or slumps in the polls. So one view on which candidates are most likely to be helped are those that have reasonably good credentials, but who have been underachieving so far because they're ignored by the media or are getting largely negative coverage. My list of underachieving candidates — the ones where I really can't figure out why they're not doing better — is headlined by Gillibrand, Inslee and Castro.
Historically he is right, but I doubt the candidates. Gillibrand has not just struggled but utterly floundered, despite a launch, a re-launch, and several attempts to gain traction. The whispers of her unofficially having been blackballed by the party powers that be for her role in the Al Franken deposing might have something to do with it, but she has done little inspiring since either of her launch events. Castro has been virtually invisible so far, and Inslee is running almost singularly on the environment, which doesn't bode well for breaking out in a field where his views are pretty orthodox.
But someone will shine through, if for no other reason than there must be some kind of "X breakout performance" for the chattering class to discuss the next day. Biden vs Bernie will need a third to make the shadows of Sanders vs Clinton Part 2 go away, so someone will benefit. The question is who. But what we do know, with the new rules, the 1%ers won't be around to get the chance.