Wednesday Writs for 6/5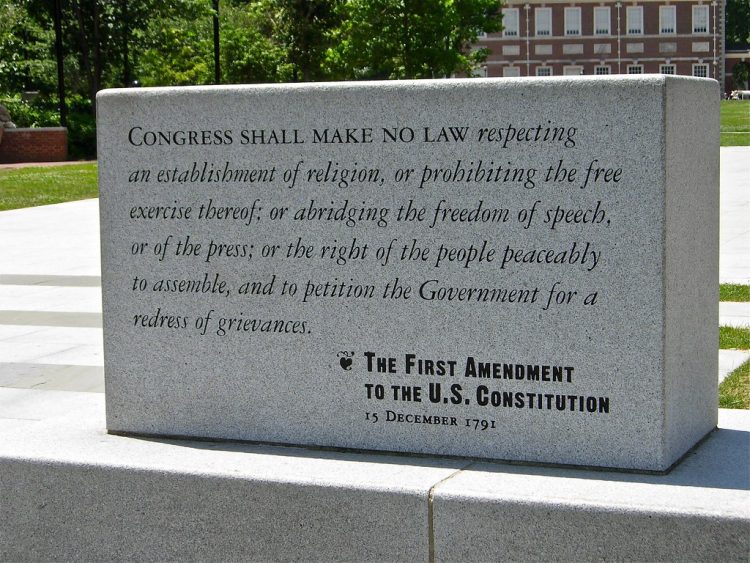 L1: A few months ago we linked to the story of Debra Cruise-Guylas, who, after being given a non-moving violation when she should have gotten a speeding ticket, flipped the officer the bird and was promptly pulled over again and given the ticket she deserved. She sued, and the US Court of Appeals for the Sixth Circuit ruled that her middle finger salute was protected speech, and that the second stop was retaliation and a violation of her First Amendment rights. But then last week, in a 6-3 vote, 1  SCOTUS ruled against a man who alleged his arrest was in retaliation for his own exercise of free speech. So, under this ruling, would Ms. Cruise-Guylas have prevailed, if this opinion had been issued prior to her own case? Let's look at the opinion, Nieves v. Bartlett, our case of the week.
Russell Bartlett was an attendee at a "raucous" extreme sports festival in Alaska where Officer Nieves was on-scene, talking to a group about moving their keg away from the reaches of minors. Depending on whether you ask Nieves or Bartlett, Bartlett either started yelling at the group not to talk to the officer, or Nieves got angry because Bartlett refused to talk to him. Another officer, Trooper Weight, says that shortly thereafter, Bartlett interceded as Weight was talking to a suspected underage drinker. Weight says Bartlett stood between him and the teen, and took an aggressive stance. Weight says he then had to shove Bartlett back when Bartlett squared up aggressively. Nieves saw the altercation and came over to assist, arresting Bartlett, who was not cooperative with the arrest, according to the officer. According to Bartlett, as Nieves made the arrest he said "I bet you wish you had talked to me now." He was charged with disorderly conduct and resisting arrest and released a few hours later.
Bartlett filed the subsequent lawsuit, alleging retaliatory arrest. He alleged deprivation of rights under color of law, otherwise known as a "1983 claim", so called because it is raised under 42 USC §1983. Specifically, he alleged that his freedom of speech was violated by the arrest, referring both to his refusal to speak to the officer and his attempt to intervene in the officer's conversation with the underage drinker. The District Court granted summary judgement in the officer's favor, finding that the officer had probable cause to make the arrest, overriding any claim of retaliation. The 9th Circuit disagreed, and found that probably cause DID NOT trump a retaliatory arrest claim. The court ruled that "Bartlett needed to show only (1) that the officers' conduct would "chill a person of ordinary firmness from future First Amendment activity," and (2) that he had advanced evidence that would 'enable him ultimately to prove that the officers' desire to chill his speech was a but for cause' of the arrest."
Writing for the majority, Chief Justice John Roberts disagreed with the 9th Circuit. Quoting their prior decision in Hartman v. Moore, the Court reasoned "although it 'may be dishonorable to act with an unconstitutional motive,' an official's 'action colored by some degree of bad motive does not amount to a constitutional tort if that action would have been taken anyway'." In other words, subtract the allegation of retaliation from the situation. Imagine the scenario, but without the earlier verbal exchange and without the officer's alleged comment of "bet you wish you had talked to me now"; without that motivation, is the arrest lawful? If so, then the officer has not violated the subject's rights. According to SCOTUS, Nieves had probable cause to arrest Bartlett. Whether he did so out of spite is irrelevant; the arrest is objectively reasonable, the officer's possible subjective motivations not withstanding.
This decision caused some muttering on social media and elsewhere, with worrisome hot takes- "the Court just ruled that police can now arrest you for speech they don't like!!!!" This is not accurate, as explained; there must still be probable cause that a law has been broken, as is required for all lawful arrests (we can delve into bad faith or drummed up "probable cause" another time). Furthermore, the Court has long been reluctant to consider the subjective motivations of an officer's actions, preferring a "reasonable officer standard". To illustrate: I once had a case in which my client was shot by a state trooper through the passenger side window of his truck. The officer, who was ostensibly there to serve a misdemeanor warrant on my client, claimed he feared for his safety and the safety of others as his justification for the shoot (he claimed he thought my client was about to run over him- remember, he shot through the passenger side window.) I had strong evidence that the trooper had been involved with my client's wife; I could not use the evidence as proof to rebut the officer's claim of fear for his safety. The issue would only be analyzed through the lens of what a reasonable officer in the same situation would have done, without regard for any past personal history.
The Court, to its great credit, recognized the potential for abuse of the probable cause test by unscrupulous officers:
Although probable cause should generally defeat a retaliatory arrest claim, a narrow qualification is warranted for circumstances where officers have probable cause to make arrests, but typically exercise their discretion not to do so. In such cases, an unyielding requirement to show the absence of probable cause could pose "a risk that some police officers may exploit the arrest power as a means of suppressing speech."
The Court then gave an example of a mouthy citizen who has complained about police conduct being arrested for jaywalking at an intersection in which people typically jaywalk with impunity:
For those reasons, we conclude that the no-probable-cause requirement should not apply when a plaintiff presents objective evidence that he was arrested when otherwise similarly situated individuals not engaged in the same sort of protected speech had not been.
So, back to Ms. Cruise-Guylas. That speeding ticket was pretty clearly retaliation for her unfriendly finger gesture. Would she have prevailed, post-Nieves? In my opinion, yes. The reason is that when she flipped off the cop, the traffic stop was complete. There was no probable cause to make her stop the second time. Under the Nieves test, Cruise-Guylas likely would still have a claim.
L2: Speaking of probable cause, the Pennsylvania Supreme Court overturned its own precedent by ruling that spotting a concealed weapon does not give a police officer probable cause to stop and search someone. 
L3: Colorado became the latest state to adopt a law to combat strategic lawsuits against public participation-or anti-SLAPP. Anti-SLAPP laws curtail suits which tend to censor and intimidate critics through legal fees by applying sanctions for the filing of such suits.
L4: In other Colorado news, the state's governor, Democrat Jared Polis, has vetoed several new licensing requirements, angering members of his own party.
L5: The arrest of disgraced Parkland Florida school resource officer, Deputy Scot Peterson, hit the news this week. Does the state actually have a case?
L6: News that record setting Jeopardy contestant James Holzhauer's long run came to an end leaked on the web before the episode aired. Will the show pursue legal recourse? 
L7: A New Jersey lawyer bragged that he had the judge "in his pocket." Lawyers often brag to about things like that, though most are smart enough not to do it into the court room microphone. 
L8: Our dumb criminals of the week thought it would be fun to see if they could get from Nova Scotia to Mexico with no license plate, no identification, and a carload of full gasoline cans. Epic move, bros.