Black Mirror!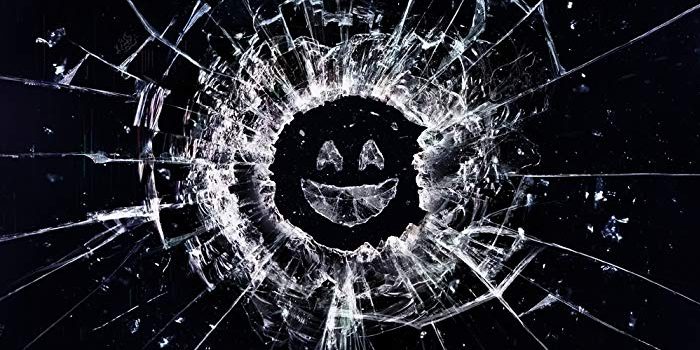 The Netflix show Black Mirror, created by Charlie Brooker, has been described as a Twilight Zone for the Digital Age. With the new season set to release tomorrow, June 5th, here are all 20 Black Mirror installments ranked. I have kept descriptions brief to avoid spoilers, but I hope there will be much discussion of specifics – and vigorous debate and disagreement – in the comments.
The not-so-good ones:
Season 1, Episode 3 – The Entire History of You (IMDB rating 8.6)
I don't know why everyone seems to like this one. I didn't really like this one. People have cameras in their eyes that record reality. A guy gets drunk and makes his wife show him her infidelity. It predictably destroys their marriage. The end.
Season 4, Episode 6 – Black Museum (IMDB rating 8.7)
The episode is a series of three stories told by Rolo Haynes, who manages the Black Museum. Each story involves a device for transferring human consciousness into an inanimate object. This was the second of two episodes that grew heavy-handed and tedious to watch for me.
The problematic ones:
Season 4, Episode 2 – Arkangel (IMDB rating 7.3)
Arkangel is the name of a chip that allows helicopter parents of the future to monitor their children. In this episode (directed by Jodie Foster!) a mother is tempted to reactivate the chip she had implanted into her daughter when she was a toddler once her now-teenage daughter starts engaging in rebellious behavior. It predictably backfires. At times this episode is brilliant, but it unfortunately holds back a bit too much in the themes it explores. It could have been darker. It could have been more subtle, although I appreciate the irony of the ending.
Season 5, Episode 1 – Bandersnatch (IMDB rating 7.4)
This choose-your-own-adventure-style episode has a fantastic premise and great promise, and it's rumored that there may be some choose-your-own-adventure-style episodes in the new season; but ultimately I would rather decide to climb a tree or jump over a waterfall to escape murderous robot dogs (see below) than whether or not to throw tea on my computer in a fit of ennui. This episode also asks more questions than it answers, and as such is the closest Black Mirror has come to the disappointing series finale of Lost, which is a moment in television history that should never be relived.
Season 1, Episode 1 – The National Anthem (IMDB rating 7.8)
This episode is the series pilot and foreshadows some of the themes that later episodes will go on to explore in more detail. The Prime Minister of Great Britain is blackmailed into engaging in a lewd act with a farm animal on national television by an anonymous hacker. The episode seems a bit unpolished and lacks the twists and turns of later episodes. (Anyone familiar with Chekhov's gun knew the ending from early on.)
Season 3, Episode 6 – Hated in the Nation (IMDB rating 8.6)
While many other Black Mirror episode are delightful camp, this one, about a series of mysterious deaths involving various social media pariahs who may or may not be based on real celebrities (i.e. "Tusk"), combines the best acting and highest production value of the entire series with a plot that really makes Sharknado look like the English Patient.
Season 4, Episode 5 – Metalhead (IMDB rating 6.7)
The black and white cinematography and set design is fabulous, but I feel like more could have been done with this post-apocalyptic, black-and-white chase and the Black Mirror episode with the lowest IMDB rating. As alluded to above, if this episode were combined with the choose-your-own-adventure format of Bandersnatch, it would have vied for a top spot. That the writers never came across this idea reminds me of that Simpsons episode when Homer becomes the voice of Poochie and Roy inexplicably appears as a member of the Simpson family.
Season 2, Episode 4 – White Christmas (IMDB rating 9.2)
This episode, starring Jon Hamm and Oone Chaplin, is far-and-away the most popular Black Mirror installment on IMDB. I was somewhat less impressed by it, although the idea of being blocked in real life is terrifying.
Season 2, Episode 3 – The Waldo Moment (IMDB rating 6.8)
This is the story of the digital puppeteer of a blue cartoon bear named Waldo, who interviews politicians and other authority figures in a comically insulting manner, eventually being pressured to run for office himself in what is only half publicity stunt. Many have criticized that this episode no longer seems that distant from reality, but it seems that should be a mark in its favor. The cryptic ending still haunts me.
Season 4, Episode 3 – Crocodile (IMDB rating 7.3)
Oh Jesus, save us…
Top Ten:
Season 3, Episode 2 – Playtest (IMDB rating 8.1)
This episode tells the story of an American backpacker stuck in Europe who accepts a job as a beta tester for a visionary maker of virtual reality survival horror games in order to be able to return home. This is the most horrific and suspenseful episode of the series. I'm a huge fan of weird science fiction horror, and I hope there are more episodes like this in future seasons.
Season 4, Episode 4 – Hang the DJ (IMDB rating 8.8)
Amy and Frank live in a walled-off society where a computer determines romantic relationships. Ultimately, this is a light, uplifting episode sandwiched between two of the series's darkest.
Season 3, Episode 3 – Shutup and Dance (IMDB rating 8.5)

This episode is a psychological thriller where the joke is on you. The episode explores similar themes to the series pilot (see above) and also stars Ser Bronn of the Blackwater, Lord of Highgarden.
Season 2, Episode 1 – Be Right Back (IMDB rating 8.1)
This episode is one of the series most sentimental (and Black Mirror episodes occupy spots along the entire spectrum from dark and ironic to light melodrama). Hayley Atwell and Domhnall Gleeson's performances are spectacular in this episode exploring the theme of grief.
Season 2, Episode 2 – White Bear (IMDB rating 8.1)
Immediately following Be Right Back is this episode about torture and serial murder, what may very well be the darkest episode in the entire series.
Top Five:
Season 4, Episode 1 – USS Callister (IMDB rating 8.3)
This episode is just too fun to rank any lower. It's the one inspired by Star Trek TOS, full of delightful twists and easter eggs.
Season 1, Episode 2 – Fifteen Million Merits (IMDB rating 8.2)
This one takes place in a future that David Lynch might find strange, where the underclass may earn "merits" in exchange for time spent cycling on exercise bikes to power society but may purchase a chance to participate in a talent show to become entertainers and thereby escape the dystopia around them. Things are not as they seem, and this episode is the most scathing and brilliant critique of our society in the entire series.
Season 3, Episode 5 – Men Against Fire (IMDB rating 7.7)
You had me at "it's the one like Starship Troopers".
Season 3, Episode 4 – San Junipero (IMDB rating 8.7)
This one is truly heartbreaking, and it keeps you guessing at the overarching narrative until the end. It is the "Les Miserables" of Black Mirror episodes.
Best Black Mirror Episode:
Season 3, Episode 1 – Nosedive (IMDB rating 8.3)
Black Mirror is at its best when it is at its most frightening. The dystopian reality explored in this episode could very well already exist – it is a world where people rate each other from one to five stars based on every interaction they have. Ratings go on to influence socioeconomic status, who is allowed to live in what neighborhoods, what kind of cars people are allowed to rent, etc. For me, the best part of this episode is it's contrasting very  light tone, marked by saccharine pastels and obsequious driverless cars, which prevented this episode from being too uncanny to enjoy. The future is coming.