He Was So Well-Respected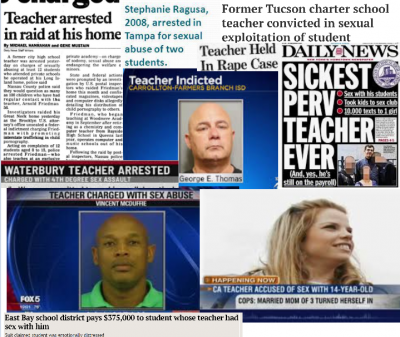 This all happened long ago, long enough that I feel safe to discuss it. So long ago, I had a prep period.
In fact, I had first period prep that semester, so I usually showed up right at the bell. I'd check email and then walk to Starbucks for coffee–two miles, there and back. Exercise. I never worked during prep periods, which is why I was so happy to trade them in for cash when the opportunity arose.
I never made it to Starbucks that Monday in October. My principal had sent an email on Saturday, asking us to come in early today–a message I'd missed completely. He said this news was disturbing, that the news had been posted on Facebook by a student, that he was committed to getting out all the information to the staff, to the students, to the community, as soon as possible. In the meantime, we weren't to discuss anything with the students other than to confirm he'd been arrested.
I frowned at the email. Clearly, I was missing…oh, there. The principal had forwarded another email, written to a group of seniors in our AVID program, he said…
That email was a feverish mea culpa, a man confessing he'd let down himself, his wife, his students, his community, his God, that he'd been arrested and that he was resigning.
I remember reading it and thinking oh lord, please don't let it be a sex with students thing. Please let it be sex with a hooker, gambling, or shoplifting, or even spousal abuse. Just let it be something other than sex with students.  Never once did I wonder about the teacher's identity. It was only my second year; I didn't know many of my colleagues.
So focused was I on hoping for news that was merely bad, not unthinkable, scanning the email's ambiguities for specifics, that only the third time through did the name sink in. This wasn't a colleague I knew vaguely by sight.  A math teacher had written that confession. Not just any math teacher. It was Dave.
I couldn't tell you how long I sat there, that Monday, in shock.
Dave ran the AVID program at our school and taught algebra and geometry. An African American man in his sixties, he'd worked as an engineer both in the military and the private sector. After retirement, he'd become a teacher to give back to the community. He devoted his hours to helping at-risk kids and he was a tough, highly-structured, generous teacher who never hesitated to call bullshit—often in very specific terms. His colleagues one and all respected him greatly.
I saw him as a kindred spirit although I didn't know him well, never saw him outside of department meetings or the occasional copy-room chat. But high school math teachers struggle with a wide range of student abilities, and philosophical debates on grading and content reach the level of religious arguments, and Dave and I read from the same holy writ. I had quoted him in one of my essays reprinted in both Larry Cuban's blog and Valerie Strauss' Answer Sheet.
Two weeks earlier, we'd been sitting together at a Common Core professional development meeting, discussing the possibility of a PSAT training session for the junior AVID class. I told him some kids just weren't comfortable testing unless the subject was familiar, even if they had the underlying knowledge. "Hell, a lot of black kids have that problem," Dave said, "Giving them confidence in tackling the unfamiliar is one reason I became a teacher." We agreed it was too late for the PSAT but would get something together for the SAT.
After what seemed an eternity but was probably just twenty minutes, I went in search of  Candace, a fellow math teacher who always knew scuttlebutt. She had a class, but they were working independently when I barged in.
"What the hell?"
"Jesus, you missed a horror show this morning. The entire AVID department was hysterical. HYSTERICAL. Half the room was in tears."
"Was it a student?"
"Are you kidding? His goddamn classroom door is yellow-taped! It's a crime scene!"
"Do you know who?"
"No. They aren't saying much. I don't think the administration knows anything yet. They're bringing in counselors. We're not to talk about it today."
I don't remember much more of that Monday.
First thing Tuesday,  we got the email officially confirming the worst. Dave had been arrested for sexual harassment of a minor; the victim was a student at our school. The student was getting help; our school was providing whatever support was needed. The admin staff would be delivering letters during third period. We would distribute the letters,  read the text aloud, and then tell the students in no uncertain terms to give the letter to their parents, making it clear that we wanted their parents to know what we knew.
I made myself walk to Starbucks that prep. What kept running through my mind was all the mandated reporting training we all get: first in ed school, then in professional development sessions each fall. Year after year, in every school I've worked at, we learn once more about our legal responsibilities to report abuse, that we can't just tell an administrator or counselor, but must immediately call Child Services or the police and make a written report within x number of hours if we suspect abuse.
Yet with all that training, we get no instruction about what to do when the accused abuser is a fellow teacher. What do we tell students when faced with the fact that our school, dedicated to helping adolescents find their path to responsible adulthood, has involuntarily served a conduit for harm instead of a barricade against it?
After Starbucks, the first class of the day is the algebra support class, with just nine students. I'd hoped to avoid discussing anything, but Josefina, a usually cheerful girl who always chattered about her Twitter success, was devastated. "Is it true, about Mr W? I had him for algebra. He was so nice. And a good teacher; he helped me a lot."
"I'm so sorry."
"But is it true? I liked him."
What do I say? I liked him, too?
Third block, my rambunctious pre-calc class, all juniors and seniors. I'd actually forgotten all about the letter, was introducing function investigations, when in walked an AVP with a sheaf of letters and reminding me of the procedure.
"Oh, it's the Mr W. thing," said a student, as I passed out the letter.
"Yes."
"Do we have to do this?"
"Yes."
I stood at the front, waited for quiet. "I need to read this letter. You are all going to sit and listen. Then  PUT THIS LETTER IN YOUR BACKPACK and give it to your parents tonight."
It's possible to read aloud while not letting the words enter your brain. To this day, I don't remember the text.  Three years later, I found the letter shoved into the bottom desk drawer.
"Now, back to class."
"Ms K?" Milo, of course.
I glared.
"No, I just….will he be fired?? Or just go on to some other school, like Mr G?"
"Yeah, how come Mr W got arrested and Mr G gets away clean?" Cassie asked.
"Whoa, stop. I'm the wrong person to ask."
Sometime back in May, a couple of students were chortling about Mr G. I had no idea who he was; Candace, again, provided me with the scoop. He'd driven a student home, smoked dope with her (we know this because the student took a picture) and–she said–had sex with her, which she didn't photograph.
"Mr G is at another school? How's that happen?"
"Wait. Stop. I doubt Mr G got another job."
"But he didn't get arrested."
"I don't know that, either. Other teachers may know, I don't."
"But how come Mr G just left and Mr W's…like, all this? The letter and everything?" Jagjeet asked.
I sighed. "Again. I know nothing. But here's a hypothetical:  Say there's, Teacher A–or even Teacher G. Teacher G has a student who accuses him of criminal behavior and has some proof. Enough to put Teacher G on suspension, enough to call the police. Teacher G denies everything."
If only kids would listen to me talk about math with the rapt attention they gave me that day.
"So the police can't find enough evidence to arrest. The state decides not to prosecute. What does the district do if there isn't a police case or the student or parents refuse to cooperate? School districts are organizations, organizations don't like hassles, they want hassles to go away. So the temptation is to make the problem go away. The teacher just….disappears."
"Now do Teacher W."
"Teacher W confessed. The school has to acknowledge what happened. Now that you've experienced this, let me ask you a question–not a rhetorical question, a real one. If you had to choose, which is easier to live through: Teacher G just dropping off the planet, or the turmoil we've had since that Facebook post? Assume they both never teach again. Assume they are both found not guilty because there's not enough evidence. Which would you rather deal with?"
Utter silence.
"Me, too. Back to math."
I was at my desk taking attendance for the last class of the day when Shantal, a junior I'd had two years in a row, walked up with a question. An exceptional young woman who sought for excellence and integrity in every aspect of her life, she was also a dedicated AVID student who idolized Dave.
After answering her question, I gathered up some courage. "How are you doing?"
Shantal was quiet for a long time. "You don't have to talk about it, I'm sorry."
"I feel as if I have really bad judgment, that I respected him so much."
I laughed in exasperation. "Oh, sweetie. Welcome to the world. Please, please believe me on this: you are not alone."
She looked at me worriedly. "You liked him?"
"Liked him? I didn't know him at all. But I thought he was a great teacher. We had the same classroom philosophies–at least I thought we did. Now, I don't know where to put that anymore. Every teacher in this school is having to do the same thing. We're all going through this. Don't hold yourself responsible for something that happens to everyone."
"But how do I trust anyone anymore?"
"I know the self-doubt is terrible. But you are an outstanding person, who has the respect of all her peers and teachers. How did you become that person, if not by exercising your good judgment, by choosing good role models? If one role model lets you down, you review. You be sure you didn't miss signals. Then you take the good and move on. And it's never easy."
Shantal nodded thoughtfully and went back to her desk. I sat there feeling inadequate.
Aftermath
In future days, we'd hear about the district and our school's effort to ensure support for Dave's victim in any way she or her family wanted, and her decisions in response. I don't remember much, except she left the school.  A student eventually told me her name. I didn't know her. Our administration team, particularly the principal, did what I thought to be an excellent job getting the news out during the terrible time. Staff and administration volunteered time and effort cover his AVID classes and support that community of students.
Math teachers are an odd group, a mostly male group at our school, and for that reason, I suppose, no one really considered the degree to which Dave's behavior and arrest affected our department, even though Dave taught more math classes than AVID. We never discussed it. I don't know a single department colleague who didn't flinch at Dave's name for the rest of the year–but the next May, we acknowledged the gallows humor of the competition to get Dave's huge classroom, now that the yellow tape was gone.
The splash was huge; the ripple nearly nothing. I rarely heard his name again.
An ex-student, a young man I regularly conversed with for years after his graduation, told me several years back that Dave had a history of this behavior.  I have no reason to doubt him. Rumor reached me,  two years down the line, saying Dave was found not guilty. No idea if that's true, although I did note at the time Dave's letter was ambiguous. It's not impossible he was confessing to something lesser, or that a lawyer was able to make it seem that way.
The story of our school reeling in shock after the earthquake revealed by Dave's abuse is trivial compared to the trauma of an adolescent who is betrayed by a trusted adult. As my telling suggests, no one I spoke to in those early days appeared to give more than a passing thought to the accuser, whose identity none of us knew.  Our principal told us she was getting help, we believed that without question, and gave that matter little further thought. Even now I flinch from the memory of that day not because a student had been abused, but because my good faith in a fellow teacher  had been ripped away.
I have a lot of faith in the student who told me of Dave's abusive history, but I don't know if the rumors were correct and if so, whether he was actually innocent, or if the crime was not proven.  But the shock felt round the school community was not denial. No one made a huge outcry in Dave's defense. No one questioned the accusation, attacked the victim or blamed her for the tremendous hit the school community experienced.
However, the searing memory of that time is due to the shock about Dave, and I think most of the teachers and students from that time would remember it that way as well.
When the incident comes to mind, I always think of the question I asked the students:  Was anything gained by the public acknowledgement of the incident? Are the students better off if the teacher just disappears? Is the public acknowledgement better for the victims?
Before this incident, I would have argued for openness. Ever since I've not been as certain.
Blessedly, those two reported abuse cases are the only ones our school has endured. And Shantal just graduated from UC Merced.