Mira Sue
There's an episode of Star Trek: The Original Series – "The Lights of Zetar" – featuring a young Starfleet officer named Mira Romaine.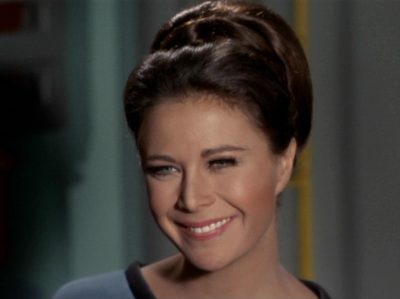 Lt. Romaine comes onto the Enterprise, has a sweet romance with Mr. Scott and is possessed by non-corporeal (that is a fancy word for glowing balls of light) aliens called the Zetarians who use her as a vessel to speak through. Then she's saved by Spock and McCoy – with a little help from Scotty, of course.
It was written by Shari Lewis – yes, the Lambchop lady – which is cool to me.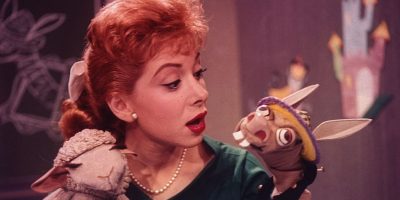 What isn't cool is that some jerks on the Interwebz have seized upon this fact to claim that Shari Lewis wrote herself a Mary Sue  – you know, a too-good-to-be-true character meant to serve as a vehicle for an  author's wish fulfillment. Some people apparently assume Shari Lewis had a childish fantasy to be on the Starship Enterprise for reals and so wrote herself a script about it.
The evidence in favor of this supposition is that Lewis – an actress in addition to being a writer and puppeteer, and a beautiful one at that…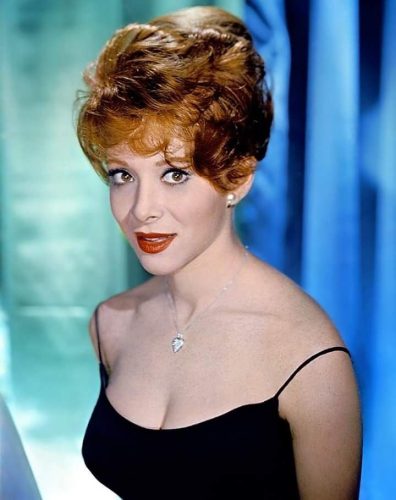 …allegedly hoped to play the part herself. And really, that's about it. The character of Mira Romaine is otherwise not at all what I consider to be a Mary Sue. Scotty likes her, sure (and in the author's words this was solely because Kirk always gets the girl and maybe Scotty should have a turn for a change) but no one else on the crew seems to find her particularly compelling. She's a Starfleet officer, but not an uncannily precocious one. Her job is to supervise the transfer of equipment to a space station – nothing remarkable there. If anything, the accomplishments of Mira Romaine are rather mundane compared to those of most Star Trek guest stars. The fact that Mira is able to psychically connect with a race of aliens is shown to be borne out of a kind of mental weakness – because she's prone to hypochondria and flights of fancy – and not because she's just soo awesome that the aliens singled her out for special attention. No matter how I turn it around in my head, Mira Romaine is NOT a Mary Sue and I find it utterly bizarre that anyone would say that she is.
The only conclusion I can draw is that people say Mira is a Mary Sue because she was written by a woman.
When I wrote recently about Mary Sue, I was taken to task by some people because I didn't go into the myriad sexist ways that the term is used. That's because it was beyond the scope of that piece, and not because I don't think the term "Mary Sue" is used in a gazillion gross and sexist ways. Because it IS used in a gazillion gross and sexist ways and the tale of Shari Lewis and Mira Romaine is the perfect example. I think it's such a great example I'm coining a new term for when people say a character is a Mary Sue simply because a woman wrote her.
Mira Sue (I know, I'm so creative).
The people who are saying Shari Lewis wrote herself a Mary Sue and snickering about it are in essence saying that no woman should ever be allowed to be a writer without opening themselves up for ridicule – not on the basis of her writing ability, but on the basis of all women being attention-seeking-hysterics due to their gender. They are particularly saying no woman should be allowed to be both a writer and actress – something men do regularly. They are saying that if a woman wrote a part she hoped to bring to life someday as an actress that it's a sign she is mentally unhinged and living in a fantasy world. They are saying there should be no female equivalent of Woody Allen, of Edward Burns, of Seth Rogan, of Ben Affleck and Matt Damon. And that is, indeed, thoroughly sexist. I mean, how many male writers/actors do we know that have written a vehicle for themselves to star in? It goes all the way back to Shakespeare for God's sake.
I'm sure a person could write an entire thinkpiece about it and a person probably will someday.
But the grossness of Mira Sue goes beyond just affecting women who are both actresses and writers. The Mira Sue phenomenon affects all female writers. Any woman who sets out to write a strong female character, a superpowered female character, a sexually compelling female character, an unusual or exceptional female character, any female character who walks into any situation and shakes things up, is immediately declared by at least some people to have written a Mary Sue. Mary Sue has devolved into a default insult hurled thoughtlessly at practically all female writers and most female characters. Mary Sue – while it's a fine term as originally conceived and I stand by its utility – has definitely morphed into a way to police the behavior of women and stop them from writing freely.
Policing women's behavior? you may ask. Isn't that laying it on a bit thick? But honestly, it isn't. People really ARE attempting to police female authors with Mira Sue, to force them into self-limiting the types of female characters they create. Public ridicule is a form of social pressure and it is one that women are acutely sensitive to. Laying everything on the line – your effort, your intelligence, your psyche – to put words to paper is hard enough. Worse still, knowing that your every word is going to be psychoanalyzed by thousands of Internet trolls and because of your gender alone, your female characters will be immediately be ascribed the "Mary Sue" epithet and disregarded by at least some people, is downright demoralizing.  
Mira Sue messes with your head and writing messes with your head enough already. Being a writer means enduring a constant barrage of second thoughts and self-doubts and to top that all off, now we need to worry in the back of our minds that literally every female character we ever write as women will be derided as Mary Sue – even though the true Mary Sue is blissfully rare.
It sucks and it's unfair.
So let's take a look at why an author (be they male or female) writes an extraneous character like Mira Romaine into an already existing universe and hopefully we can prove Shari Lewis' innocence, sending Mira Sue packing.
Star Trek is replete with guest stars, many of whom just so happened to be beautiful women. This isn't unusual; after all the guest star is a trick many TV shows, books, and movie series have used over the years. Why do writers do that? Surely not ALL those writers of all those episodes were secretly imagining themselves in the starring role? Writers may be arrogant self-deluded bastards but we aren't THAT arrogant and self-deluded (most of us anyway). When a guest star appeared on The Love Boat or whatever, we did not immediately assume that the guy who wrote the episode had a raging boner for Julie. We didn't assume that a writer sent Joanne Worley onto The Love Boat because they had a huge crush on Captain Steubing and wanted to have a pretend romance with him. It's silly and insulting to even consider such a thing. An author avatar is rarely, if ever the purpose of guest stars in ongoing series (fan fiction is obviously a different matter entirely, but of course fan fiction is something else entirely anyway). Professional writers, even those writing spec scripts  like Shari Lewis, are simply people doing a job, and while it's a fun and peculiar job, it isn't always or even usually a personal ego trip.  
The whole point of a guest star in an ongoing series is to trigger a new set of interactions to change things up. We have our regular characters and they do what they do and interact the way they interact, which can be entertaining, but even the most compelling 3 or 4 or 5 characters get boring after a while. A guest star is simply the introduction of a new quantity in an already existing matrix. It works that way even when the new quantity happens to have boobs attached.
The difference between male and female guest stars is that a female guest star interacts with the (probably mostly male) cast in certain predictable ways that are different than the ways in which male guest stars interact with the cast. While a male guest star may be an former mentor or coworker or school chum or archenemy or a client or just some random person our heroes encounter over the course of their day, a female guest star has the added wrinkle of potentially being a current, future, or former love interest (of course, there can be same sex love interests, but the bulk of stories are cis). They may also be a former mentor or coworker or school chum or archenemy or client or just some random person our heroes encounter over the course of the day, but there's also the romance angle and everything that entails bundled in there too. We get another dimension for the writer to play with.
It's just an added wrinkle, the sex stuff. That's all. Having it in the mix doesn't mean that the writer wants to bang the fictional character, it certainly didn't mean that Shari Lewis wanted to bang Scotty (she wrote "The Lights of Zetar" with her husband, people!), it just means that there's an extra complication present that is meant to make things a little interesting, a little more tense, a little more dramatic. It's not inherently a sign of author wish fulfillment that a recurring character is romantically interested in a guest star.
Nor is the romance angle always a female star either. I remember episodes of Charlie's Angels where the Angels' old boyfriends showed up, Buffy The Vampire Slayer had a couple seasons featuring the stalwart Riley, Hot Lips Houlihan married Donald Penobscot for a minute or two in MASH, and who could forget the notorious show-ruining story arc of Moonlighting where Mark Harmon played Maddie's love interest? The appearance of a past, present, or future love interest for a main character, male or female, does not a Mary Sue make. But since this is an article about Mira Sue, we'll stick with female characters for our purposes.
There are LOTS of ways a female guest star can shake things up. Not only in the romance department. Female characters are not only love interests, even when they're also love interests.  A female character can be bossy like Commander Shelby in Star Trek: The Next Generation. She can be criminal like Saffron  on Firefly. She can be a complication like Jane Margolis on Breaking Bad. She can be pure trouble like Tatiana Petrovna on Peaky Blinders. She could be a mother like Supernatural's Mary Winchester or a child like TNG's Data's daughter Lal . She can be an all powerful goddess to wrangle with, like Buffy had to face off against Glory and Angel had to go up against Jasmine.  She can even stick around sometimes to become a regular character like Chiana did on Farscape.
None of these characters are Mary Sues but they all turn our main character's lives upside down and inside out for an episode or three. That is the whole entire POINT of secondary characters – they move the action in a new way and conjure unique reactions from our main characters. They add interest, excitement; they are catalysts for character development (such as the aforementioned Jane Margolis in Breaking Bad, a huge catalyst for both Jesse Pinkman and Walter White) and they can help advance and/or rejuvenate a tired plot. But even if a character is pretty darn important for an episode/chapter or a handful of episodes/chapters, even if she has massive powers of some sort or an impressive skillset and is a romantic interest for one or even more characters she isn't necessarily a Mary Sue (one example that comes to mind is T'Pring, who orchestrates a situation in which Spock and Kirk have to fight over her romantically when neither of them even like her!)  
Shaking up the main characters, even rocking em real hard, is not the same as deprotagonizing them totally!  The term "Mary Sue" MEANS something and it isn't just "powerful female character" and it for SURE isn't "any female character written by a woman".    
If you say that it is, then you're going full Mira Sue. Women have a right to write women and while criticizing a woman's writing isn't inherently sexist, and the term "Mary Sue" isn't inherently sexist either, it IS entirely sexist to mock or belittle a woman's writing based on standards that are subjective and situational and only seem to apply to women, while calling it criticism.
Sometimes I think people get so invested in their comforting little fictional universes that they resent it when the writers shake things up a little. And it's true, sometimes writers make huge missteps and mess up universes we love, but other times it's the viewers' expectations that are awry. Since Mary Sue is a trendy term right now, a lot of people are tossing it around pretty willy nilly and using it in ways that have nothing to do with the true meaning of the expression. True Mary Sues are blissfully RARE. Prominent female characters who are good at one or two or five things and affect our heroes – even affect them greatly – aren't necessarily or even usually Mary Sues. Prominent female guest stars can be strong, powerful, talented, have huge effects on one or many main characters and NOT be Mary Sues. If you hate a character this does not automatically make them a Mary Sue and going over their attributes and specifications to find any element you think is vaguely Mary-Sue-y so you can dismiss them accordingly doesn't mean that they are one. You can't single out a character you dislike and say they're a Mary Sue when they aren't, even if they have one or two qualities of a Mary Sue.  
Well, you can, but if you do, it's Mira Sue.
Setting sexism aside, if we as fans give into the temptation to start deriding every character who has a single exceptional quality a Mary Sue it is going to wreck fiction, because writers creating a spectrum of intriguing characters is imperative to making a fictional universe dynamic and entertaining. Can you imagine a fictional universe in which the heroes were allowed to be cool and interesting but everyone they encounter along the way is dishwater dull and utterly unremarkable? It would be terrible writing and boring as all get out!
Look, even the greatest stories need an infusion of fresh blood now and then, ok? Otherwise they get stale and one note, and soon after, cancelled. Writers use secondary characters to build vibrant 3 dimensional worlds and to trigger new and interesting scenarios for their main characters to react to. They need to be able to do that without second guessing themselves endlessly about what the fan reaction is going to be.
Shari Lewis did NOT write a Mary Sue for herself. She wrote a relatively unremarkable female character that served as a love interest for a character that up till that point, hadn't had a love interest. The character of Mira Romaine added to the complexity of the Star Trek universe without being a wunderkind. That is not Mary Sue! And if Shari Lewis had hoped to play the part, so what?? If Billy Bob Thornton/John Krazinski/Stanley Tucci/George Clooney/Sylvester Stallone/Steve Martin/Kenneth Branagh/Spike Lee and all those other guys I already mentioned plus all the guys I'm forgetting about oh yeah like Clint Eastwood for example who at the age of 88 just wrote himself an action movie to star in in which he has not one, but TWO threesomes, can write movies for themselves and we yawn and find it completely unremarkable, surely Shari Lewis can be a writer and an actress without the Internet snickering at her posthumously and saying "muh Mary Sue".  Personally I think it would have been great fun to see a ventriloquist play someone possessed by aliens!
So shut up about Shari Lewis and Mira Romaine, haters! Before you levy the charge of Marysuedom make sure your Mary Sue isn't really a Mira Sue.
If you want to read my attempt to write a female character that shakes up a whole fictional universe literally but is not a Mary Sue please check out Supernatural: Manic Pixie God Girl.
Photoshop courtesy of Mary Robinette Kowal