The Case Against Targaryen Restoration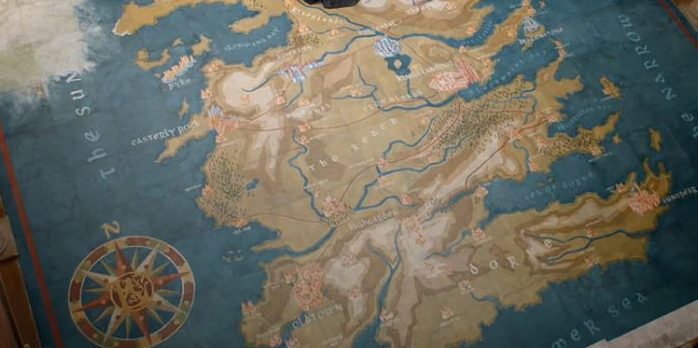 Matt Yglesias makes the case for Daenerys burning King's Landing:
The underlying presumption of the actions undertaken by Varys, Tyrion, and Jon over the course of Game of Thrones' final few episodes is that Daenerys is in some sense unstable, as reflected by her willingness to harm the civilian population of King's Landing.

But this simply isn't true.

Daenerys has an objective — to induce the Lords of Westeros to bend the knee and acknowledge her supremacy — and her attack on King's Landing in "The Bells" was well-calibrated to achieve that objective. She had previously offered Queen Cersei the opportunity surrender, and Cersei refused — packing the city with civilians and ringing it with air defenses that pose a lethal threat to Drogon, Daenerys's one remaining dragon. A combination of skilled piloting and poor marksmanship allowed Daenerys to overcome the city's air defenses, destroy the Golden Company, and induce the Lannisters to attempt to surrender.

If Daenerys had simply allowed King's Landing to surrender without consequences only after she evaded its air defenses, then every other recalcitrant lord in the Seven Kingdoms would have incentive to resist her. After all, it only takes a lucky shot or two to bring down the dragon — and the Queen riding him — and if she manages to burn your scorpions, you can always just surrender.

The Breaker of Chains can be legitimately faulted for not explaining the strategic logic of her actions to key subordinates before the battle began. But in her defense, those same key subordinates had spent the previous days spreading treasonous talk about Jon Snow being the rightful heir to the Iron Throne, so she can perhaps be forgiven for not fully taking them into her confidence.
This is a very Yglesias take. It's also not right along a few dimensions. In particular, Daenerys didn't explain it to key subordinates because she hadn't made the decision until the last minute. You can see her decision being made in her face as she is making it. She could have started levelling King's Landing prior to that, and likely would have if that had been her intent. That doesn't mean that her decision didn't have a strategic element or wasn't driven by strategy (I personally believe it did but was not), but he's applying ruthless logic to what was a decision made in the heat of battle.
I have the acquaintance of some military strategist types and they more or less vouched for the strategy of it all. Shock and awe. You just don't do these things half-way and the decision should have been made as soon as they did not surrender at the top. I'm not sure I buy all of this (especially given the order of events), but I am not in a position to refute it. Where Yglesias goes wrong is that he ties the legitimacy of the slaughter to the desirability of Daenerys's rule. It's a sort of ends-justify-the-means argument. It was not only good for her in particular for her future rule, but that rule would be good for Westeros. That justifies her actions and makes her assassination unjustified.
The logic he employs, though, is dedicated to the virtues of a strong leader of a strong central government. He cites War of the Roses but it seems much more contemporary to me. Both in our current disagreements about federalism in the United States and also viewing Daenerys as an Eisenhower sending the national guard to put town intransigent local leaders. As an example:
"The maesters will tell you that King Jaehaerys abolished the lord's right to the first night to appease his shrewish queen," Roose Bolton told Theon Greyjoy in the books, describing the practice of noblemen raping brides under their jurisdiction on the occasion of their wedding day. "But where the old gods rule, old customs linger. The Umbers keep the first night too, deny it as they may. Certain of the mountain clans as well, and on Skagos … well, only heart trees ever see half of what they do on Skagos."

These rapes were happening despite the generally well-meaning Stark rule in Winterfell simply because, in a practical sense, the Starks exerted little control over their bannermen. The Great Council is now setting up a system of government in which the King's Justice will be weaker than ever, with rulers deliberately picked by the high nobility to be weak and nonconfrontational.

Daenerys, by contrast, was a real threat to lordly prerogative since Drogon's ability to travel long distances quickly and attack fortified positions meant that nobles would have to take her commands seriously.
His example isn't a bad one where the central governing of a powerful monarch – especially one with Daenerys's sense of justice – would be a good thing. If we lay out everything as he does, you can see the argument.
The thing about breaking eggs, though, is that you need an omelette and it needs to be a glorious one. The fundamental problem with the Yglesias take is that, even if you accept a lot of the assumptions he is working from, Westeros simply isn't a good candidate for a land ruled tightly from afar. It's too large1. This isn't a political science exercise where you can draw lines on a map and you have a country2.
Westeros was united by a king with an army of dragons. There was no other way for it to be united. Targaryen rule did outlast the dragons, but by the time the dragons disappeared they had a strong incumbent advantage. They had their people in place, more or less, and they'd been ruling for generations. They had a lot of things that an upstart like Daenerys, who spent much of her formative years elsewhere with an invading army of foreigners, doesn't. The Targaryens didn't merely lose the dragons, though, they stopped marrying outside of their family. This created the problems that incest can create, but also disconnected them from the other families in a way that contributed to their downfall. Daenerys starts out with that weakness, minimally connected to powerful houses and families.
It's not a good position to rule from. To Matt, this means that she had to level King's Landing. To me, this means that she is going to be spending years leveling a lot of places and killing a lot of people on such a scale that local malignant rule will likely pale in comparison. Westeros is difficult to govern under the best of circumstances. It's not clear how real union is possible in better circumstances without more dragons. With what she has, it's certainly not possible for her without a lot of ongoing bloodshed. Note that this isn't an argument against centralized government generally. This is about Westeros specifically. Her model would be fine for any one of the kingdoms and possibly more than one. It worked for her in the cities, though her problems managing more than one were evident and indicative.
So what of Bran? How is that an improvement? How does he keep the kingdoms together (minus the North). Well, I have a problem with that, too.
One thing that does seem unlikely is this… after Sansa says "We're good being independent" at least two other kingdoms would have probably gone "Wait, that's an option? We want that option."

— Will Truman (@trumwill) May 20, 2019
Bran will have to work to keep the Iron Islands and Dorne on board, both having traditions of independence and good tactical positioning. The Vale is similarly well situated. Daenerys would have had to spend a lot of time with a lot of dragons keeping them in line and it's not clear that she would have been able to (especially with Dorne, which somehow successfully resisted an army of Targaryen dragons). Bran has nothing but persuasion and omniscience. He couldn't persuade his sister. If they do decide to go, though, Bran probably lets them and that's probably for the best.
It leads to the broader question of what the point of a united Westeros is? Without dragons and without the rule of an iron (or fiery) fist, what is a king supposed to do? The most important thing is to mediate disputes between the inner kingdoms which have softer boundaries and less personal space. Second is trade and customs. Third is providing for a common defense and united front against outside incursions. Anything beyond that and you have to start worrying about losing kingdoms. Bran is in a better position to oversee that devolution. Not the least of which because he can see things, including lords falling back on lord's rights to a bride. If there are norms to enforce, he may be able to coordinate their enforcement even if he can't exactly set them.
Elected monarchies may not have a good track record, but given the nature of what the new ruler should be, it's probably as appropriate a system as any other. A ruling family would start getting ideas. Daenerys started out with those ideas, of course, dialed to 11. Jon Snow would have had kids and those kids would have had Targaryen blood and ideas. Bran is as well-positioned to navigate the terrain as anyone. Its not clear what comes after Bran, but it will presumably be someone that has built up a good relationship among the houses, which is something Daenerys's kin had some problems with.
So ultimately, even if we accept the strategy of Daenerys's actions, the kingdom is better off with her gone. Fewer people will die, ultimately. She wasn't mad in the same way that the Mad King was mad, but she had shock-and-awe visions of governance that would have lead primarily to tragedy. The burning of King's Landing was a means to that disastrous end and so there are no good ends to justify those means. It was too late by the time she was assassinated, but it was a good thing that she was.
Especially if you believe it is the size of South America. I don't care what canon says I don't believe it is. The story doesn't make sense without it being much smaller. But even at the smaller size I imagine, it's still too large, too diverse, too unwieldy