She Wore a Very Modest Not Demean-y Controversial Sports Illustrated Burkini
Recently Sports Illustrated featured a swimsuit model in a burkini.
The same week The New Yorker published a political cartoon mocking Mike Pence and evangelical Christians who urge women to dress modestly.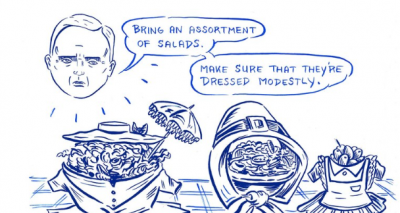 Some folks have tried to turn the Sports Illustrated burkini issue into a callout on conservative hypocrisy. On the one hand, some say, conservatives call for modest dress in women, and on the other, they're freaking out about a chick in a modest swimsuit. What a bunch of hypocrites!
And I can see why people might make that kind of snap judgement. But I find the conservative position more nuanced than people are making it out to be, and the liberal position just as hypocritical, if not even more so.
But before we tackle the thorny issue of liberal hypocrisy, let's talk about conservative hypocrisy and strike that off the agenda. We have an attack on the beliefs of Mike Pence (supposedly, although I don't recall ever hearing a word from Mike Pence himself about modest dress – but it's a fair assumption he probably isn't attending a lot of slut walks). In the The New Yorker cartoon, Pence is used as a placeholder for a minority of extreme evangelical Christians who may in fact have some unusual opinions about modest dress. While these extreme beliefs are real, they are not widespread, they are not mainstream, and I've personally never once heard any real live Christian advocating for policing women's wardrobes by law.
I find many liberals like to conflate Christian beliefs with Christian action. They also like to conflate the Christian beliefs of the most extreme Christians with all Christians, they like to pretend that the most extreme Christians actually intend to take action upon their beliefs rather than just advocating for them, and they even like to pretend that very devout Christians have scads of political power they're hiding away somewhere instead of being a marginalized, even openly despised minority group. And then after all that conflating, they like to conflate "Christian" with "conservative". So according to the fairy tale based on this series of huge mental leaps, there's a Serena Joy in every conservative, plotting and scheming to take over the country and make women into walking uteruses.
But the truth is, there is no nation on earth at present that is a militant Christian theocracy. There are Christian sects who have beliefs, some of which are indeed anti-woman, but there is no nation on earth that is presently a Christian theocracy using Biblical law to police women's dress. The extreme-iest Christians are few in number and microscopic in influence. Fears of Christian theocracy are in my opinion akin to fears about the boogieman, an imaginary threat used to scare people into doing and thinking and fearing the things that whoever invokes the threat wants them to do and think and fear. The fact is, no Christians are coming to take over the racks at TJ Maxx and police them for moral clothing.
It just isn't real. It's supposition based on assumption based on unproven assertion.
I recently had some fun online with some cybergirlfriends talking about leggings. A pitiful handful of Christians have mouthed off about leggings (you know, like yoga pants, that sort of thing) being too revealing. Mouthing off is a term that means all talk, no action. They weren't throwing animal blood on women wearing leggings like PETA or anything. They weren't going around ripping leggings off women like they were MAGA hats. They weren't calling for leggings to be banned. They just said they're immodest. And as if on cue, the "these crazy conservatives and their calls for theocracy have got to be stopped" came from some on the left. But the thing is, about 99.9% of the conservatives in my Twitterfeed defended leggings and about 99.85% of the Christians in my Twitterfeed defended leggings. With the exception of one, maybe two pundits (you know, those people who make a living from saying outrageous crap to get clicks), NO CONSERVATIVE CARED IF WOMEN WORE LEGGINGS.
Tl; dr version – you can't take the opinion of a couple random Internet cranks who are actively profiting from being Internet cranks, and use that opinion to tell you anything at all about what an entire swath of human beings think and feel. Even Christians.
But we're here to talk burkinis, not yoga pants.  Fact #1 – The bulk of conservatives have always liked or at least never had a problem with the SI swimsuit issue (I find its status as Important Cultural Touchstone ever-so-slightly irritating, but that's due to my feminism and not my conservatism.) Fact #2 – There are many conservatives (myself among them) who do not care if there's a burkini in the pages of a magazine, and certainly don't care if women wear burkinis. Fact #3 – Some of these people are the same people, and others are not the same people.
Conservatives are not in lockstep. The enemies of conservatism like to set up this motte-bailey where the most extreme Christians up in the mottiest part of the motte speaking in tongues and burning Harry Potter books are supposedly representative of all conservatives. While the rest of us – the bulk of us – are actually chillin' out in the bailey talking about GoT and drinking craft beer, indistinguishable from the liberals in our age cohort except for having a pesky belief in smaller government. So you can't always or even usually look at "conservatives" doing this thing or that thing and be all like "ZOMG hypocrites" because we are not in lockstep. Your cousin Frank on Facebook may be a hypocrite, but that doesn't make me one. Conservatism is a much bigger tent than people make it out to be, harboring everyone from nude-beach-lovin'-libertarians to people who make the Duggar Family look like the Kardashians.
But setting those facts aside, even if conservatives were in lockstep, the fact is, the burkini was put into the pages of SI for a reason, and that reason is political. Can we be honest about that? Why is it so hard to just be honest about that? The reason the burkini was in Sports Illustrated was not because it is a highly popular fashion that gobs of American women are gonna be wearing to the beach this summer (though as someone who has had 5 kids, 4 of whom weighed over 8 pounds, personally I kinda hope they catch on). Nor was the burkini in Sports Illustrated because the kind of dudes who generally read the Sports Illustrated swimsuit issue wanted to see a woman in a burkini. The burkini was in Sports Illustrated to make a political point, pure and simple. And THAT is what conservatives have a problem with. Not the "inclusiveness". People – and I don't think it's just conservatives, either – are fed up with the politicizing of every fricking thing on Planet Earth, and since the media is largely liberal, the politicizing tends to go one way much more often than it goes the other.
It gets old.
Conservatives take a lot of heat for pushing back against "inclusiveness". Some of it is deserved, but a real whole lot of the pushback is because "inclusiveness" is representative of an agenda. Some conservatives do get sucked into attacking the notion of "inclusiveness" when they really don't even disagree with the concept and that is unfortunate. Conservatives absolutely need to work on that. But what they really have an issue with is the political and cultural undertones of "Inclusiveness 2019". There's a point behind it and the point is political and the politicalness is meant to be against cons. The point is to advance the culture war in a particular way and it ain't our way. It's a type of aggression, in my opinion – a microaggression. If you believe in the concept of microaggressions, then surely you must admit a burkini in the Sports Illustrated swimsuit edition was fully intended to be one.
Now, please understand, I'm not saying it shouldn't be done, because I don't believe it's desirable or even possible to police microaggressions and I believe in a world where the owners of a magazine can use that magazine as their bully pulpit if they so desire. But the burkini is a microaggression as conceived in its very intent, unlike many microaggressions people have been called out for which were totally accidental and not as a result of a media conglomeration making a concerted decision to provoke millions of people who just wanted to see some scantily clad females in the pages of a cultural touchstone that has traditionally provided them.
And since it IS intended as a deliberate act of provocation, outrage over this microaggression is not something Fox News is drumming up for clicks on their website. It's legit. The burkini was in Sports Illustrated to make a targeted political point reeking of aggressive intent, and people are responding to that accordingly. Not because they're super huge zealots who can't bear the thought of Muslims or modest swimwear, but because it was an deliberate political attack. That some conservatives are getting confused and are now foolishly arguing about the wrong things is not so much a reflection on their hypocrisy as much as it is a result of the disingenuous nature of making a targeted political argument while claiming it's something else entirely. When people feel attacked, their impulse is to attack back and they don't always stick with their noblest impulses when they do.
It feels threatening to people when someone co-opts a cultural icon (even one you don't really care for, like some cons don't care for the SI swimsuit issue) and uses it to push an agenda that some people honestly do believe to be at least partially interested in defeating their way of life. It feels like an attack to them, and hey, that's because it is one. It may not be guns or knives or global thermonuclear war, but getting hit by a spitball is a minor thing too and nobody in their right mind would say it isn't a type of aggressive behavior.
If the left can push back against microaggressions, it only seems fair that the right can as well. I mean surely that is only fair! If microaggressions are bad, everyone should have the right to calls 'em when they sees 'em. Surely it is not hypocritical to push back against something that has been co-opted, regardless of your opinion on the original thing itself. I love Buffy the Vampire Slayer, for example, and yet I've pushed back on many other things Joss Whedon has written and said. Me liking Buffy overall does not then therefore mean I have to like every single thing in Buffy nor does it mean I have to like everything the doofus does from now till forever. I'm not a hypocrite for liking some aspects of the Whedonverse and not others. And it's not hypocritical to generally dig the SI swimsuit edition and yet still have a problem with the appearance of something in the SI swimsuit edition that while you may not even have a problem with it generally, is pretty obviously intended as an FU to a not-small group of people you happen to be a part of.
But…but…inclusiveness!!!! Truth, devout Muslims who prefer burkinis and wear hijab were not exactly losing sleep over their lack of inclusion in the SI swimsuit issue. They have a religious proscription against men looking at women other than their wives in a sexual way (which is a big part of why Muslim women follow hijab) and against women putting themselves out there for men to ogle – again, why Muslim women dress modestly. Devout Muslims and even quite a few not-so-devout-Muslims are disgusted by the existence of the Sports Illustrated swimsuit edition regardless of whether it's inclusive or not.
The joy we modern Americans take from "inclusion" is not a universal. Many people's belief systems preclude them being "included" in situations they believe to be harmful in some way – physically, mentally, spiritually. A nun would not want to be included by having to perform at a strip club, for instance. Nuns don't want to be a part of that group as a general rule and would likely feel demeaned, even lessened by the experience. Even if a promoter found themselves a willing Sister Mary Agnes who had always dreamed of poledancing for dollars, a lot of other nuns wouldn't agree with her decision. They wouldn't feel in any way uplifted, represented, or included by the experience of seeing her shake her booty in a wimple. They'd likely feel the sanctity of their way of life was being diminished. They'd likely feel the sacred symbols of their faith had been desecrated. They'd likely feel they were being held up to ridicule in the eyes of unbelievers. Not everyone wants to be "included" in things they find reprehensible just for the sake of "inclusion".
Just because modern American popular culture values "inclusion" very highly does not mean that other cultures do. In a very real way, celebrating inclusion as an objective good, assuming that "inclusion" in the pantheon of cultural touchstones YOU personally value is desired desperately by all comers, is an immensely ethnocentric position to hold.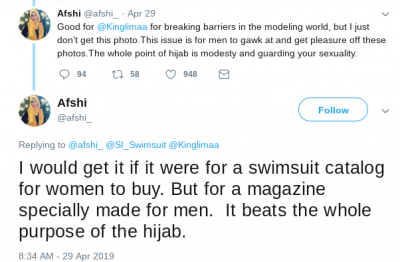 So who is even being "included" here? A good number of people who think the very existence of the Sports Illustrated swimsuit edition is unnecessary and indeed, immoral. A good number of people who actually, if you bothered to ask them, would say they do not want their most heartfelt beliefs to be included in the pages of a magazine they believe to be sinful. All for a political stunt for supposed to prove some self-congratulatory point about how virtuous the editors of Sports Illustrated are – in a way that merely reflects and celebrates modern American pop culture values of "inclusion" and actually kinda takes a crap on the values of a large number of Muslims.
This gimmick was not done for the sake of devout hijab-wearing Muslim women, and it was not also not done for the sake of devout Muslim men. This burkini stunt feels to me like as much of a microaggression against devout Muslims as it does against conservative Americans, if not more so. It feels very much like an attempt to commercialize, hijack, and even corrupt the fundamental tenets of Islam by including burkinis in the pages of a magazine whose values run directly contrary to Muslim principles of modesty. The very symbol of modesty itself –  hijab – is being commercialized, hijacked, and corrupted.
Let's talk about modesty for a moment, because it matters.
In my day job running a women's fertility website, I'm fortunate to be able to talk to women around the world about a wide variety of subjects. I speak to women in the West who feel great pressure to conform to beauty standards they cannot live up to and fashion standards that leave them feeling exposed and objectified (and I've experienced this pressure firsthand). I speak to women in both Western and Islamic countries who wear hijab.  Some are veiled, some even wear burkas by choice and like things that way. I am fortunate to have the opportunity to interact with more Muslim women around the world in peace and friendship in a single day than most Americans have in their lives. And as a real live "classic liberal" if you gotta put a label on me, not only do I not judge them for the way that they choose to dress, I try to actually understand the philosophical underpinnings of this decision that they've made to dress modestly.
The modesty question is an interesting one for me as a feminist because a good number of Muslims believe it is actually freeing for women to not have to adorn and expose their bodies for the pleasure of men. Many Americans assume that Christian and Muslim women dress modestly because "men are making them" but if you asked them, Muslim women would tell you emphatically that they dress modestly because it is their preference. Most Muslim women believe women in Western countries are under terrible pressure to dress a certain way and present themselves a certain way to please men – and I happen to agree with them in this regard. I don't think Muslims are at all incorrect in observing that Western culture, particularly American culture, has gone too far in the direction of women not only being free to enjoy fashion, but ~having to~ pay an inordinate, disproportionate amount of attention to their appearance.  Modern American women are even pressured to physically alter their body permanently in ways that harm their health and are extremely painful, for the sake of the of male gaze. I don't think Muslims are at all wrong in pointing out that an overemphasis on physical beauty is spiritually harmful in many ways both to women who cannot live up to the beauty ideal and to those who can.
As someone who has experienced criticism regarding my appearance in about every possible iteration over my life, as someone who at the tender age of 15, had surgeons cut open my face, break my jaw and put me back together again with my skull held together with screws because the world decided I was too ugly to be tolerated, I can see how it would be extremely freeing in some ways to cover one's hair and throat, to wear a veil, and for all women to dress in a very similar, modest way with no room for negotiation. I can see how it would be extremely freeing not to face constant pressure to wear more revealing clothes than I might like and to have to run the treadmill of worrying about my appearance constantly (running a treadmill both literally and figuratively, at least part of the time while wearing 3-inch heels). I can see how by de-emphasizing sexual attractiveness, one might find room in their life for more noble pursuits, like family, friends, self-improvement, and building a better relationship with God. While I certainly don't advocate the methods used to enforce modest dress codes in some countries, I submit that women in America also face some substantial, heavy-handed social pressure to dress in immodest ways that may not always be to their personal preference.
In 2019, many people assume that girls and women take pride and pleasure from dressing revealingly. While it's true for some and everyone should have a right to wear whatever they'd like, it isn't true for everyone. Many women and girls feel uncomfortable wearing revealing clothes. When I grew up, the early through late 80's, we tended to be naturally modest. Our parents didn't make us, at least my parents and my friends' parents didn't. It was our desire to be modest. We didn't wear revealing clothes at all, nor did we want to. We didn't even wear dresses back then except to formals. We dressed like Lindsay from Freaks and Geeks and like Ally Sheedy in The Breakfast Club. Our swimsuits were either very modest one pieces, or far more often, a baggy t-shirt and shorts.
I remember the first time I saw someone in a bikini – a much older counselor at summer camp, a woman, not a girl – and we girls were scandalized and mortified by it, declaring with great disapproval that bikinis were, like, so totally gross and everything? We didn't want to show skin, it embarrassed us. We did not want to be looked at, exposed. To call attention to oneself by showing skin was certainly possible, but it felt wrong somehow, like a cheap trick, like trying to get attention from boys at the expense of our friends who didn't want to dress that way. And we all knew that if you attracted a boy by dressing sexy, how could you ever know if he liked you for yourself?
As we got older we dressed like Elaine from Seinfeld in baggy cardigans and long dresses and thick tights and usually clunky Doc Martens on our feet because we really didn't want anything other than our hands and face exposed. Again, no one made us; our desire was to be modest. But of course this isn't an article about the history of fashion. It's about hypocrisy and the Sports Illustrated swimsuit edition.
I remember when everything changed. It was like someone flipped a switch. Some clever marketing person realized "hey let's differentiate our company from other companies and sell revealing clothes not to a small group of hoochies through the Frederick's of Hollywood catalog but to everyone through like regular stores and stuff because we can make a butt ton of money that way!"
Levis Bellybutton Commercial
And everything changed in the span of only a few months. While things have gotten ever more outrageous over the course of my entire life, for the past 20 years, this pressure to dress in tight and skimpy clothing has reached a fever pitch. Women, both young and older*, have faced enormous pressure to not only to wear revealing clothes but also to behave more and more and more outrageously. When Christians said anything negative about the trend, liberals derided them as prudes and stuffy sticks-in-the-mud even as children were subjected to scantily clad women on Sesame Street. (thankfully cooler heads prevailed on this, but I recall a lot of people thought it was stupid that those heads prevailed)
Katy Perry and Elmo Music Video
And Disney Channel icons enthusiastically performing songs about date rape while repeatedly feigning masturbation.
Miley Cyrus & Robin Thicke MTV VMA Awards 2013 Performance
Both of those incidences were categorized as "conservatives pounce" moments even though conservatives pouncing wasn't even a thing yet. I remember these events, I remember the context and how they all went down, maybe you don't, I'll give you the benefit of the doubt here, but I do. Both were absolutely framed as "conservative prudes pounce". And those are only two of countless other such moments. Yet now liberals want to turn around and say "oh gee whiz how wonderful there's a burkini in Sports Illustrated, it's there totally innocently too BTW and not at all as a larger political point, lolz look at the conservatives getting sooo triggered with us taking their precious bewbs away!!" Yo, liberals have spent decades mocking and belittling the very concept of modesty and those who value it, and double yo, you don't get to just turn around now and suddenly act like ya think modesty is the bee's knees just because it's coming from a team you hope to politically ally yourselves with and have us just accept your words at face value.
It's mind-bogglingly disingenuous.
You don't get to have it both ways. Liberals can't froth at the mouth over Mike Pence and modest Christian clothing while simultaneously celebrating modest clothing among Muslims, at least not without seeming like politically-motivated hypocrites. I understand you want to have slutwalks and Miley Cyrus' foam finger existing somehow alongside burkas and pretend that it all fits neatly under one philosophical roof because votes. But you just can't do it. Either you investigate Muslim opinions regarding modesty like I did and decide "hmm what they say makes a lot of sense, maybe we do have something of a problem in Western culture with a lack of modesty, maybe it's making women feel less safe and more objectified" – in which case you should maybe give Christians the benefit of the doubt for having a similar set of beliefs – or you embrace constant vulgarity as the pinnacle of human achievement and tear down all those silly old outdated rules and regs the stuffy the uptight prudes love so much regardless of political expediency.
If you hate prudes who are your political enemies while claiming it's because they're prudes, and then turn right around and love, even celebrate prudes that are your political friends, then you may just be a politically-motivated hypocrite. Because it's just not philosophically consistent. I mean, the exact same people were posting both heartfelt defenses of hijab on social media and then completely unironically posting the Mike Pence cartoon because believing in modest dress is like so totally obviously the sign of a sexist oppressor, or whatever. The same week, even on the same day in a couple cases! And while I'd like to write these people off as Cousin Freds, the fact is, there were a lot of very powerful and influential people included in the Hypocrite Brigade.
Liberals are trying to own the cons at every opportunity (because it's FUN!), liberals are trying to make political alliances with whoever will have you (because it's politically SAVVY!). That's fine. I would never ask you to forgo either of those things. But in doing so, be aware you're revealing that the liberal movement as it sits here in 2019 really doesn't seem to have any kind of consistent guiding principle lying underneath the pussyhat pageantry and the pretty words about "love" and "freedom" and "inclusion". For the last several decades, libs, a real whole lot of you have been the public faces of embracing debauchery and pooping on religion to own those big meanie Christian prudes, and now a whole lot of you are suddenly about embracing Islam to own the cons while ignoring the fact is that Islam is a religion itself and really is not too awfully down with debauchery.
So what's the lane, here? Is the lane, "being a prude like so totally bad or whatever"? Or is the lane all women should be able to decide for themselves how to dress, in which case you should probably stop mocking Christian women for personally advocating modesty because her body, her choice? Is liberalism about sex, drugs, and rock and roll, or is it a big tent (like conservatism is) with lots of subgroups within it, in which case you should probably stop assuming conservatives are hypocrites when some of them think one thing and others think another.
Conservatism is really just like liberalism. I promise. The details may be different, but the structure is the same. A lot of people coming together to make the world a little better in the ways that en masse, they mostly agree the world will be better. The making of a political movement involves compromising, making alliances, and agreeing to disagree for the greater good. Political movements are balancing acts, exercises in constant compromise between groups of people who aren't always or even usually in lockstep. We're all of us trying to put the needs of millions, even billions of diverse individuals together into a philosophy and into a movement that stands for something even though none of us even agrees on what that something is going to look like in the end. At any given moment in time, any political movement will look hypocritical overall. That's because political movements are made of individuals with a lot of opinions and those opinions don't always agree.
It's kinda ironic that what extreme Christians stand for is actually a lot closer to what many Muslims believe than what liberals stand for.
Better hope nobody figures that out.
*My stepmother and I (at that time in her 60's!) often comisserated about the impossibility of finding any jeans that went to our navels. They were making 60+ year olds wear hip huggers!
Photo by paukrus