A Beautiful Thing On The Internet: Jon Bois's "The Bob Emergency Part II"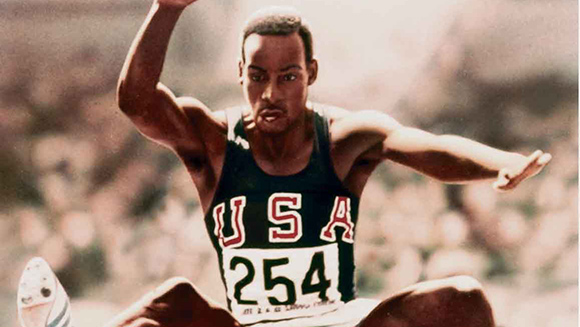 Several weeks ago, this space celebrated the first segment of Jon Bois's two-part The Bob Emergency, a documentary sports story about athletic Bobs. Its first segment told the stories of, among others, Bob Feller, Bob Lemon, and Bob Cousy. It finished with the story of St. Louis Cardinal Bob Gibson. A two-sport star, Gibson initially played basketball for the Harlem Globetrotters before pursuing baseball fulltime. He was a dominant force for almost the entirety of his career. Among his numerous achievements, he produced what was arguably the single greatest season of baseball ever pitched.
Bois released the second half of <i>The Bob Emergency</i> earlier this week. It focused on additional sporting Bobs, including Bob McAdoo, Bob Pereyra, Bob Probert, Bob Burnquist, and Bob Sanders. The first Bob Emergency ended withBois's telling of Gibson's dominant 1968 and hinting that the next Bob had somehow achieved even more. Which brings us to the beginning of the second Bob Emergency, which starts with the story of Bob Beamon.
The Bob Emergency: a study of athletes named Bob, Part II | Chart Party
Beamon was an American long jumper whose professional goal was to destroy the then world record, which stood at 27ft, 4.75in. He believed he was capable of doing so at the 1968 Olympics in Meixco City. Beamon's career best had been a wind-aided 27ft 6.5in, but believed that he was, in ideal conditions, capable of a 28ft jump. A 28ft jump was an unfathomable distance. In the 67 years of the world record's tracked existence, it had moved from 24ft 11.5in to the aforementioned 27ft 4.75in. It had, in other words, moved a total of 2ft 5.25in. What Beamon was proposing to do was achieve roughly a quarter of that 67 years worth of incremental progress in a single jump. Beamon's proposal would mean moving the record more in a single jump than it had ever moved before; Jesse Owens had managed to move it six inches in a single jump, but Beamon would need to move it 7.25in to hit 28ft even. He was, in other words, literally striving to achieve the unbelievable.
But although he got the record, Beamon failed to hit his goals of 7.25in and 28ft. His record-setting jump was nowhere close. This though was not because he had come up short. This was because he had unleashed a jump that nobody anywhere had ever imagined anybody capable of. Beamon's jump, remarkably, measured at 29ft 2.5in. Beamon obliterated the world record. His jump stands as one of the single greatest athletic accomplishments ever.
In the aftermath of realizing his jump's magnitude – the distance was initially announced in meters, before being translated into feet and inches – Beamon went into a cataplectic shock. There was simply no way for Beamon to comprehend what he had just done; his muscles responded accordingly.
Igor Ter-Ovanesyan, the man who held the record that Beamon had flown past, said of Beamon's achievement, "Compared to this jump, we are children."
An Aside, Briefly
Beamon's record is written up as having occurred "at altitude" with the implication being that Mexico City's elevation contributed to the record. There is no doubting that Mexico City is well above sea level. There is no doubting that the only wind-legal jump that surpassed Beamon's was achieved at altitude. But there is also no doubting that Beamon's competitors that day did not similarly surpass their own records. If there was some built-in advantage afforded by competing in Mexico City, all of Beamon's competitors managed to miss it. The day's longest non-Beamon jump was Ralph Boston's 27ft 1in jump.
Back To It
Bois thoroughly celebrates Beamon, perhaps nowhere better than the several minutes starting at the 8:45 mark. It is here that he shows what Beamon did, what he thought he had achieved in its immediate aftermath, what the judges did as they tried to properly understand what their tape measure was telling them, and what the athlete had actually done.
There are plenty of jaw-dropping sporting achievements. It is difficult though to find any as stunning as Beamon's jump. It was not simply that he had done something that nobody had ever done – world records fall all the time, of course – but that he had done something nobody had ever even imagined.
It is extremely difficult to comprehend the enormity of Beamon's achievement. When Roger Bannister got his sub-4:00 mile, two other runners got their own sub-4:00 miles within the same year. Plenty of runners had been grouped around the 4:00 mark before Bannister finally achieved it. Bannister had broken the world's previous record by two seconds when he finally dipped under the 4:00 mark. Bannister's 3:59.4 briefly held the record position, but that record has been slowly dropping to where it stands now: 3:43.13. But for Bannister to have achieved what Beamon did, he would have had to drop the then world record, 4:01.4, to 3:46.38, 15 full seconds. Bannister is forever remembered instead for having snipped just two seconds off the then record.
Oh, And The Racism
Bois's two best Bobs – Gibson and Beamon – managed their achievements despite facing ugly, incomprehensible racism.
Gibson faced it from institutions and individuals. He was told that he was unwelcome at Indiana University because the school already had as many non-white athletes as it was willing to accept. Gibson went on to thrive on Creighton's baseball and basketball teams. But if IU willingly shot itself in the foot, St. Louis Cardinals coach Solly Hemus might as well have voluntarily eaten broken glass. He abused Gibson repeatedly, refusing to guarantee his spot in the rotation, jerking him back and forth between the bullpen and a starter's role, and generally doing whatever he could to undermine the two-sport star. Gibson explained that Hemus had told him he was not good enough to make it in baseball, which by itself is a hell of a claim, but particularly when accounting for the manager's ongoing efforts to make it as difficult as possible for his pitcher to thrive. Hemus enjoyed one of the game's greatest ever pitchers but never realized it because he never once managed to see beyond the color of Gibson's skin. It is no mistake that Gibson was properly utilized in the aftermath of Hemus's firing. It is, unfortunately, unclear if Hemus ever fully understood how profoundly counterproductive* his racism had proved to be.
Then there was Beamon. He was a star long-jumper at the University of Texas at El Paso, widely considered to be a legitimate threat at the 1968 Olympics, the same competition he would later blow away. But earlier that year, in the aftermath of Martin Luther King's assassination, he (and fellow UTEP athletes) decided that they were unwilling to compete at Brigham Young University. Their reasoning was sound: BYU was run by racists who were firmly committed to the idea that black people were inferior. BYU taught this view of black inferiority to its students – pointing to their recently created scripture as justification – and Beamon balked at the idea of having to pretend otherwise. UTEP sided with BYU, insisting that Beamon owed it to the school to ignore BYU's hostility toward him, leading the school to kick Beamon and other protesting athletes off the team and, for good measure, firing his wife. This was less than two years after UTEP and Don Haskins had stunned the basketball world by starting five black basketball players in the national championship game and then proceeding to beat Adolph Rupp's all-white Kentucky Wildcats into the ground. UTEP, in other words, chose BYU's explicit racism over its own athlete.
Beamon overcame UTEP's absurdity in spectacular fashion. But at the Olympics, he ran briefly into Avery Brundage, the then American President of the International Olympic Committee. Brundage had enjoyed his position for more than a decade by then; he would end up serving until 1972, where he insisted that the Olympics must continue in the aftermath of Palestinian terrorists murdering Israeli athletes. But in 1968, several days before Beamon's jump, Brundage became infuriated when Tommie Smith and John Carlos – fresh off winning gold and bronze in the 200 meters – raised their fists during the medal ceremony. Brundage declared that both athletes were to be banned from the Olympic village for having soiled the apolitical competition with political sentiment. When he did not immediately get his way, he threatened to kick out the entire US Track Team, a threat that would have seen Beamon prevented from jumping. The US Team relented, kicking Smith and Carlos out of the Olympics.
Here is the kicker: at the 1936 Olympics, hosted by the Nazis in Berlin – an event that was drowning in Nazi iconography – Brundage said nothing. Later in his life, Brundage would insist, apparently with a straight face, that there was a huge difference between Smith's and Carlos's raised fists and 1936's Nazi salutes. There was: he disapproved of the former and approved of the latter. (If this seems at all analogous to America's current political/cultural situation, well…yes.)
But Beamon got to make his jump, and upon achieving a literally unthinkable number, nobody said anything when he accepted his medals having made a quiet protest of his own, wearing visible black socks on the podium. Even Brundage stayed quiet, perhaps basking in his victory from several days earlier, or perhaps, as Bois puts it, having accepted that he had lost on the issue, even if he had won the earlier battle.
Sports Storytelling
It is 2019. The idea of limiting our understanding of sports storytelling to sportswriting is self-defeating and unnecessary. It is a great big world we live in; there are lots of ways to achieve the same ultimate task. Bois's The Bob Emergency, Part I and Part II should be thought of in the same way that great sports essays, books, and columns are. It is the essence of what is great about sports storytelling: unique, in-depth, compelling, beautiful.
So then here is to Jon Bois, his love of Bobs, and great sports storytelling**.
---
*Another word that could be used here, rather than counterproductive, is stupid, as in, Solly Hemus's racism was stupid, in that it denied his team a great pitcher, which is what he should have wanted. That he did not speaks volumes about the man's priorities.
**Speaking of which, here is an article about what went into capturing an image of Beamon's jump.