Tenshot: Doom Patrol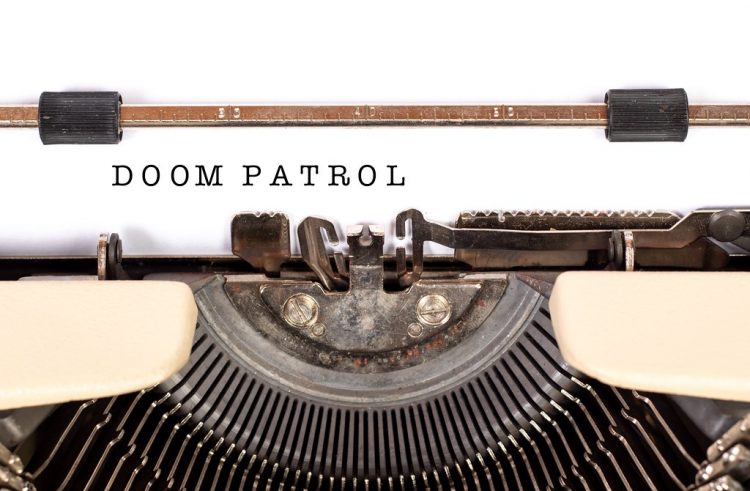 I recently finished the first season of Doom Patrol, which is exclusive content found on the DC Universe service. I am not a fan of the Doom Patrol comic book series. I was vaguely aware of the property back in the day, but I never read a single comic from the series. The comparisons to X-Men1 are pretty interesting, but then DC and Marvel have been copying each others content since forever.  I became aware of the DC Universe show after watching Titans, and seeing an episode with the Doom Patrol, since Beast Boy started in the Doom Patrol, before joining the Titans. My interest was piqued, so I started it…and went through them like a snow plow. Not often a show does that for me.
So without further Ado, my Tenshot:
1) Alan Tudyk is the big bad guy. I love Alan Tudyk, I think he is one of the hardest working and most under-rated actors out there. And he doing a wonderful job chewing on the scenery like it was covered in fudge topping. And he's gnawing on the scenery for a reason, which is all the better.
2) All the other major casting is great.
Timothy Dalton is taking his role seriously, which means he's on his game.
Matt Bomer shows that he is a lot more than just a pretty face, especially since he doesn't get to show his pretty face very often.
Brendan Fraser is no longer a pretty face, but he fits his part perfectly and is clearly having fun finding creative ways to say 'Fuck!'.
Diane Guerrero clearly has acting chops, since she has a lot of roles to fill, and she has to swap between them very quickly.
April Bowlby does an excellent job being a old school Starlett.  I've seen her before in other shows and did not recognize her.
I have no idea if the actors are playing the parts per the comic, but I love what they are doing with what they have.
3) The big departure from your classic superhero origin story is that the main characters don't just lack self-confidence and have self-doubt.  Oh no, they are each over-flowing with self-loathing. The kind that would cause lesser people to just become Super-Villains. The each have character flaws which cause them to have powerful regrets that they hate themselves for. Which we learn about through…
4) Flashbacks to character origin stories that are all quite ignoble, and none of them wake up after they get their powers thinking, 'WooHoo, Super Hero Time!". Nope, they all see them as a curse that they deserve, because self-loathing.
5) This, of course, makes them reluctant, and largely incompetent, heroes, which is of course played for laughs, but also…
6) Helps them to all grow. And they way the writers and actors handle that character growth is… you don't have to suspend disbelief.  None of them get an 'A-HA' moment and are all better. No, it's a season long slog, but they each get a bit better a step at a time. It makes you cheer a bit inside as they do.
7) Which means the show does a good job treating seriously things that need to be serious. Like mental health, and LGBTQ rights, misogyny, regrets, etc.
8) But it's also a bit irreverent at the same time, and manages to strike that balance very well.
9) And it's also quite self-aware, with Tudyk breaking the 4th Wall like he's on the set of Deadpool, and the other characters often pointing to the 4th Wall, even if they aren't quite putting their face up to it.
10) The finale was…either it was the laziest bit of writing I've ever seen, or it was pure genius.  Like, it was weak, but it knew it was weak, so it made fun of itself for it's weakness…It was so fecking meta my head hurts. And off the wall weird at times, but it worked, because it was so meta. And it answered exactly one question I'd had for the whole season, and in doing so, introduced like 3 or 4 new ones. So good…bad… both? I enjoyed it, so there is that.
Anyway, if you don't subscribe to DC Universe, they do a free 30 days thing. It's worth doing the free 30 days for Doom Patrol. Who knows, maybe they'll do a second season.
Photo by trendingtopics