Bad Advice: The New Man Edition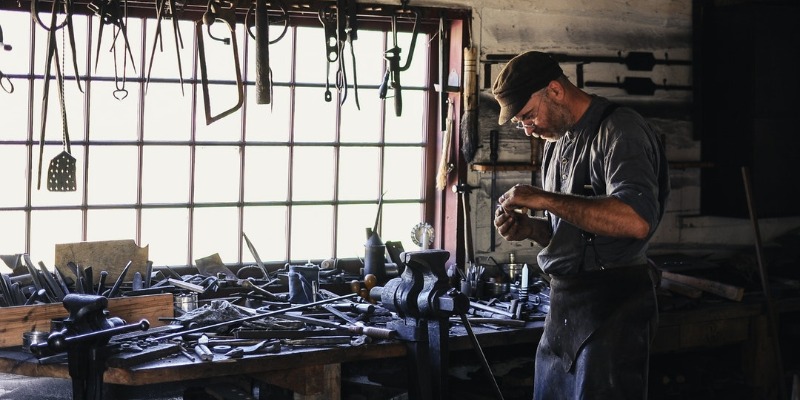 Once upon a time at least, AskMen.com was an interesting website. They hosted Doc Love who was mostly selling his wares but had some uncomfortably good relationship advice.1 Looking things over it appears to be okay, but I re-made my acquaintance by a link to this listicle with Very Bad Advice.
#1: Hunting Instead Learn To Cook
I don't care that much one way or the other here. I don't hunt, but I do eat meat so I haven't a high horse to get on here. Hard to argue with learning to cook, though.
#2: Fighting Instead Mediation
This really seems to overestimate the role that fighting plays in men's lives. I mean, even with hunting there is a subsection of the male population for whom it is central. But conflict fighting? That's a pretty small slice and I doubt they read websites like this. In any event, smoother conflict resolution strategies are hard to argue with.
#3: Repairing Your Car Instead Learn to Code
I'm one of those people that believe that coding should be a part of regular schooling curriculum for any college-bound student but… what? Even in today's world it's hard to argue that learning car repair isn't more useful than learning coding on a day-to-day basis. Even if you can't actually fix much you are likely to be much better with maintenance and when you need to take your car into a shop you will be much harder to take advantage of. That's at minimum. As far as hobbies go it's among the more useful.
This appears to mostly be rooted in anti-car sentiment more than anything to do with masculinity.
I used to be of the belief that my future kids were going to learn how to build a computer, but not so much anymore. Computers used to be much more hardware focused and expensive. Back in the day if you bought a Dell they almost always shorted you on memory and hard drives were expanding so fast the likelihood that you would want to replace a hard drive before the the computer was somewhat high. We've now reached the point where system requirements for Windows haven't increased appreciably in twelve years. If you bought a computer a few years ago you may need to upgrade to an SSD hard drive but that's pretty much it. Computers are more likely to die before becoming obsolete, and die in such a way that it's not worth trying to resuscitate it.
Have cars reached that point? Maybe so in that it's not worth learning how to repair it yourself. But definitely not to the degree that it's not a useful skill.
#4: Fixing Things At Home Instead Learn to Decorate
What terrible advice. In both parts. Even if we assumed that you were never going to purchase a house there are still all sorts of things inside the house that open up for you if you have the ability to open things up. But the assumption that you won't own isn't actually a safe one. Millennials are delaying home ownership but for the most part are not foregoing it. It can also be the difference between being able to buy a house and not. If you're willing to put in some sweat equity, you can get quite the discount on a home.
New listed price: $55,000 https://t.co/K0ouZLu49U

— Will Truman (@trumwill) March 18, 2019
The past several months I was circling this house, which was livable but needed some work. Given how much home improvement people charge, being able to do it yourself would be worth quite a bit and get you into a much better home than you otherwise might. (The house was sold, but our situation changed to the point where downsizing where we are doesn't make sense for us anyway.)
Learning to do more of this stuff myself is something I am going to start putting a lot more thought into.
And now, the part about decorating. I have nothing against decorating. But ladies and gentlemen, if you actually value decorating you do not want your partner to learn to decorate. Or to care about decorating (though, of course, "That looks great dear" is always nice). You might have visions of two decorating-oriented people collaborating to make the house more beautiful, but what you get instead is a load of conflict that can be avoided entirely if one party or the other doesn't care. Doesn't matter which party. Between my wife and me, I care a little bit and my wife not much at all. If I'd married someone who cared a lot that would be fine because I would/could then not care. But the worst would be if we both cared the same amount, and the higher that amount the worse.
#5: Being a Leader Instead Learn How To Collaborate
This advice has all of the substance of cotton candy. But I guess "Don't boss people around" constitutes advice of some sort. Yeah, don't boss people around. Unless they need bossing.
#6: Being a Disciplinarian Instead Learn To Communicate
The two are not mutually exclusive. We're pretty laid back as parents and I am considerably more laid back than my wife, but that's at least partly a product of the child that we have. But… the description doesn't match the term. The description is just "Don't be a red state dad", covering areas others cover (hunting, fighting, and holding emotions in specifically). I feel like this one exists because they wanted to get to seven. But the advice about teaching people to communicate is hard to argue with.
#7: Holding Your Emotions In Instead express yourself
There's a happy medium here. There was a viral article recently complaining about how much of a burden men were placing on women by talking about their feelings too much. There was a bit of a "Men are isolated and depressed, women hardest hit" vibe to it. The idea was actually that men weren't opening up to one another and therefore were burdening their wives, so it's not mutually exclusive with this in that both think therapy is a good idea. Where I believe the article is wrong is believing that having gotten it out of their system at therapy people around the man would therefore be less rather than more burdened. My experience around therapy is the opposite. There is more communication outside therapy. It's often better communication, but if that's the sort of thing that drains you then it will still drain you. Anyway, the article had a bit of a "Men are isolated and depressed, women hardest hit" vibe to it. The point the article made about the externalized costs of expression are true, and the further point is that the stiff upper lip criticized in this article is overstated in contemporary male society. It is often true, and perhaps more often true than the opposite, but communication is good and so is bucking up.