From the Hill to the Rose Garden & Back Again: A Drama in 4 Acts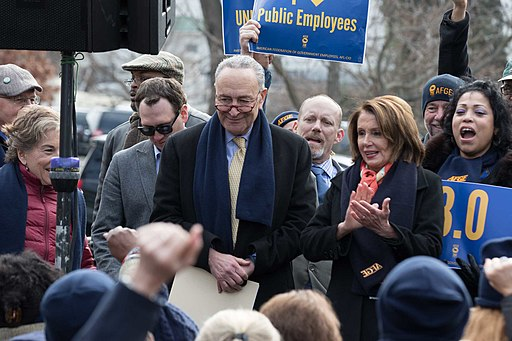 The 72nd annual Cannes Film Festival is currently going full tilt boogie on the Riviera, but the gathered filmmakers would be hard pressed to arrange impromptu theater of the absurd like America's representative government put on this morning.
First up, after a closed door meeting with her caucus widely reported to be about the possibility of impeaching the president, something Speaker Nancy Pelosi has been — at least in public — reticent to support, the speaker stepped to the cameras enroute to the White House for a meeting on infrastructure:
JUST IN: Speaker Pelosi says "we believe the president of the United States is engaged in a cover up" by stonewalling testimony for ongoing congressional investigations. pic.twitter.com/7ILMb95vZM

— NBC News (@NBCNews) May 22, 2019
Which lead to this…
Per person familiar with what happened in the room before this Rose Garden presser: POTUS did not sit down or shake anyone's hand. He told Dems that "once your investigation is done – we can talk about these things." And then he left the room before anyone else could speak.

— Katie Rogers (@katierogers) May 22, 2019
Then this happened in the White House Rose Garden…
Trump interrupts Rose Garden speech to address @SpeakerPelosi comments on his cover-up, which obviously caught him off guard. He stumbles over trying to say he's "the most transparent President probably in the history of this country…I don't do cover-ups."

He seems shook. pic.twitter.com/QAGnzh4vJ9

— Amee Vanderpool (@girlsreallyrule) May 22, 2019
Which concluded with this…
Chuck Schumer says President Trump used congressional investigations as a "preplanned excuse" to avoid figuring out an infrastructure plan.

"We are interested in doing infrastructure. It's clear the president isn't. He is looking for every excuse" https://t.co/H9n7JKbYS7 pic.twitter.com/8HFPUVHsKm

— CBS News (@CBSNews) May 22, 2019
There are a lot of moving parts here, but they do seem to all be moving in the same direction. What little possibility of something legislatively passing was in the gargantuan infrastructure legislation, which till today the president had signaled he would be on board with. It would appear we are done with that pretense and moving to the gauntlet throwing stage of the president's fight with congress over investigations. These were very public power moves, and many think the president is daring the Democrats to make a go of impeachment. Today will do little to disprove that theory. Speaker Pelosi started her morning tapping down impeachment talk, and by lunch was being publicly high-handed by the president to stop investigating him for any kind of legislative progress. It is an untenable position, which everyone knows, so the only question is, which way does she break when she makes her move? Stay tuned.