Sunday Morning! "Constellation of Genius"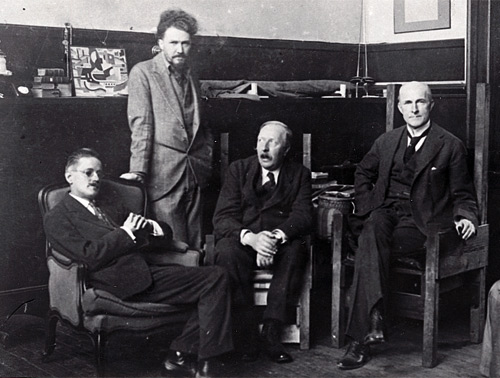 This week, I read "Constellation of Genius: 1922 Modernism Year One" by Kevin Jackson, a genuinely enjoyable day book for that annus mirabilis in which Ulysses and The Waste Land were each published, almost at either end. In addition: the Ottoman Empire ceased to exist, civil war began in Ireland, the BBC was created, Mussolini's fascists marched in Rome, Nosferatu was filmed, the USSR was formed, the tomb of Tutankhamen was discovered, and Hemingway spent his first year in Paris. Jackson gives the highlights week by week in a way that suggests that Ezra Pound was completely right in dating his own calendar with this as Year One.
So for instance, Jackson informs us that 18 May was the "legendary modernist supper party at the Majestic" in which Marcel Proust angered Igor Stravinsky by bringing up Beethoven, and the small talk between Proust and Joyce, the two great novelists of their era, was "hilariously dull and pointless." According to one version:
Proust: "Do you like truffles?"

Joyce: "Yes I do."
Or, on 16 November:
"The New York Times reported that the Russian Communist Party had issued a condemnation of Einstein's theories, saying that they were 'reactionary in nature, furnishing support of counterrevolutionary ideas', and 'the product of a bourgeois class in decomposition.'"
It's all equally fascinating. The style throughout is similarly breezy, bordering on the gossip column, but as Will Self notes, an "insanely readable book about Modernism" isn't exactly easy to come by, and the cumulative effect of the year's events is culturally tectonic.
There are a few unsurprising details here- many of these writers and artists experienced depression, for instance, and some surprises- a great many moved to the political right, if not to the far right, and stayed there. A surprising number were influenced as well by the largely forgotten mystic G.I. Gurdjieff. I found Virginia Woolf's somewhat obsessive hatred for Ulysses fairly amusing. And the somewhat surprising hero of the book is Ezra Pound, an unlikable figure in many ways, but a significant poet and booster of writers without whom it is entirely likely we would not be familiar with Eliot or Joyce today.
The dime novel version of modernism is that Ezra Pound said to "make it new" because literature had grown staid and starched and unreadable for a generation that had returned damaged and disillusioned from the trenches of the Great War. As Jackson points out in the introduction, this hardly applies to Eliot, who was at Oxford, or Joyce, who spent the war in neutral Switzerland only dimly aware of world events. But it probably does apply to Hemingway, Fitzgerald, and e.e. cummings. And the fact that Ulysses changed the world suggests that literate people were ready to go inwards to the realm of myth, memories, and dirty jokes because outwards was a disaster.
When I read Ulysses, I was in my early twenties, somewhat lost in life, and working in a newspaper printing press where I pulled a lever every minute or so. With my other hand, I held the book open and could usually read approximately a page between each pull. I would highly recommend this method because the regular breaks allowed the prose to register without my getting lost in the constant digressions. I've known people who were completely out to sea reading the book and I can definitely understand. For me, though, Ulysses was a revelation that absolutely changed my life.
Certain times and places amount to a Manhattan Project of art- everything is exploded and the survivors have to live with it forever after. We still haven't taken the full measure of what came out of Paris in the 20s or downtown New York in the mid 70s. It seems like Artforum can hardly go an issue without an article on some forgotten brilliant dead East Village artist. And we haven't drained the well of Modernism or gotten quite "post" it either.
I've been told by people who "were there" that "it will never happen again". But, if there was ever a time in which the culture needed truth and newness from art and writing, we're certainly living in it. So far, however, it seems as if we have plenty of wastelands without getting The Waste Land. What's missing?
There might be an economic factor- there's a parallel between the small independent publishers, such as Three Mountains Press and the small independent record labels like Ork Records who saw what everyone else missed. Certainly, the internet is scouring the culture, but whoever and whatever "makes it new" will likely be off in the periphery somewhere and someone will have to be mad enough to get behind them. The other economic factor is, of course, that it was so absurdly cheap to live in Paris in the 20s or New York in the 70s and it's not cheap to live anywhere at this point.
Really, though, it seems that in certain times and places it becomes inescapable that the old way of doing everything is no longer working. We call these times 'revolutionary' because one society or civilization has died and another has to be born. As David Bowie sings: "I'm so wiped out with things as they are." Well, who isn't? Times like these require a new language and a new art. I don't think we're quite ready to take up the challenge. But let's just say the next generation will have their work cut out for them.
So, what are YOU reading, watching, playing, or pondering this weekend?