Justin Amash Sent Some Tweets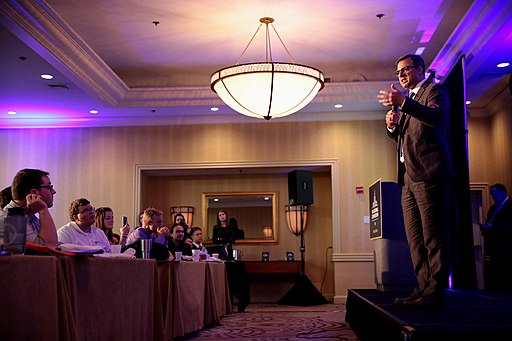 There has been a bit of a cottage industry over which, if any, Republicans would be the first to breach the "I" word. Rep. Justin Amash appears to be your huckleberry, posting a tweet thread about his conclusions of the Mueller Report:
Here are my principal conclusions:
1. Attorney General Barr has deliberately misrepresented Mueller's report.
2. President Trump has engaged in impeachable conduct.
3. Partisanship has eroded our system of checks and balances.
4. Few members of Congress have read the report.

— Justin Amash (@justinamash) May 18, 2019
You can read the whole thread here. In the meantime:
Rep. Justin Amash, a critic of President Trump who entertained a run against him in 2020, became the first Republican congressman to say the president "engaged in impeachable conduct."

The Michigan lawmaker, often the lone Trump dissenter on his side of the aisle, shared his conclusions in a lengthy Twitter thread after reviewing the full special counsel report.

Amash wrote that after reading the 448-page report, he'd concluded that not only did Robert S. Mueller's team show Trump attempting to obstruct justice, but that Attorney General William Barr had "deliberately misrepresented" the findings and that few members of Congress had even read it.
"Contrary to Barr's portrayal, Mueller's report reveals that President Trump engaged in specific actions and a pattern of behavior that meet the threshold for impeachment," Amash wrote.

The White House did not immediately respond to request for comment.

The president often says the report found "no collusion, no obstruction," though neither is true. Mueller did not establish a conspiracy between the Trump campaign and Russia, which did interfere in the 2016 election. He did not rule on the obstruction of justice question, saying it was something Congress should determine.
So, let's back up to March right quick before processing today's tweeting. Rep. Amash was chatting with Jake Tapper on State of the Union:
Amash, who was first elected to Congress in 2010, declined on Sunday to rule out a possible 2020 presidential run as a Libertarian candidate.

"Well, I would never rule anything out. That's not on my radar right now," he said of a 2020 bid to Tapper. "But I think that it is important that we have someone in there who is presenting a vision for America that is different from what these two parties are presenting."

Amash told Tapper he believes there is a "wild amount of partisan rhetoric on both sides" and that "Congress is totally broken."

"I think that we need to return to basic American principles, talk about what we have in common as a people — because I believe we have a lot in common as Americans — and try to move forward together, rather than fighting each other all the time," Amash said.
Question remains, is Justin Amash going to join any Democrat effort to curtail the president, or is he using this as prelude to something else — such as his own run for the White House? Drama.