Down in New Orleans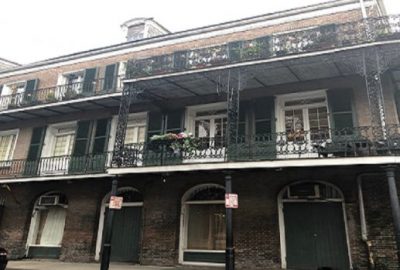 It was cloudy and overcast, and though the sun was struggling to come through, the gray was winning out. It is the kind of weather that, in any other time and place, I detest. But I was sitting on a bench by the Mississippi River in New Orleans, and the weather was perfect. New Orleans is dark and somewhat foreboding, like these clouds. It is a wonderfully creepy place, both welcoming and slightly sinister all at once.
My first visit was three years ago, when I had the good fortune to come for a work trip. I stayed in the French Quarter, and I fell in love. I loved the rough, narrow streets juxtaposed with the brightly colored buildings painted in coral and mint, the wrought iron balcony railings with their various hanging ferns and flowers and other greenery, the street performers and artists selling their creations along the fence at Jackson Square. It is an undeniably beautiful place, despite an also undeniable patina of grime. The architecture is very distinct in the French Quarter, but it is not French. Much of the city was rebuilt after fires during the period of Spanish rule, so the signature style of the French Quarter is actually Spanish.
The city is allegedly quite haunted, especially the Quarter. I took a "ghost tour", which is more like a history tour through the Quarter at night with some ghost stories thrown in. There is the grand Hotel Monteleone, inside of which many claim to have seen the ghost of a young boy who passed away there. There is the sinister but beautiful LaLaurie mansion, sight of horrendous torture of African slaves, if the stories are to be believed. The Beauregard-Keyes home, where the confederate general is said to still fight the civil war in his courtyard. And the Andrew Jackson Hotel, home to a group of ghostly children. When I asked the tour guide if our particular hotel was haunted, she said every building in the Quarter was.
Ghosts could find no more fitting place to live. Because the thing about New Orleans is that it keeps coming back from the dead, too. The city has been destroyed many times over, by war, fire, disease, and flood. Each time, the Crescent City comes back to life, more vibrant than before but with another layer of rich history atop her deep and storied façades.
Wandering about the dirty but charming streets when night falls can feel foreboding and slightly sinister. The Quarter is full of shadows, under balconies and in doorways and in narrow spaces between buildings. It is easy to conjure images of the villains of New Orleans past lurking by, the pirates, thieves, and whores the city is known for 1 as well as the otherworldly vampires and voodoo practitioners said to have lived there. I personally got a chill up my spine by imagining the faceless shape of the murderous Axeman of New Orleans slouching along in the darkness toward his next victims, his beloved jazz faintly in the background.
New Orleans revels in its reputation for the darker things in life. On my most recent trip, I visited the Museum of Death on Dauphine Street, a small but densely filled gallery of artifacts of tragedy. Some will wonder why anyone would want to see such things; others may understand the morbid curiosity that makes the museum one of the most popular spots for tourists. My own proclivity for true crime is well known, and I spent over an hour studying the horrific mementos: Dr. Kevorkian's suicide machine, Charles Manson's prison issued denim shirt, Aileen Wuornos' bra, various embalming tools used through the ages, shrunken heads, and more.
If you are not opposed to the morbid but think the museum is a bit too much, you may consider visiting St. Louis Cemeteries Nos. 1 and 2. The most famous of these is No. 1, where infamous Voodoo Queen Marie Laveau is buried, along with some well-known early Louisiana politicians and other notables. Homer Plessy, the plaintiff in the infamous "separate but equal" case of Plessy v. Ferguson rests in No. 1; actor Nicolas Cage also has a tomb here awaiting his demise. The tombs are famously above ground, legendarily to prevent the corpses from being unearthed by floods, but also because that was the custom of the French and Spanish who populated the area when the cemetery was built. Because of unfortunate vandalism, particularly at the tomb of Marie Laveau, No. 1 is closed to the public except with authorized tour groups. But just down the street is the equally fascinating St. Louis No. 2, home to other notables, open to the public. The odd thing about these cemeteries is how the crypts look as if they were just set down in a large parking lot rather than the lush green fields dotted with granite stones that most of us are used to, yet they are striking in their own right.
Voodoo, jazz, piracy, the macabre — New Orleans is famous for all of these things. One may also think of the city as synonymous with debauchery. Laissez bon temps rouler, as they say. Let the good times roll. The huge, raucous and colorful party known as Mardi Gras each year brings an estimated 1.4 million tourists to town. Most think of the Fat Tuesday as a gluttonous last hurrah before Ash Wednesday and the beginning of Lent, but in New Orleans, Mardis Gras begins the last day of Christmas (Twelfth Night). Parades, toplessness and plastic beads, King Cakes, costumes, and lots of alcohol mark a celebration of excess, even in a city which seems to revel in decadence all year round.
Which is why New Orleans is also known as a foodie paradise. There are decades-old restaurants and new, innovative restaurants and many in between. There are multiple restaurants on every street in NoLa; there are sushi bars, steak houses, creole, cajun, and seafood places, even Italian and Irish restaurants. There is absolutely no reason to ever find yourself eating at a chain in New Orleans; they even have their own versions of fast food if you are in a hurry for something cheap.
For breakfast, at least one morning, make your way to Cafe du Monde. Bring cash, and be prepared to stand in line. Get yourself a cup of chicory coffee and an order of beignets. Don't wear black. On another morning you need to go to Commerce Restaurant on Camp Street, a little greasy spoon, and order the CBB (Commerce Breakfast Biscuit). You'll get sauteed breakfast sausage in a thick, amazing cheese sauce, ladled over an open faced biscuit and topped with over-easy eggs.  That should tide you over until lunch.  Then go to Central Grocery on Decatur for a muffuletta to go, or sit at the lunch counter if you have the time and the luck to find a seat. If you aren't sharing, you only need a half. For dinner, definitely explore because I'm not sure you can go wrong- but if you like seafood do not leave town without having eaten a dozen (or a few dozen, if you are me) chargrilled oysters. Go down Iberville Street. You will see Acme restaurant, famous for these delicious chargrilled oysters. You'll know you found it when you see the line of people down the sidewalk waiting to get in. Now go across the street to Felix's instead, and get your oysters there. You probably won't have to wait and you will not regret it. See the photo at left, taken by yours truly on my recent visit. No matter where you get chargrilled oysters, they are covered in this delicious butter sauce and served with a chunk of bread to mop it up with.
I've nothing against tee-totalers. If that's you, feel free to ignore me here. But I can't think of a better place to drink than in the French Quarter. I ordered a drink of some sort at nearly every restaurant I went to. I had a Sazerac, a Hurricane, something called a Lady DuBois, and at a place called the Black Duck Bar I had three "Little Red Corvettes". And lots of wine. I drank the Sazerac and the Lady DuBois on the balcony above a restaurant named Dickie Brennan's Tableau, overlooking Jackson's Square. It was an amazing view with some of the world's finest people-watching.
It's good to have a loose plan of things you want to do in New Orleans, but leave plenty of time for aimless wandering around. Check out the tourist traps full of cheap souvenirs, and visit some small boutiques of books and art and jewelry.  Check out the street performers. Definitely walk around Jackson's Square, maybe take a rest on a bench there. Stop at a Drinks to Go stand and get a walking-around drink- no such thing as an open container law here.
You may have noticed that up until now, I have not mentioned Bourbon Street. That's because it is probably the least charming thoroughfare in the Quarter. But it's worth taking a walk down Bourbon just to say you did, even if the neon strip clubs and candy flavored drinks in plastic fish bowls are not your style. Jean LaFitte's bar is on Bourbon, said to be the oldest building in the country to continuously house a bar. It was once the blacksmith's shop of Jean LaFitte, pirate-turned-ally in the Spanish-American War and, of course, is allegedly haunted by Jean himself.
I am a West Virginia girl through and through. I love my home state and have refused to leave, even for the greener grass I've seen elsewhere (figuratively, of course, as WV is very green). But New Orleans is the one place which tempts me. I could leave behind my mountains, trade them for the swamp and find myself a place to live as close to the French Quarter as I can afford, if not for that weird "continental law" system they use down there. I refuse to take another Bar Exam.
I am thankful that New Orleans is the resilient, irrepressible place that it is, so that I have had the pleasure of visiting and falling in love with what is surely one of the most unique places in our country. Long may she thrive, and long may the good times roll.
Big Bad Voodoo Daddy - Save My Soul