The Big Dog Or The Biggest Choke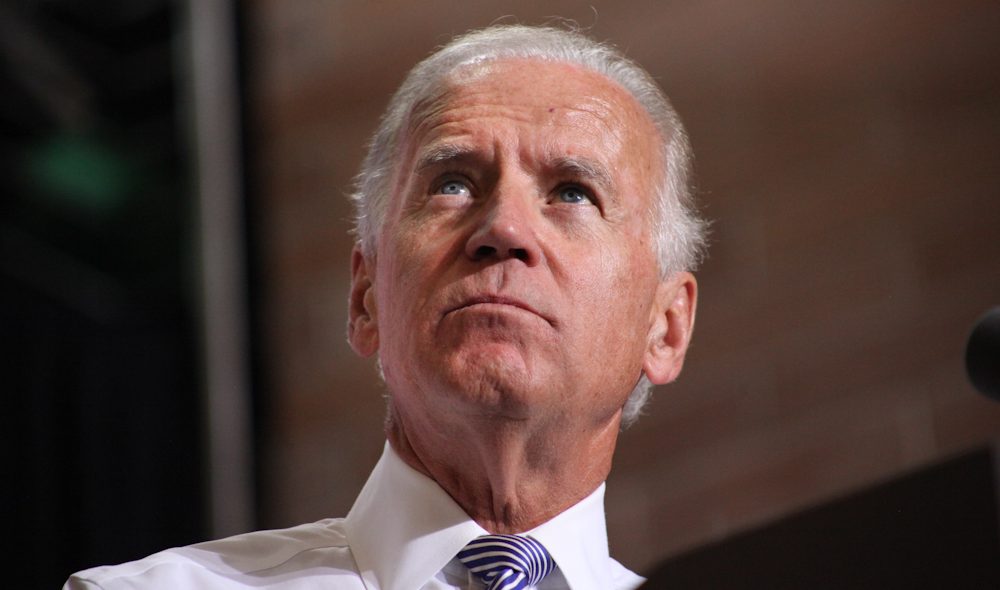 In 1972, Richard Nixon was winning re-election to the presidency in a massive landslide that saw him win all but one state. Included in that presidential victory column was a win in the then-swing state of Delaware by an impressive twenty-point margin. And yet as the state went to a Republican president by such a rout, a sitting incumbent Republican senator was losing a tight one-point race in the state to a then little-known New Castle councilman who had yet to reach thirty by the name of Joe Biden – who at one point in the campaign had trailed in the polls by as much as thirty points.
Biden's fierce come from behind upset was thanks in large part to old school retail politics, something he has always excelled at. The kind of guy who can come up to you with a smile, shake your hand, pat you on the back, and make you feel welcomed even if you plan to vote against him so that perhaps you rethink that vote afterwards. His hard work of going door to door and getting big union forces behind him at a time the union vote was extremely key for victory was how he managed to win over voters who weren't backing his party's presidential nominee even as they backed him as the new fresh face for change to represent them in the senate. It's this tenacious type of campaigning that got Biden into the senate for nearly four decades and then lead to him being vice president for eight years.
Now here Biden is at this political moment in history, after winning seven re-election bids to the senate by various margins of landslides and being the personally well-liked and respected right-hand man to President Obama, here he stands as the current favorite to be nominated by Democrats to challenge President Trump's re-election bid come next year. And yet after such a long history in politics, Biden has never been in this situation before. Oh, he's run for the party's presidential nomination before, running in 1988 before a plagiarism scandal doomed any chances he may have had and again in 2008 when he basically was just an also-ran in a year Hillary Clinton and Barrack Obama were too busy duking it out amongst each other in a historic nomination battle. But never has he been the front-runner, and never has he been the potential savior for Democrats who seek a new leader to lead them out of the wilderness they found themselves in after the 2016 shocker.
Biden almost could've had a shot at Trump before. Back in 2015, there were rumors and talk that he was considering running for the party's presidential nomination. However, his own personal feelings after going through the tragic death of his son and pressure from some party big wigs (Including President Obama himself according to some reports) to just to let Hillary Clinton through (look at how that worked out for them in the long run), lead him to decide against it. In a tight race that would go on to be decided by working class midwestern voters, the very voters Biden has ridden to various political victories in the past, he was not in the picture much past a well-received convention speech in Philadelphia.
Since Clinton's upset defeat to Trump in 2016 the questions have always been there. Would Biden have won? Would Biden have not bled those white working-class voters in the Midwest? Would the on-the-fence Independents who ultimately backed Trump even as polls showed they had their reservations about his character have backed Biden? After all, Biden has enjoyed for years having the best positive favorable polling among major politicians in the country, a department Clinton was woefully weak in after the e-mail scandal that dropped onto her lap as she campaigned for the nomination in 2015, – and haunted her all the way to election day.
So here we are, with Democrats once again looking for a new leader and to no one's real surprise Joe Biden has decided to give it one last shot. This time there will be no Hillary Clinton on the primary ballot to potentially keep the nomination from him; and this time he starts out the clear leader of the race – or as I've been referring to him, as "The Big Dog."
I chose that nickname for him because he currently stands tall above all the other would be Democratic nominees, and I'm not saying that because I have any personal stake in him or the Democratic primary for that matter (my state doesn't allow nonpartisans like me to get involved in political parties' business.) I say that because the actual numbers show him to be the big dog of the pack of candidates. He currently as of this writing enjoys national margins in the nomination battle in the mid-twenties. He has that lead over a diverse field that includes several high-profile senators (Including the 2016 Democratic runner-up), a small-town mayor looking to make history, and a charismatic former house rep that took Ted Cruz to the limit last year.
Biden's emergence as the early front-runner in the race to challenge the president is due in part to some amazing and staggering numbers. Polling shows him dominating among older moderate voters who tend to vote in high numbers, as well as dominating among African American voters who are a must win for someone seeking the Democratic nomination – just ask Hillary Clinton in 2008 and Bernie Sanders in 2016 how much ground in the blue team's primary you can give up with this bloc. He also has respectable performances among very liberal voters, young voters, and women – even leading among these groups in some polling. He is the most known and well-liked of the candidates running in the primary and his good polling extends past just nationally and into the early primary states of Iowa, New Hampshire, Nevada, and South Carolina. As of today, Biden sweeping all four of these states has real plausibility.
Outside of the polling evidence, Biden has a strong case to make to his fellow Democratic voters. His great personal image polling and strong polling in a hypothetical match-up against the not to be counted out sitting incumbent president gives credence to him as the "electable" choice – which primary voters tend to be attracted to. On top of that, in a field of twenty plus candidates, the confusion of having so many choices makes him the easiest choice as the most well known candidate in the race.
On paper based on where he stands now, Joe Biden may look unstoppable to some, and betting markets, voter prediction polling, and some statistical models are getting more bullish on him. To be frank if you've followed me on social media, you'll notice I've been getting bullish on him myself. But the question has been asked time and time again, "Isn't it just too early to take this too serious yet?"
Not necessarily, at least in terms of how strong a contender he is. Over at Five Thirty Eight, Geoffrey Skelley did some digging through early primary polling going back decades and found that while early primary polls don't have a lock on who will win the nomination, it can give us a picture of who the real contenders will ultimately be towards the end. The would-be nominees at the very least started things off with respectable showings. The same research found that candidates polling as strong as Biden is right now in share of support have gone on to win the nomination a clear majority of the time. In other words, history says Biden at the very least is very likely to be a big contender for the nomination and will not be an easy out.
Of course, candidates who have been early front-runners like Biden is have slipped up or straight out lost the nomination battles in the end. However, historically the bigger the early lead the more likely that the early front-runner ends up winning it all in the end. Based on past polling leads in this century for candidates in Biden's position at this point in the cycle, his lead is only behind George W Bush in 2000, Al Gore in 2000, and Hillary Clinton in 2016 – three candidates that were favorites to win the nomination from start to finish. He has a bigger lead than all the other front-runners not mentioned did at this point. Basically, Biden is currently in a historical space between no guarantees and likely winner.
But it's not just polling history that's on Biden's side currently; his endorsements are also right where he would like them to be. Once again I have to give a shout out to Five Thirty Eight, who back in 2016 developed a great tracking system that uses points to register the power of the party "deciding" on a nominee as a whole. Historically this has been a good predictor save for an outlier in 2016's Republican side of things when party big wigs' hesitation to endorse lead to voters making the decision for them in Trump. Based on historical showings among would-be Democratic nominees, Biden at 80+ points is only currently behind Al Gore in 2000 at 85+ points and Hillary Clinton in 2016 at 260+ points in endorsement strength at this point in the cycle (days before Iowa) – again, only behind two candidates who were front-runners from start to finish.
So while it's easy to just dismiss Biden's great front-runner status as "too early to take seriously", history tells us his share of polling support, his national margins, and his endorsement strength compared to past early front-runners makes it likely he could compete very strongly for some time to come, if not be the front-runner for the rest of the way. Joe Biden is in a position that would be foolish to dismiss. He's got the lead, the endorsements, the markets, the right coalition, the image of someone voters like personally, and perhaps most importantly of all he's winning the "electable" argument with win-hungry Democratic voters so far.
You can see why I and others have tried to make the case that what started as a competitive free-for-all race for the nomination, which included media coverage and town halls for even the lowest tier contenders, could wind up being a very boring affair that sees the party start to become the GOP's old stereotypical image as the party that just picks who's next in line when it's all said and done. That by itself is a story that could go down in polling history, a wide-open race shaken to the core by a big name announcing. So would Biden becoming the nominee; it would be a culmination of nearly five decades in federal politics from an underdog who had to come back from behind to become senator in 1972 to the head of the Democratic ticket for President in 2020.
But if Biden doesn't end up the nominee, if he chokes away a historically good early polling lead, a nice head start on endorsements, and a formidable coalition we'd still have a story to tell with him. "The Big Dog" would become the "The Big Choker." And Biden still managing a way to lose isn't that crazy. He still hasn't been tested in debates against what will likely be a stage filled with lower tier candidates looking to prove he can bleed in support. He has past behavior and voting records that don't fit in with the modern "woke" era of leftist politics that could haunt him in the long run (hasn't worked yet, though). His age and health could also suddenly become an issue and derail his rise. And all it takes is one bad gaffe, something Biden is infamous for, to suddenly shift momentum away to any number of possible rising media darlings he's taking on.
Data and polling geeks who always go back and study the historic trends of these primary battles would have a very interesting outlier in Joe Biden if he managed to lose with all his early advantages. He could become the story of the face of an old era Democrats are ready to move on from. Whenever someone announced in the future for the presidential nomination of either party with had such a great starting position we'd always go back to Biden as a warning against declaring it finished too early. A Biden meltdown would historically be bigger than even the 2008 defeats of Hillary Clinton and Rudy Giuliani. In comparison, it was by the second half of 2015 that Donald Trump had taken a lead in the primary polls and even he took time to get to where Biden is currently polling at in the first half of 2019. We're talking a rare fall from grace here if this happens.
To give you a good picture as to why Biden's defeat would be significant in historical trends take a look at the Super Bowl's history of teams taking double digit leads. In the fifty-three Super Bowl games played, four times teams with double digit leads went on to lose the game. Three of those four saw a team lose after taking a ten-point lead. Hard, but not historically impossible. Those three losses in terms of a presidential primary can be compared to where Clinton was in 2008. However, one of the four times saw a team lose after having a twenty-five-point lead. That's about where I would compare a Biden loss to after amassing this kind of early lead. Very significant in my book.
Joe Biden is either going to finally get the chance at being president like he's always wanted, and he may even have a very impressive, easily victorious path to the nomination, or perhaps Joe Biden is at a peak at the moment before a meltdown we will never forget being witnesses to begins. Regardless, Biden has guaranteed us polling geeks and electoral observers that we will get an interesting story in the Democratic nomination battle regardless of whether he rides his many strengths to the nomination or if he grabs defeat from the jaws of victory.
As for my own personal analysis of Biden's chances, I think you can't discount the very real plausibility he still finds a way to lose this; that he has a poor debate showing, or he has major a gaffe, or a past voting stance puts him in hot water, or that another candidate starts to make headway with key voters, and he suddenly becomes the face of an era the party wants to turn the page on. All these things can still happen, and Biden could still lose this.
However, it is not too early to look at hard data, and that data shows Biden is ahead in almost all categories among his Democratic foes with a big national lead, growing party support, great support among key voters, and strength in early primary states. The former vice president is not going to be someone who fades away overnight. Biden can still lose this, but based on all these early historical trends and data signals, I'd honestly say it's his to lose at the moment and I'm pretty confident it's not "too early" to realize Joe Biden is a very serious contender and the favored 2020 Democratic candidate for president.
If the non-Biden candidates don't start to siphon off those older moderate voters, or perhaps more importantly start winning over African American voters, they're going to be in big trouble. They cannot make the same mistake 2016 Republicans did and expect him to fade or for someone else to the dirty work of taking him down. Because if trends don't change sooner than later, Joe Biden may as well start prepping for his acceptance speech in Milwaukee.