Oh, the Humanity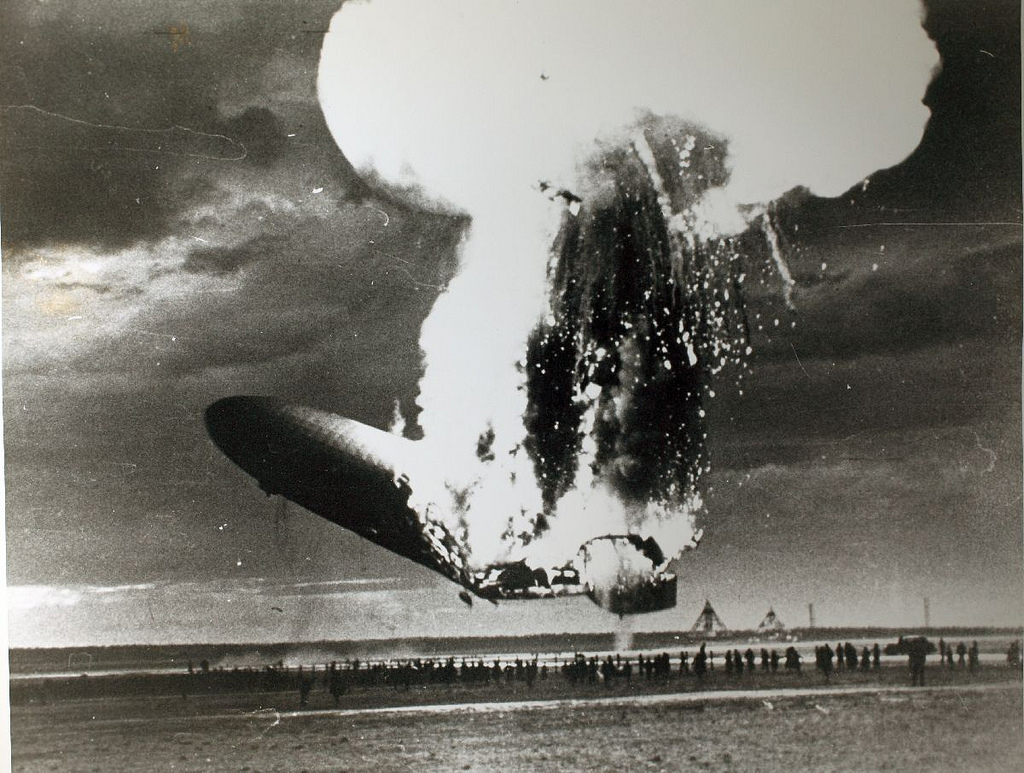 My son is reading a book about the history of air flight and he got curious about the Hindenburg.
So I showed him a video of the disaster on YouTube. You may not know this, but the Hindenburg was a German airship. The year was 1937, so the Hindenburg had a prominent swastika on its tail. My son saw that and, thinking as a child is inclined to think, asked, "Why did anybody care if it crashed, if it had Nazis on it?"
We'll come back to that in a bit, but first I want to talk about my birth defect.
I was born with an excess of empathy. That doesn't seem like a bad thing but it can be crippling, especially for a child, when I hadn't yet learned that temporary annoyance is not forever. I suppose it's kinda like having the opposite of autism – instead of not comprehending why people do the things they do, I understand why everyone does everything most of the time. Even when I don't know instinctively, I can usually figure it out. The motives of others invariably make sense to me, often make more sense than my own.
Imagine knowing every time why someone was angry at you, when someone thought you were weird, when someone you loved didn't really love you quite so much or even at all, and worse, fully comprehending their reasoning and mostly agreeing with them. That's what life is like for me. Inhabiting a world full of people who kinda hate me and I can totally see their point.*
This would be an ok state of affairs if I was a hermit who lived on a mountaintop, but I'm driven to social interaction even though social interaction drives me crazy. It would be a fine state of affairs if I was a curmudgeon who despised people and could write it all off as a sign of humanity's fallen state. But I'm a cockeyed optimist who is fascinated by people in all their beautiful disarray.
And thus I am cursed to understand the motivations of people who most write off as "bad", to empathize with them sometimes to a painful extent. "I feel your pain" has become a joke, but I do feel pain on other people's behalf, and it isn't only the "good" people whose pain I experience, whose motives I'm driven to understand.
For many years I was a liberal, and as such I believed – still believe – that people aren't good or bad. "Good" and "bad" are to me grossly simplistic interpretations of complicated behaviors, much of which hinges on external circumstance, not internal character flaw. I studied psychology and sociology as a good liberal would, and learned how people behave in groups and how people respond to authority figures, tending to obey them without hesitation. I thought about what it might be like to be raised in another culture, indoctrinated with another set of myths and values, and how it might affect one's behavior and beliefs as an adult. I read about Stanley Milgram and Kitty Genovese and the Stanford Prison Experiment. I read about the banality of evil and Extraordinary Popular Delusions and the Madness of Crowds and wove that knowledge into my already-existing web of empathy.
When I was a teenager my stepmother and I were sitting in a car outside a hardware store. My dad had gone inside and he was taking forever, as dads tend to do when they go into hardware stores. We looked over and noticed off in the distance that there was a house on fire. The roof was burning. And we did nothing. We talked about whether or not we should do anything, kept waiting to hear sirens, and nothing happened. This went on for a good 20 minutes, long past the time I thought we needed to act, but she was an authority figure, she was an adult, and she wasn't doing anything. So there we sat. Finally, after we'd watched the fire consume a good third of the roof, the entire time talking about whether or not we should do anything, waiting for someone else to do something, I said "Well, I think I better go in and get Dad." Much to my surprise, she immediately agreed, and in fact seemed relieved that someone had finally made the call. My dad and the clerk in the store were immediately alarmed; the clerk dialed 911 and my dad sped over to warn the people. It was a chimney fire, which I know now can burn silently for a long time. The people had no idea their house was on fire. There were two adults and 4 children inside the house, including a baby sleeping upstairs very close to where the fire was located. Yet we'd sat and watched the house burn for 20 minutes because neither one of us wanted to make the first move.  Neither of us wanted to overreact; we assumed someone else was handling it.
The human brain is prone to things like that. What others will later describe through lenses of hindsight as "good" and "bad" often comes down to the non-making of non-decisions in circumstances where you don't know what to do and you assume someone else is doing something. Or else you look at the people who are meant to be in charge and since you don't know what to do yourself, you just do what they're doing or what they seem to think you should do. I know the human brain is prone to these things since I know my OWN brain is prone to these things, and my own brain once watched a house burn for 20 minutes while I did nothing.
Liberals used to understand this, or maybe they just pretended they did because it was cool at the time.
A few months ago there was a meme going around about going back in time and killing baby Hitler to prevent the Holocaust. Now, as you may have surmised, I, being of empathetic mind and body, would NEVER EVER EVER kill baby Hitler. I would kidnap him and raise him better, in a different time and place, where I would give him all the pets he wanted and a lot of construction paper and glue sticks and crayons and maybe even some glitter if I could stand it, because I do not believe that any person is destined to be evil. I don't even believe any adults are destined for irredeemable evil, let alone any babies. It was stunning to me how many people – people who identified as being liberal, people who identify as "empathetic" themselves, who claim to care passionately about the wellbeing of others and who claim (or at least, liberals USED to claim this, or maybe they just did because it was cool at the time) that we need to be understanding of criminals who had hard childhoods and faced social pressures and thus we should not judge them so harshly and give them every chance at rehabilitation – were all like "F*k yeah, I'd kill baby Hitler! I'd kill him then I'd go back in time even further so I could kill him again!"
I would never kill a baby even if it was Hitler. But I almost killed a baby once because I didn't go inside a store to get help because the person I was with didn't seem to think I should.
The thing about the Baby Hitler question that no one seems to get but me, is that Hitler is just a guy. HE WAS JUST A GUY. He wasn't magic. He didn't have superpowers. He didn't have mind control. He was not created by dark forces for an evil destiny. The only thing that differentiates Hitler from any mostly harmless Internet crank screeching into the void is that Hitler was surrounded by people who thought the venom he was spewing sounded just about right to them. The place and time of Hitler mattered far more than Hitler, the individual, because that time and place was ripe for a Hitler to come to power. The time and place allowed Hitler. The time and place all but made Hitler. I would lay dollars to doughnuts that even if you did kill baby Hitler, some other awful, awful baby or babies would have grown up and risen to power in that same time and in that place and would have done a lot of evil themselves. Baby Himmler. Baby Goering. Baby Maybe-Even-Some-Baby-We-Never-Heard-Of-Before. Because Hitler was not one person. He was millions of people who were totally on board with Hitler, the symbol, and a whole whole whole lot more people exactly like me who looked over and saw a house on fire and didn't do anything about it because they noticed that nobody else was doing anything about it.
So what are you going to do? Go back in time and kill all the babies? Kill some babies to save other babies who may or may not grow up to be evil themselves in a set of circumstances that is different because time travelers in all their infinite wisdom killed some babies?
In the real world you don't know what would happen if you killed baby Hitler. These silly stupid questions are meant to break the ice at parties, not shed light on the human condition. Silly stupid questions don't tell us anything about the real world because in the real world there is uncertainty of outcome. Maybe killing Baby Hitler would have made the world a better place. Maybe it would be a worse place (hard to imagine, but maybe). Maybe in the absence of Baby Hitler, Baby Stalin would have killed even more people than he actually did. Maybe it would have even been Baby Churchill, who killed his fair share. Even good old Baby FDR certainly did not always act with the most admirable of ethics, did he?
I get taken to task sometimes when I give "bad" people as much consideration as I give "good". (Of course, no one knows my heart and just because I write a thinkpiece on a single topic or person who happens to be in the news, it really doesn't even begin to scratch the surface of what I really think about anything.) This is in no small part because I understand that being "good" is easy when the world is kind and people are good to you. When you have a charmed life, why, goodness is easy as falling off a log. A good many people are "good" simply because they never had the opportunity, a good many more are "good" because they blissfully never had adequate motivation to be "bad". Give them the opportunity and the motivation – a hungry belly for instance – and who knows what any of us will do? We cannot predict by looking at a baby if they're going to grow up to do evil or not, because evil is largely a matter of opportunity and circumstance. Opportunity, circumstance, and human nature make some people who in a different world would have been an amazing, beautiful person, Mother Teresa maybe even, turn to evil, or at the very least, to be indifferent to the suffering of others.
In this time and this place our concern, thankfully, is not Hitler. It's some other baby. Again I ask, are you gonna kill all the babies? Are you gonna preemptively kill possibly guilty-in-the-future babies to save other babies who you think are ~probably~ ok but you really don't know?
When I look around the world, I see a lot of people in every walk of life and of every philosophical bent who I consider to be evil babies. They're twirling their tiny adorable moustaches and sucking their binkies in a sinister fashion. But what is far scarier to me than the existence of evil babies is a feeling in the pit of my stomach that we're at a unique time and place, a critical historical juncture, where the overall political and cultural environment may support the transformation of evil babies into evil adults and promote evil adults into positions of power. There have always been evil babies, and there always will be. Evil babies are just guys like Hitler was just a guy. They're not magic, they're not psychic, and potentially evil babies are EVERYWHERE.  You can't prevent evil by killing evil babies because there are always more evil babies lurking.
(helpful hint: at least some of us good people are actually evil babies.)
But I still believe in that liberal ideal that no one is irredeemably evil, no one is doomed to darkness, and only rarely when all the stars are in alignment, will evil babies grow up to become their worst selves. It's only when the world around an evil baby encourages their dark side rather than the light, that Innocent Baby Hitler becomes Could-Go-Either-Way Teen Hitler and eventually transforms into Actual Adult Hitler.
If I run around killing the potentially evil babies I see and you run around killing the evil babies you see, well pretty soon WE'RE the evil babies, amirite? It seems to me to be wiser to focus on giving even the potentially evil babies among us art supplies and a better environment so they don't turn evil, rather than turning evil ourselves in the name of stopping evil.
No one ever left their warm and cozy bed and rode out in the dark cold night on a pogrom thinking that they were the bad guy. They rode out thinking they were going to GET the bad guys, that their actions were fully right and justified. They went out to smother an evil baby in its cradle, both figuratively and, sadly, oftentimes literally. I suspect that if you look into your heart of hearts and find that you think it's ok to kill a baby rather than try and reform and rehabilitate them and make the world a better place for babies both good and evil to grow up in, you may already BE riding out on that pogrom and you just haven't realized it yet.
Dudes and dudettes, our house is on fire. And we can't tell it's burning from the inside. Only someone looking at this fire from a parking lot across town can see it. Even if your beloved authority figures aren't doing anything, even if they're telling you that hating and othering and demonizing those people is not only ok, but desirable because they are like, you know, so totally deplorable or whatever, you need to resist your natural human proclivities to hate and other and demonize and #resist temptation, because fires have a way of raging out of control and burning up everything around them, even the innocent. Especially the innocent.
Fires. Oh yeah, we were talking about the Hindenburg, I almost forgot.
My son thinks Nazis are subhuman bad guys in a cartoon and Nazis should be punched or better yet, exploded. He doesn't know that Nazi Germany was made up of actual human beings only some of whom were Actually Evil Babies, only some more of whom were even people who thought "hey what those Actually Evil Babies are saying sounds pretty good to me" because they came of age in a time and place and environment in which terrible things sounded good to otherwise good people. He doesn't know that most of them were just teenage girls sitting in cars wondering where the fire department was. He doesn't understand that because he is a child.
You're an adult, what's your excuse?
I used to think that trying to understand "bad" guys and maybe even empathizing with them was the best thing about liberalism but I've come to realize it's just the best thing about Kristin. All those years ago when I sat in a car and watched a fire burn precariously close to a sleeping baby, I learned something about myself. And that is why I'll never shut up when I see danger that other people aren't noticing, even if it makes people I like and care about think I'm a mentally unhinged weirdo freakazoid. Because our house is on fire, people.
There's this Greek myth about this chick named Cassandra who was cursed to see the future, doomed to forever give warnings to people who refused to heed her words. Please don't roll your eyes, I'm not comparing myself to Cassandra. I can't see the future, but what I can see is what all of us can see – the past. The past, if you care to look at it, is full of people just like you and just like me who were born in a certain place and time and acted accordingly. We may look back at them now with every benefit of modernity, with our full bellies and antibiotics and historical perspective, and judge them harshly, but the truth is that if someone picked us up as babies and plunked us down beside those terrible olden-times people in the nursery, we would grow up thinking and believing and doing the exact same terrible things.
The Hindenburg is a tragedy because some imperfect and flawed human beings who were products of their times as we all are imperfect and flawed human beings who are products of our times suffered and died. Some of them were children. Some of them were elderly people. Some of them weren't even German. Some of them were known opponents of Hitler and were investigated as possible saboteurs after the accident. One man was particularly suspect because he kept cracking anti-Nazi jokes during the entire flight – jokes that several other passengers and crewmen reportedly laughed at. A person riding in a zeppelin with a swastika on it isn't always a Nazi. Life is so much more complicated than a simple good guys vs. bad guys narrative implies.
No one knows why the Hindenburg caught fire. The most likely explanation is that there was a single spark – from static electricity or lightning or perhaps from an engine backfire, that ignited hydrogen or the ship's metal-painted skin or the graphite lubricant used on its ropes or the diesel fuel in its engines. Additionally there was a lack of proper maintenance, bad weather, pilot error, and a recent crash with a biplane, all of which may have contributed to the accident. The crash of the Hindenburg was multifactorial, a perfect storm, as they say. It shouldn't have happened. There were multiple precautions in place to prevent such a thing from ever happening. But it did happen. A single spark ignited the Hindenburg because several variables came together at the worst possible moment and created the atmosphere in which one tiny spark could cause disaster.
Do you smell gas, because I think I smell gas? Maybe we should do something about that. Or we could just sit here, because I'm sure someone is already doing something about it.
Aren't you?
*Ironically, social media is nice for me because I can keep people at arm's length – I can't see their facial expressions or hear their tone of voice or read their body language, so I'm free from experiencing their feelz too intensely.
Photo by Recuerdos de Pandora