Fagin, Bigotry, and "Cancel Culture"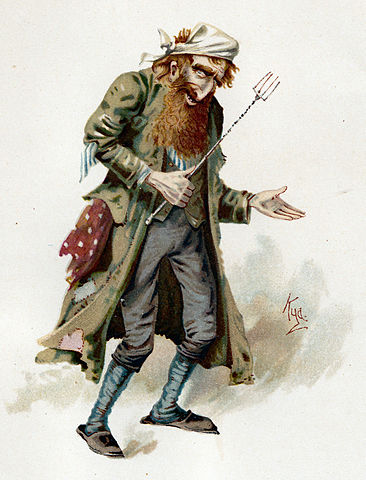 [WARNING: This article contains spoilers regarding Oliver Twist]
It took me a number of tries to read the entirety of Oliver Twist, past the twenty pages or so culminating in the famous scene where Oliver asks for "more" to the utter shock and disgust of the adults in charge of the orphanage. Much of the remaining story was pretty unremarkable, in my view, except for one thing – Fagin. Or as Dickens explicitly called him: The Jew.
It would not be the first or last time I would encounter ugly stereotypes of my brethren, and in most such cases, I would wince once, briefly get angry, or just shrug it off as pathetic. But Fagin was of a different league.
Put simply, Fagin is one of the most loathsome and unredeemable creatures I have ever come across in fiction. He manipulates children to run a crime ring for his own profit. He incites his partner in crime Bill Sykes to murder Nancy rather than have the guts to even do it himself. He of course meets his end going to the gallows, utterly unrepentant of anything. Really the only thing missing on his charge sheet is sexual child abuse, which I doubt would be allowed to be described in those times.
Lacking the charm of Moriarty or the aristocratic mystique even of the blood-sucking Dracula, Fagin is as close to a parasitical-yet-demonic figure as it gets. It's not quite Holocaust-level antisemitism – that would require the spread of belief in a Protocols-like Jewish conspiracy to take over and enslave the world, a belief which became truly global after WWI – but it very much is the kind of demonizing, literally, that encouraged and certainly excused anti-Jewish violence in the Middle Ages and modern times, up to and including murderous pogroms.
People who complain about political correctness, SJWism, or woke culture in their going too far and being oversensitive – whether on the right, center, or softer left – often make it easy for themselves when confronting the hard issues that involve negative portrayals of members of previously oppressed minorities. It's easy to shrug off ambiguous comments or universal aspirations which some claim to merely be White, or the use of slurs in a book meant to criticize bigotry.
It's nowhere near as easy when the work in question contains the equivalent of a Fagin – a portrayal or description so utterly and intentionally inflammatory that you want to seek out the person who made it and beat the ever-loving snot out of them. Or, if they're dead – to revive them and then beat the ever-loving snot out of them.
It's at this hard point where I understand the people of "cancel culture" the most – but it is nevertheless here that I also most strongly reaffirm my opposition to the same. I don't want Oliver Twist taken off the shelves in libraries or in classrooms. I don't even want trigger warnings put on the front cover (though responsible teachers should be prepared to discuss Fagin in a healthy and critical manner). I say all this despite having no interest in whitewashing just how loathsome Dickens' literary act really was.
We in the present like to flatter ourselves that those in the past – certainly those who belonged to powerful or dominant sections of society – were all irredeemable because of this or that sin of bigotry. Meanwhile, we in the present (or at least the "woke" among us) are the Chosen Ones, the Enlightened Ones, the ones leaving that awful past behind towards a glorious future. Trigger warnings are a declaration of the same, a quasi-religious talisman against the sins of a (then pagan, now unenlightened) past.
I reject this generational narcissism wholeheartedly. Human nature was the same then as it is now, and barring very rare exceptions, most people then and now are a package deal of good and bad, including those who deserve to be called "great." The same Charles Dickens who described Jews in such a vile manner also wrote one of the most famous and powerful protests against injustice to the poor ever written – and in the same book.
What is true of Dickens is true of innumerable thinkers and doers. You cannot reject Enlightenment thinkers due to their often wrong opinions on women and others, for instance, without undermining the entire philosophical foundation for the world in which we live – including moral principles such as universal principles applied to all, the importance of human beings as such, and many more.
Yes, in many respects we have made important advances. But these advances are still relative. And they will be relative in the future, too. Evil will always be with us as long as human nature is with us, and good people who help us advance will always for the most part have flaws. It is furthermore vitally important that we appreciate how we stand on the shoulders of the giants – yes, giants – who came and paved the road behind us, even as we wholeheartedly reject some though not all of the materials they used.
Fagin-like characters are today used as a reason to keep people in a child-like state free of any facing of evil or flaws of human nature. But none of us are children, nor should we wish to be. We are all adults, and our rights were gained against the bigots of the world who insisted we could not live and function and contribute to society as such (the comparison of women or racial minorities to "children" is no accident), certainly not on equal terms. We can and should be able to prove them wrong, and treat both past and present with eyes wide open about human nature, taking in the wisdom – and rejecting the evil.