WV Attorney General Pats Himself on the Back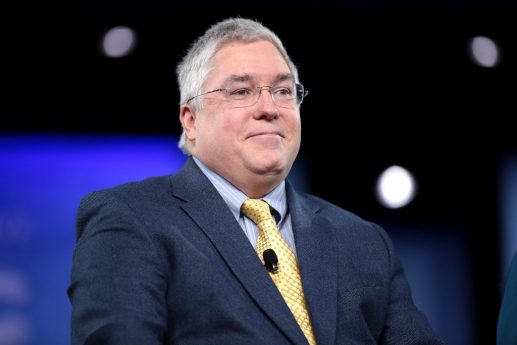 West Virginia Attorney General Patrick Morrisey vigorously patted himself on the back this week on social media and elsewhere over a $37 million settlement with pharmaceutical giant McKesson. The lawsuit was one of multiple suits brought by the state against McKesson and several other suppliers of the opiate pain pills that flooded the state in the last decade, resulting in skyrocketing rates of addiction and overdose deaths. McKesson is one of 13 pill distributors who have settled with the state, including AmerisourceBergen and Cardinal Health. The 13 settlements combined total around $84 million.
Does that sound impressive? It isn't. It's just another example of a politician throwing around big numbers to make headlines, but which do not correspond to anything meaningful. It's about $6.5 million per company, but the McKesson settlement combined with the next largest settlement-$20 million paid by Cardinal Health-account for more than two-thirds of that. Half of the defendants got off the hook for a million dollars or less. And that $84 million total? It is barely a drop in the bucket of what the pain pill crisis has cost West Virginia, especially when you consider that the top three largest distributors, McKesson, Cardinal Health, and AmerisourceBergen, raked in over $17 billion from selling opioids to this state.
Loss of productivity. Health care costs. Increase costs in the criminal justice system. An unprecedented number of children in state custody. Estimates of the loss to the state as of late 2017 top a billion dollars, which has no doubt grown. And while it's impossible to accurately estimate the value of the lives lost, we do know that we can barely keep up with the demand for assistance for indigent burials, and that the state had to allocate additional funds to its state medical examiner's office to cover the costs of transporting and processing all the extra bodies. 
The lawsuits were brought on behalf of the state Department of Health and Human Resources, which houses the Medicaid program and social services, and the Department of Military Affairs and Public Safety, which oversees law enforcement. Insiders say that the lawsuits, if successfully litigated, were worth upwards of a billion dollars. The suits alleged that the companies failed in their legal duty to monitor the order and shipments of their prescription drugs and report suspicious patterns. Had they done so, for instance, perhaps they would have noticed the nine million pain pills shipped in a two year period to a single pharmacy in the town of Kermit, WV– population 400. That's over 30 pills a day for two years for every man, woman, and child in the town.
Of course there is plenty of blame to go around. Someone is obviously prescribing these pills, and state and federal authorities have pursued them as well, shutting down pain clinics and "pill mills" around the state and prosecuting the bad doctors. And heaven knows the addicts themselves are rounded up and punished on a routine basis.
So, no, Patrick Morrisey has nothing to boast about here, as Senator Joe Manchin points out. Manchin got word of the settlement figure last fall and expressed his disdain then, but Morrisey, with the election on the horizon, denied any such deal was in the works. This sparring came a few years after Morrisey criticized an announced settlement by state and federal authorities with Mylan Pharmaceuticals over the way the company classified its Epi-Pen for purposes of Medicaid reimbursement. That settlement was worth $465 million, which Morrisey called a "sweetheart deal". He opined that the case was worth much more, despite his office not being involved in the matter and having no reason to actually know the case's worth. Others within the state report that West Virginia's share of that settlement made the state Medicaid program whole, and then some. But the truth is Morrisey's statements were not from a place of legitimate concern for the state, but a chance for some more mudslinging at political enemy Manchin, whose daughter was the CEO of Mylan.
Given the AG's own cozy past with pharmaceutical companies, he would serve himself well to keep quiet here. Afterall, his nickname is "Pain Pill Pat". Prior to emigrating to West Virginia from his home state of New Jersey, where he was a failed congressional candidate, Morrisey was a lobbyist for pharmaceutical distributors. His wife has worked as a lobbyist for Cardinal Health, and the company contributed thousands to his campaign for attorney general. When eyebrows were raised Morrisey, who inherited the Cardinal Health lawsuit from his predecessor, vowed to be "screened off" from the case. Nevertheless, he met with Cardinal officials five months after taking office.
Morrisey is not a well-loved politician in West Virginia. He is an outsider (from New Jersey, no less), who saw West Virginia ripe for a Republican takeover after years of being a Democratic stronghold, and took advantage of that to gain office. West Virginia is but a political stepping stone for him; after winning re-election to the AG's office, Morrisey made a run for the US senate, but lost to incumbent Manchin. He even lost in the county he lives in-which, not coincidentally, is as far from the state capitol and as close to D.C. as one can get while remaining in West Virginia.
He has found himself at odds with his own party in the state legislature over the use of settlement funds obtained by his office. Constitutionally, the legislature is to decide where and how such monies are to be appropriated, not the attorney general, but nonetheless Morrisey has attempted to make unilateral plans for where some of the money goes. Democrats accuse him of doing so in an effort to gain publicity and bolster his reputation and further his political aspirations.
To be fair, the controversy did not begin with Morrisey; his predecessor, Democrat Darrell McGraw, also came under fire for using funds without legislature approval. McGraw, who served as West Virginia's attorney general for 20 years, was accused of using money brought in through the office's consumer protection division to purchase advertising for the office, as well as trinkets such as key chains and bumper stickers bearing his name. These items were seen as thinly-veiled campaign materials, and these accusations of malfeasance are largely to blame for Morrisey's win over the incumbent in 2012. Since then, the proceeds of lawsuits brought by the office have been watched closely and the controversy over their use rages on.
Most people understand that lawsuits are risky, unpredictable, and costly (especially when employing private, outside counsel to litigate rather than the dozens of lawyers who work in the AG's office). The first of these cases was filed in 2012. Discovery lasted years and took thousands of man hours to compile. There were removals to federal court, and remands back to the state level. The larger companies have nearly unlimited resources to fight it out for as long as necessary. Sometimes settlement is just a matter of whose patience and resources hold out the longest. And, of course, Morrisey has no campaign to run for at least two years, so now is a good time to suffer political damage, if he must.
Still, shaking down these billion dollar companies merely for the change from their pockets is a slap in the face to a decimated state. Fortunately, the fight is not completely over, though Morrisey has given it up. Several counties and municipalities have filed their own suits against big pharma for their reckless opioid distribution; those cases are still pending. But these counties and towns don't have the resources Morrisey had at his disposal, so optimism that these suits will result more favorably is weak.
Meanwhile, the powers that be tout the decline in the amount of opiates coming into the state as of late, thanks to tighter oversight and new legislation restricting the prescribing of these drugs. But most of these glad-handed press releases fail to mention the resurgence of prescription opioid's ugly cousin: heroin. It's cheaper and, these days, easier to get. Cracking down on the proliferation of drugs like hydrocodone and oxycontin does not cure addicts. The options are addiction treatment or death.
Though the sum from these settlements is inadequate to compensate West Virginia, it is still money that is sorely needed. At this point, we can only hope that the legislature uses those funds to the greatest possible effect, toward the treatment and prevention of addiction. We need more long-term treatment programs, and our impoverished population needs help paying for them. Medicaid recently began covering treatment for substance abuse, but the roll-backs of the ACA sought by Morrisey and others threaten Medicaid expansion, without which many West Virginians will have no health care coverage.
As for Patrick Morrisey, he can continue to believe he has added a feather to his cap. If his cap represents gifts to his campaign donors, that is.