"Avengers: Endgame" Movie Review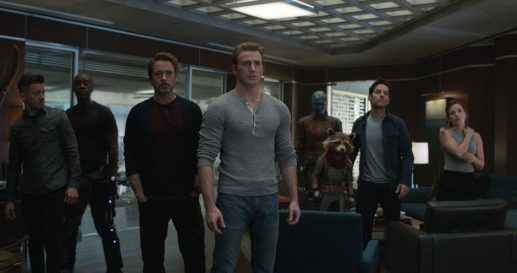 A more appropriate subtitle for "Avengers: Endgame" might have been "Avengers: Sugar Rush," as it provides a steady stream of fan service at the expense of plot and character. It's one of those films where the more I thought about it, the worse it got. Leaving the theater? "That was pretty good." Driving back to my apartment? "Wait a minute…"
WARNING: this review contains spoilers for "Endgame" and "Infinity War."
After Tony Stark (Robert Downey Jr.) and Nebula (Karen Gillan) are rescued from deep space, the remaining Avengers – sans Tony, who's devastated by their loss – track down Thanos (Josh Brolin) with the hope of using his Infinity Stones to bring everyone back who was dusted at the end of "Infinity War." When they discover he has destroyed the gems, Thor (Chris Hemsworth) kills him.
Cut to five years later; the Avengers are trying to cope with their loss when Scott Lang a.k.a. Ant-Man (Paul Rudd) returns from the Quantum Realm — thanks to a rat…that stepped on a button. He has a plan for restoring the lives lost: use the Quantum Realm to travel through time and collect all six Infinity Stones. Once they have them, they'll snap everyone back. Apparently, the Stones function very much like a genie's magic lamp. Envision something, snap your fingers, and it's yours. (Which begs the question, if Thanos's concerns were hunger and overpopulation, why not just snap his fingers and double the galaxy's resources?)
I was pleasantly surprised by how long directors Joe and Anthony Russo along with their screenwriters Christopher Markus and Stephen McFeely allowed us to wallow in the planet's sorrow. Steve Rogers (Chris Evans) runs a therapy group, where one of the attendees talks about a recent date. "He started crying when we got the salad. I started crying around dessert." Unlike "Infinity War," this one takes time to show how these cosmic events impact ordinary, non-spandex-wearing people.
During the opening, the directors demonstrate a visual acuity I didn't know they had. They got their start in television, and that's always shown in their work. A sort of nondescript handheld style. Paul Greengrass-lite, and certainly not capital-c Cinematic. But the first hour is filled with wonderful touches like Thor leaving Thanos's home after killing him — the God of Thunder's outline falling out of focus — a man who's breaking apart despite having accomplished his goal.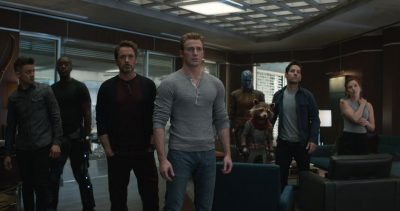 After the first act, though, "Endgame" really drops the ball. Look, I get it. This is a $300 million-dollar movie (I'm guesstimating the budget) and a culminating chapter in a mega-franchise. It can't – nor should it – be a Bergmanian study of loss and grief. (Granted, I would love to see Tony Stark playing chess on a beach with Death.) But once the Avengers start getting the band back together to embark on their time travel adventure to recover the Sports Almanac — sorry! the Infinity Stones — the movie oscillates wildly between broad comedy and some of the grimmer passages that made the first hour so great.
Ground zero for this tonal whiplash is Thor. This is a fault of the filmmakers more than Chris Hemsworth. What the MCU realized, particularly with "Thor: Ragnarok," is that Hemsworth's strength is comedy. But here he's relegated to a Lebowski-type punchline. I'm actually stealing Tony's quip, which is both a perfect Stark-ism and a perfect encapsulation of why this version of the character doesn't work. He's got a long beard and beer gut, and he rambles drunkenly. Sure, there's something to be said for having a superhero without a chiseled physique, except his weight and propensity to drink are played again and again for laughs.
The time travel conceit gives Marvel an excuse to do a victory lap of sorts, replaying some of the studio's greatest hits albeit from a different perspective. It essentially becomes a heist film, though most heist films let you in on the plan before it happens so you can appreciate how it does or doesn't go wrong. Weirdly, the Russos don't, robbing "Endgame" of some excitement. Still, this sequence has some nice moments. Tony gets time with his father, who's roughly his age and, like Tony, looking at parenthood. But of course, there's also wibbly, wobbly, time-y, wimey convolutions. We learn that, once they've accomplished their mission, the Avengers will need to return all of the Stones to their various timelines at the exact moment they were taken or they'll create fissures and doomed alternate realities.
As I've gotten older, I've become less and less interested in plot nitpicks. Call it a reaction to online criticism like Cinema Sins "Everything Wrong With…Jaws or Casablanca." (As if!) It saps the joy out of filmgoing since damn near all films require buy-ins. But if a movie is as heavily plotted and as long – three hours! – as "Endgame," then yes, the narrative should hold together. In "Infinity War," it's explicitly established that you need a special metal forged from the heart of a dying star to wield the Stones. It occupies a whole subplot as Thor goes to Big Tyrion Lannister, who made Thanos's Infinity Gauntlet, to make an axe that can kill the Mad Titan. Conveniently, it now seems that Stark tech can contain the gems just fine.
As you might guess, the Avengers do obtain all six Infinity Stones and snap everyone back. When we launch into the final battle, the return of our departed heroes is undeniably rousing. We get Black Panther (Chadwick Boseman), Spider-Man (Tom Holland), Dr. Strange (Benedict Cumberbatch), the Guardians of the Galaxy, Scarlet Witch (Elizabeth Olsen), and more. "This is going to be one hell of a light show," I thought.
Instead, what we get has all the visual qualities of a bowl of spaghetti that's been dumped on the floor. The "Star Wars" prequels, with their overcrowded compositions, looked more thought-out than this. The setting, the remains of a decimated Avengers HQ, is visually unimaginative. Just your generic bad-shit-happened-here rubble. So many sloppy short cuts taken in the construction of the sequence too. Thanos firing on his troops. Captain Marvel Ex Machina showing up to destroy Thanos's warship. I'm assuming we'll find out what had her preoccupied in "Captain Marvel 2," but it seems like a hero with Superman-level powers would've come in handy while trying to restore half of the universe's population.
There's also some cringe-worthy pandering here where Spider-Man wonders how Captain Marvel's going to get through Thanos's army to get the Infinity Stones to the time machine. "She's got help," Okoye responds (Danai Gurira), and all the MCU's female superheroes line up alongside her. Never mind that we've just seen Captain Marvel fly through a spacecraft as big as Dodger Stadium, the moment set off a cynical part of my brain. "If Marvel wanted feminist cred, they'd have made a film about more than one of these characters." One and a half if you count "Ant-Man and the Wasp."
One of the nice things about "Endgame" is that it recognizes that, more than anyone other than studio head Kevin Feige, the success of this franchise is indebted to Robert Downey Jr. He's doing some of his best work here, particularly during the opening, as he lashes out at his fellow Avengers for their collective failure to avert disaster. And though the plot mechanics to get him there are creaky as hell, Tony's sacrifice, specifically his final line, is the type of fan service I can get behind. "I am…Iron Man." It's a clear callback to his first film but also feels like something he would say at that moment.
The epilogue is really lovely, from Tony's funeral featuring all the major Marvel players on-screen to the easy-going manner of Jon Favreau's Happy Hogan as he consoles Tony's young daughter to Steve Rogers's final moments. It's a sweet and fitting sendoff to this iteration of Captain America. But a strong first act and a couple of satisfying resolutions do not a good film make, particularly one that's capping off 11 years and 21 other franchise entries. Lots of fan service might rake in the bucks. (And it sure is. Forget Thanos; this thing is turning its competition into dust.) It just isn't good storytelling.
Have you seen "Avengers: Endgame?" What did you think?