Sunday Morning! On Persona and Jennifer Packer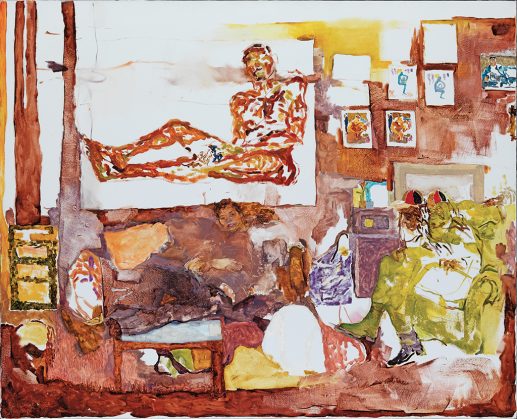 This week I went to a screening of Ingmar Bergman's movie "Persona" at a newly restored Hamilton movie theatre. After years as a "movie desert" we now suddenly have two art-house theatres, so I'm trying to do my part.
Persona is a film I first watched a decade and a half ago and I've seen it at least a dozen times since and still haven't gotten over it enough to write about it sufficiently. I might never.
A persona is a sort of role we play. In Latin, a "persona" is a mask used by actors, and the film is about an actress who has quit playing any social roles or even communicating with others. She's still present. In Jung, the persona is a sort of screen that mediates the relationship between the individual and the social world. Liv Ullman plays an actress whose mask falls apart and, similarly, the "screen" of the cinema breaks apart during the film as if under the psychic strain of the characters' personality crisis.
This time around, I was struck by the similarities between the film and Bergman's "Hour of the Wolf"(which screened last month); both are about an artist's fear that the boundaries of their selfhood will be violated by the other people around them. Neither of the artists are particularly nice people. There's something cruel and selfish about them. But "Persona" is more obviously about the artist-as-vampire. It's about the ways that artists, even the most introverted, make use of and draw energy from the people around them in a way that Bergman sees as cruel. Bergman says somewhere that, even if the artist would like to make humanistic art, representing and depicting other people is always done from a position of moral superiority. Bergman's artist is as silent and cruel as God.
The contemporary artist who I find the most interesting, Jennifer Packer, seems to be making the strongest attempt to paint portraiture from a position of care, rather than cruelty. Her paintings are created in collaboration with her subjects. It's important that she paints people who are close to her rather than commissioned sitters.  Her paintings are intimate in a way that is hard to come by in portrait painting, where the most realistic depictions often look the least alive. Packer's figures instead seem to radiate outwards from the canvas. And her use of great washes of color, seemingly applied more quickly, make the backgrounds more indistinct, as if destabilized by the figure's presence. Her images seem to hover between expressionism and figurative painting, between background and foreground.
One notices as well that Packer's figures are often seated comfortably, something that stands out only because portraits often depict people in uncomfortable poses. She has said that it can take years for her to finish a painting. I can believe it. It feels as if she takes great time and care, which brings out something of the person's soul in the image, a part of their inner life that doesn't usually show through the mask of the canvas. To give just one example of Packer's art, here is her painting "Tia" from 2017. The name Tia is a variation on the Greek Thea, goddess of light and mother of the sun. This Tia is a friend of the artist.
I don't know this Tia, but she feels imminent in the painting. Packer has talked about the effect of traveling to Rome and seeing Caravaggio's work:
I got chills. Typically, Italian painting is [presented as] this vibrant, bloodless affair, but Caravaggio's [paintings] are like: No. This is dirty, it's nasty, it's lonely, it's hard. When I saw the paintings I felt like I was in the presence of family. I connected with the images immediately and felt changed.
The radiance of humanity stands out against the dirt. The imperfections of Packer's paintings are there because people are imperfect and our relationships with them are always imperfect and difficult.
And often vulnerable and painful, which also comes through in these paintings. Specifically, black pain, which seems the text rather than the subtext of a painting like The Body has Memory. Packer has an interesting way of addressing the black experience in America. I found her paintings of flowers particularly arresting. Some of her floral paintings verge on impressionism, and her more recent works have established a relationship of tenderness and grief with their subject. "Say Her Name" from 2017 does something unique. It depicts a floral arrangement that serves as a funerary bouquet for Sandra Bland, whose tragic death in police custody in 2017 shocked and saddened Packer. It is a beautiful and powerful work.
This then would be the opposite of the artist-as-vampire: art that makes room for and shelters the energy of the subject, and rather than turning it into a thing, exchanges energy between artist, subject, and the audience. Packer's work is as powerful as Caravaggio's and I suspect will endure for as long.
So, what are YOU reading, watching, pondering, painting, or playing this weekend?