Game of Thrones: The Longest Night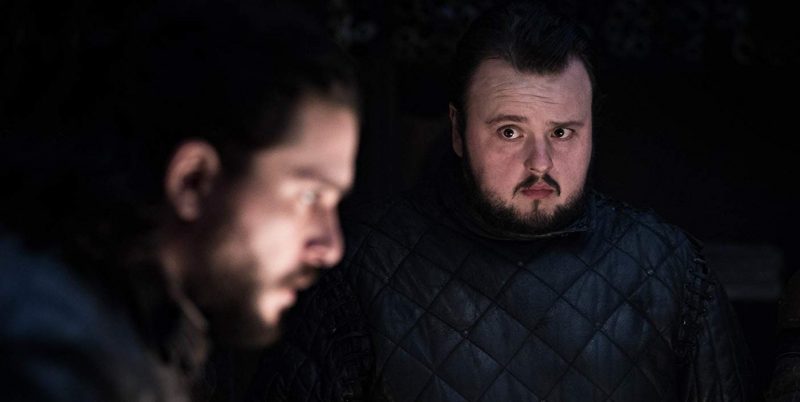 For a book fan, this episode sums up everything wrong with the direction the show has taken. For a casual show watcher, it was a thrilling ride. For everyone in between: well this is why you're reading this, I hope.
Some will say that us book fans, or obsessed show fans who can't let go, should shut up and let the people enjoy themselves. I disagree. Nitpicking about the flaws and imperfections of a movie or show is part of the enjoyment of watching. Let me explain.
A while back I was watching a movie – I don't even remember what movie it was. It wasn't a great movie. But it was a good movie. I enjoyed watching it. But I kept thinking about all the plot holes, and there were many. All the loose ends that never got wrapped up. And the things that could have been better. And I thought to myself, even though this movie wasn't perfect, it wasn't great, it succeeded at catching my attention and making me think about the plot. It entertained me for a couple hours, and stuck with me. For a few days, at least. The fact that I was still picking it over in my brain meant that something was right about it. There should be a term for a movie that does that.
That's how I felt about this episode. It was enjoyable. It was thrilling. It was fun to watch. I would watch a sequel (and I guess that's what the next three episodes are at this point). And I am going to complain about everything that could have been better.
Everything right about the episode: it was good action. Good battle movie. Dothraki lights out. Arya stabbing with the pointy end. Dragon action. Some satisfying deaths.
Everything wrong: it was a battle, not a war. Not enough deaths – none that felt unsettling. It's becoming fan service. No character development. Arya stabbing with the pointy end. Too dark.
Let's start with the title. The long night is supposed to take years, not hours. They didn't even make it feel like days. The epic "long night" described in the Westerosi mythology lasted ten years. I don't expect to have ten seasons of polar vortex (living in Chicago, one day of that IRL was plenty enough), but come on, the entire battle over in one night? It felt like a battle, not a war for civilization. The knight king never got further south than Canada.
Next, the character development. Or lack of it. Arya has spent half of her young life in training. (I'll admit, I'm a little fuzzy about the ages in the show. But let's assume she was about 10 at the beginning and ages a year each season. That makes her 18 now, which makes episode two a little less uncomfortable.)  In training to be this super duper assassin. Instead she almost crumbled like a little girl. When she finally stabbed ther knight king it was most unsatisfying. She's not doing anything more than what her water dancer instructor taught her in the the first season. Aside from the fact that now she is an adult (something made abundantly clear in episode two), she has seemingly learned nothing.
What happened to her Faceless Men training? When Gendry tells her that it's "bad", that it's death, she replies that she knows death. That's a euphemism for the fact that she's a skilled necromancer. Yet she doesn't make use of that skill when actually faced with the dead.
Just off the top of my head here are three scenarios where her necromancy helps her kill the Night King (NK).
She somehow manages to steal the face of a wight and creeps up on him in that disguise.
A little more dramatic: We see her sobbing over the body of Gendry. Maybe he started to rise and she stabs him, strips him and cuts his face off. Maybe she gets to him before. Then she creeps up on the NK with entrails leaking out and eyes semi closed. Genry/Arya gets up close to him. He drops his guts—it was random entrails picked up. He opens his eyes. They are normal blue eyes. Stab.
Even more dramatic: We see Theon's suicidal, quixotic mad dash towards the NK. The NK kills him and casually tosses him down. The NK starts his deliberate walk towards Bran the Three Eyed Raven. We see an undead Theon dragging himself behind. The NK looks back at undead Theon. Something resembling puzzlement passes over his cold zombie face. Theon reaches up and pull his face off. It's Arya. Stab. (Of course, tactically it would be incredibly dumb to pull your face off before killing, but this is a show and people need the drama.)
It even makes sense for it to be Arya who kills the NK. She's no Mary Sue. He can't be an easy guy to kill. He's survived for thousands of years. If he's too easy to kill, then why not just have Bran sitting there with a crossbow in his lap and a handful of dragonglass arrows? Arya is special, she knows the secrets of death. It makes sense.
It's not just Arya who seems like a character you could have taken better places in the show this season. Bran is the three-eyed raven, and he just sits there. Granted, that could be because the actor who plays him isn't that good, but it seems like the show writers just don't know what to do with that character.
Also gone is any pretense at trying to fulfill old prophesies like the Azor Ahai myths.
Seems like the writer reject GRRM's mythos almost entirely, except for the dragons. We like dragons. They are cool. Also, zombies. But only for a couple episodes, now on to Cersei.
We've also lost what was the hallmark of Game of Thrones: all men must die. Valar Morghulis. This is a show that told you it would kill off your favorite whenever it wants. That moment when Ned loses his head still puts chills down my back whenever I reread it or rewatch it. Yet now we're surrounded by redshirts. Nobody important died in this major battle or war. Jorah Mormont? You knew he was going to die. He was living on borrowed time since he had rock-cancer. Little Leanna Mormont? Yes, it was a jolt, but if you think she was a major character you're kidding yourself. Bran should have died in sacrificing himself as bait. Brienne would have been a major shock. Maybe even Dany? It seems at this point that almost all of the major characters have 29 lives.
Wait, Bran die? Isn't he the memory of civilization? Well yes, but it would have brought home that the aftermath of victory over evil isn't always paradise. It would have been a great segue for Sam to say something like "we can save our own memories if we choose to remember" or some similar pseudo-profundity and start writing his book, which is how we know the story. But that would require that this be the last episode, and it's not. We still have to beat Cersei, which feels like going home to deal with Saruman after defeating Sauron.
Three more episodes.
I look forward to watching, enjoying, nitpicking, and enjoying nitpicking.